Cookie Love
submitted by 5ugarn5piceGirl {1 Recipe}
Prep Time:
30 Mins
Cook Time:
15 Mins
Total Prep + Cook Time:
45 Mins
Level:
Easy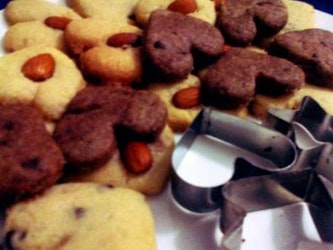 Makes: 36 none
Description: This is a very tried and tested recipe for cookies that every one in my family loves. I've never seen people going wrong with their cookies. This might be your perfect recipe.
Ingredients:
3/4 cup butter
1 cup powdered sugar
1 egg
1 1/4 cup all purpose flour
1 tsp baking powder
1/2 tsp salt
1/2 tsp vanilla extract
1/2 tsp lemon zest

Instructions: Add sugar,butter and whisk these together in a bowl.
Add the egg and vanilla and whisk well.
Mix the flour, baking powder, lemon zest and salt
Mix all the above ingredients in one bowl. Knead well.
Refrigerate for 3-4 hours or more.
Take the dough and use a rolling pin to roll out the dough
use the cookie cutters, to cut out shapes as desired.(Personally I love hearts)
Set to bake
Bake until the cookies get firm. Don't over bake.

Extra:

I divided my dough into 3 parts. In the first part I kneaded in cocoa powder(1/4 cup). In the second part I added chocolate chips. The third part was left plain(I decorated these ones with roasted almonds after cutting out shapes).
Other recipes in breakfast & brunch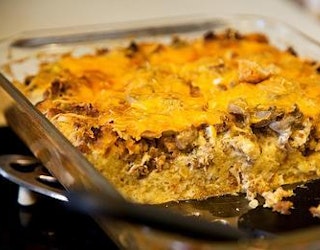 By
bluegemini10
Dec 27, 2011
All the flavors of cobb salad--for breakfast! It's filling yet refreshing. This breakfast casserole is delicious!! The whole family will enjoy.
Read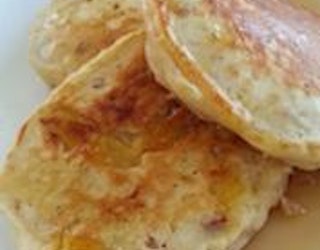 By
EatDrinkClev
Jul 31, 2014
Flavorful pancakes full of pineapple, coconut and pecans. Top with real maple syrup for a breakfast treat or ice cream for a delicious dessert.
Read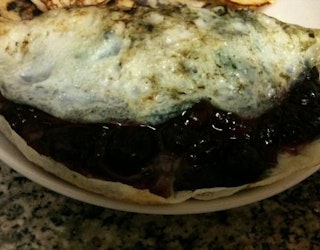 By
csherman
Oct 10, 2011
Like crepes filled with fruit? Why not try filling an egg white omelette with fruit? Similar satisfaction with 1/10th the calories!
Read