Coffee Lovers Indulge In New Dunkin' Donuts Coffee Flavored Pop-Tarts

By
SheSpeaksTeam
Dec 05, 2016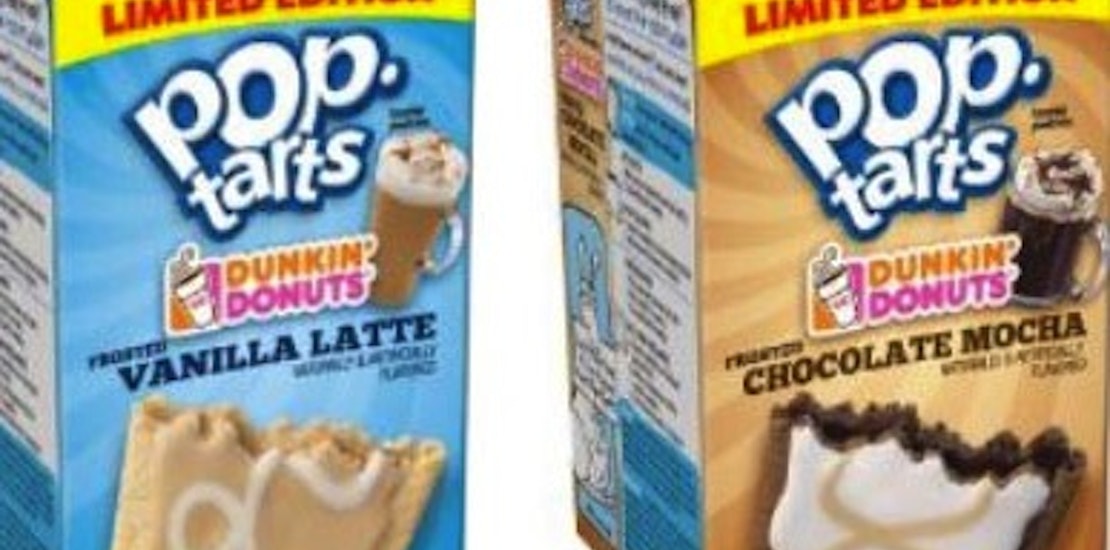 If you thought Pop-Tarts were a delicious delight only small children can indulge in, the breakfast treat has made a case proving otherwise. Kellogg's Pop-Tarts recently teamed up with Dunkin' Donuts to mix your coffee and breakfast together into one delicious treat. The new limited edition line of Pop-Tarts come in two popular Dunkin' coffee flavors, Frosted Chocolate Mocha and Frosted Vanilla Latte.
If you're wondering if the breakfast pastries are as good as the coffee they are named after, Cosmopolitan's Danielle Tullo did the legwork for you. Tullo conducted an unscientific taste test at her home and found that Frosted Chocolate Latte flavored Pop-Tarts were a solid 7. But this one comes with a warning. Tullo writes, "Do not eat this without warming it first. I threw it in the microwave for 30 seconds, which took it from a 2 to a solid 7 out of 10. It made a drastic difference (which isn't very surprising, since Pop-Tarts are meant to be toasted or warmed)." She also happily explains that the filling really tastes like espresso and the frosted top just like whipped cream, making it not as sweet as your average Pop-Tart.
But what Tullo really recommends is the Frosted Vanilla Latte Pop-Tarts which she rated a 9 out of a possible ten. She explains that she especially loved dipping the pastry in her coffee to bring out the coffee flavor in the frosting. And if you're not the biggest straight-up coffee lover, this Pop-Tart will probably be more your speed. She writes, "If you don't love coffee, but are into lattes and sweeter drinks, you'll like this flavor." Hungry yet?
What do you think of the new Dunkin' Donuts flavored Pop-Tarts?
Does this sound like something you would like to try with your morning coffee?