Cleaning silver jewelry for next to nothing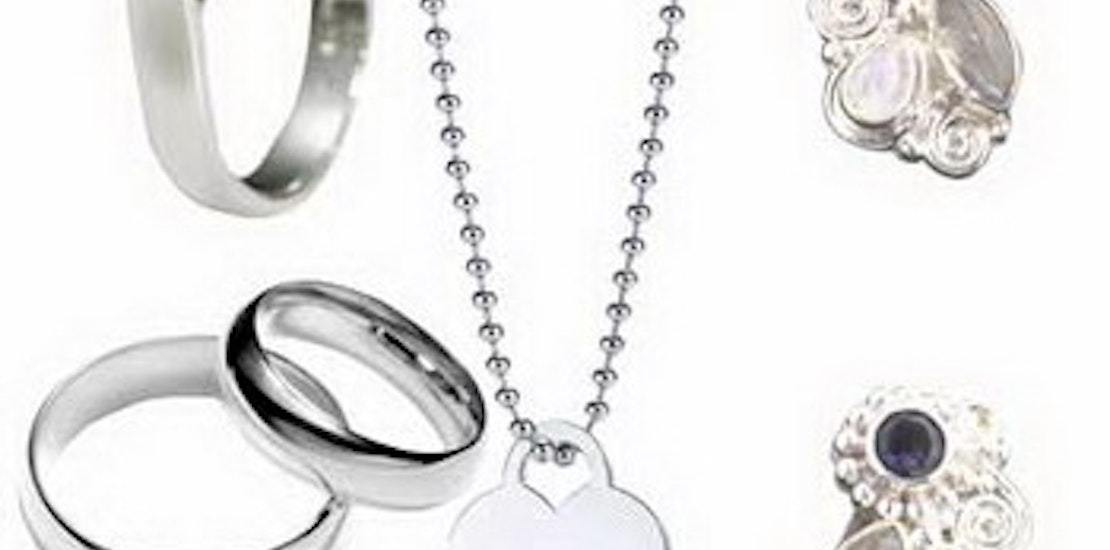 I have an addiction. And it is pretty. Most of the time, anyway. I love, love, love silver jewelry. Often I can find it inexpensively and admit to having far more Express jewelry than is advisable. But over time, it easily becomes tarnished, and sometimes jewelry cleaners don't work that well or leave behind ugly residue. I've found this amazing "recipe" for cleaning silver jewelry via Home Jewelry Business Success Tips. I've used it on a bunch of jewelry with great success with only a few minutes in the "bath," and am leaving really tarnished items overnight. It's like getting a new jewelry wardrobe!
Ingredients
water
salt
an aluminum plate (you can substitute aluminum foil)
water softener powder (you can substitute baking soda)
Procedure
Take an aluminum plate (or a regular plate covered with a piece of foil).
Add 1 tablespoon of salt and 1 tablespoon of water softener powder (or baking soda).
Then pour some hot (but not boiling) water onto the plate.
Stir to dissolve the powders.
Now you can dunk your silver in the solution.
How long do you need to keep your silver in the solution? The results may be immediate, or they may take a few minutes. However, if an item is very tarnished, this cleaning method will not make your jewelry perfectly clean and looking like new. Additional polishing will still be needed.
Warning
We do not recommend this cleaning method for jewelry that has precious or semi-precious stones. Though after a little research we discovered that a lot of people (including silversmiths) have used this method for cleaning gemstone jewelry with no ill effect, we don't think it's worth the risk of damaging your stones. Also, be aware that this method is not good for antiqued (oxidized) silver, as cleaning will remove the antiqued finish on the silver along with the tarnish.