Celebrate with Bimbo and Marinela + Giveaway

by
SheSpeaksTeam
is this the date @ED : BlogVO [categoryId=70164, blogId=146041, blogTitle=Celebrate with Bimbo and Marinela + Giveaway , publishingDate=May 03, 2022 12:00 AM, maxResponses=null, noOfComments=null, fileId=43839, blogClosingDate=null, blogCommentClosed=null, blogCategoryId=70164, queryId=0, blogCategoryIdIndex=0, sharedCategoriesList=null, blogStatusId=34, commentsClosedFlag=false, categoryIdForLog=0, blogModuleCategoryId=0, blogFileVo=null, latestCommentsList=null, verticalCatSeoURL=null, currentDate=12/02/2023, blogLink=null, authorName=SheSpeaksTeam, authorLognId=SheSpeaksTeam, authorAcctId=67580, vosTypeid=3, searchTestId=0, searchStatusId=0, searchAuthorType=0, authorBlogNumber=0, surveyData1=null, surveyData1Desc=null, surveyData2=null, surveyData2Desc=null, pullQuoteMemberId=null, filePath=null, fileName=null, vosType=0, subhead=null, offerSubhead=null, description=null, creationTime=null, authorFname=SheSpeaks, verticalCategoryId=null, sectionId=0, imageFileVO=FilesVO [fileId=43839, filePath=null, fileName=null, fileLength=0, fileWidth=0, createdBy=0, createByUser=null, creationTime=null, lastModifiedBy=0, lastModifiedByUser=null, lastModifiedTime=null, mimeType=null, fileRef=null, fileSize=0, extension=null, title=null, body=null, completeFilePath=/pages/img/redesign/blogs/Blog Header (1)_05032022144447.jpg, height=500, width=1000, maxHeight=480, maxWidth=360, displayWidth=360, displayHeight=180, fileStatusId=0, searchKeyword=null, searchFlag=false, queryId=0, isExists=true], seoURL=Cinco-De-Mayo-Bimbo-Marinela, seoTitle=null, pullQuotesList=null, pullQuote=null, pullQuoteId=0, searchFlag=false, authorByLine=null, authorDesc=null, authorLink=null, authorFileVO=FilesVO [fileId=42371, filePath=null, fileName=null, fileLength=0, fileWidth=0, createdBy=0, createByUser=null, creationTime=null, lastModifiedBy=0, lastModifiedByUser=null, lastModifiedTime=null, mimeType=null, fileRef=null, fileSize=0, extension=null, title=null, body=null, completeFilePath=/pages/img/membersnaps/SheSpeaks_Logo_Symbol_Only_10182021080530.jpg, height=1777, width=1777, maxHeight=50, maxWidth=50, displayWidth=50, displayHeight=50, fileStatusId=0, searchKeyword=null, searchFlag=false, queryId=0, isExists=true], authorFileId=42371, authorType=0, storyImgFileVO=null, storyImgFileId=0, videoHtml=, authorImageFileId=0, authorImageFileVO=null, previousCategoryId=null, previousBlogStatusId=0, fromBlogDetails=0, blogCategoryName=Food, blogCategoryUrl=null, blogCategoryDesc=null, defaultImage=false, tags=null, optionIds=null, tagOptionId=null, tagId=null, tag=null, tagID=0, tagDetails=null, tagIds=null, testId=0, extBlogURL=null, extBlogStatus=0, bloggerSince=null, extBlogLimit=0, authorTestsList=[], blogURL=, blogName=, bloggerProfileId=0, sliderBlog=false, eventonHome=true, vosonHome=false, partyAndGiveawayDate=05/15/2022, imageCredit=https://www.instagram.com/teresa_/, pullQuoteMemId=null, offerSubHead=, subHead=, displayOrder=0,includeInGoogleSearch=false]
May 03, 2022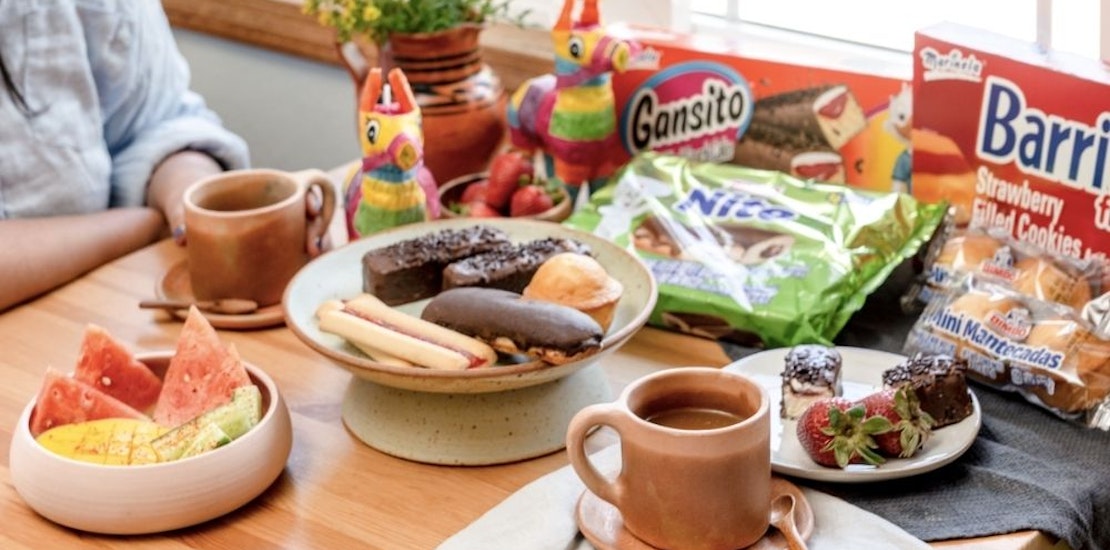 https://www.instagram.com/teresa_/
SheSpeaks influencers recently celebrated Cinco De May with Bimbo & Marinela! See how you can make any day a celebration of culture with these favorite treats!

Cinco De Mayo is a favorite celebration each year, but did you know that this commemorates the anniversary of Mexico's victory over the French Empire at the Battle of Puebla in 1862? Typically, the event is celebrated with parades, music, gatherings, and, of course, food!

Read on to see how you can win a $50 Gift Card & Wood Charcuterie Board to create your own celebration with Bimbo & Marinela!
This year, SheSpeaks influencers & Food 4 Less shoppers shared how they celebrated Cinco de Mayo and their Hispanic roots with their favorite Bimbo & Marinela products. Check out the live content below to get some inspiration for your next celebration!


Enter our giveaway below for a chance to win a $50 Gift Card & Wood Charcuterie Board (for making your own Bimbo / Marinela sweets board). For more information, visit Food 4 Less/Bimbo or Food 4 Less/Marinela!
Bimbo Cinco De Mayo at Food 4 Les
This is a sponsored post for Bimbo & Marinela at Food 4 Less!
One lucky winner will be chosen at random to receive a $50 gift card & Wooden Board . Giveaway is open to U.S. residents 18 years or older. Enter through May 15. Winner will be chosen randomly and notified by email. Entrants must be a member of SheSpeaks. If you are not a member, click here to join.
Thanks to all who entered! Congrats to our winner SheSpeaks member MissBlair0220.