Chocolate Covered Caramels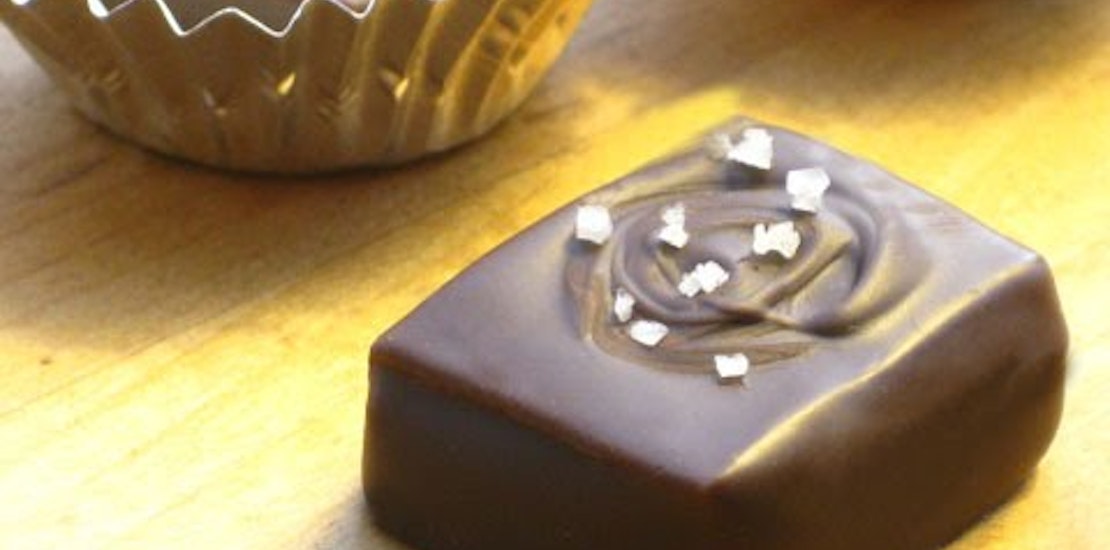 I've seen good quality, handmade caramels selling for as much as $9.99 for 5 ounce. I love them but, "wow" that is so expensive. So I decided to make some on my own to use them as holiday gifts for friends and family. I think you'll be surprised how easy they are to make. Plus you'll be treating your loved ones with a buttery, sweet treat from the heart.
Chocolate Covered Caramels with Grey Sea Salt
Makes approximately 150 pieces

The sea salt is key. It adds a whole new dimension of flavor and texture. Enjoy!


4 cups sugar
1 1/3 cup light corn syrup
1 cup water
1 quart whipping cream
1 cup unsalted butter, room temperature,
cut into pieces
1 teaspoon grey sea salt, plus extra
1 pound tempered bittersweet chocolate or
dark chocolate candy melts

Line a 9x13-inch baking pan with aluminum foil. Smooth out wrinkles and generously butter bottom and sides.

In deep, heavy-bottomed 8-quart pot, combine sugar, corn syrup and water. (Be sure to choose a very deep pot so the sugar mixture doesn't boil over.) Bring to a boil over medium-high heat. Swirl the pot once or twice to combine ingredients, but do not stir. Boil until mixture turns a medium amber color. Be sure to watch the boiling sugar closely because the color can deepen quickly.

As the caramel continues to boil, it will turn a very dark mahogany brown, the bubbles will turn tan in color. This is your cue to remove it from the heat and add the cream, butter and 1 teaspoon of salt. The mixture will bubble up; just let it sit a moment to subside. Place back over medium-high to high heat and swirl pot around a few times to combine ingredients. Clip on a candy thermometer and boil until mixture reaches 250 degrees, swirling mixture several times during boiling to make sure the temperature is consistent throughout. Immediately pour mixture into prepared pan but do not scrape the bottom of pot.

Allow to sit overnight or until firm enough to cut. Cut into squares (1/2" each).

Melt chocolate in a double boiler over lightly steaming water. Remember, chocolate doesn't need a lot of heat to melt, if you over heat it, it will seize up and be unusable.

When the chocolate is completely melted and smooth, skewer a caramel with a bamboo skewer or candy making fork and dip it in the chocolate. Remove the caramel from the chocolate and allow the excess chocolate to drip away ? it makes for a neater finished candy vs. a pool of chocolate around each caramel. I even gently tap the skewer on the side of the pan to get the last few drops off.

Using another skewer, coax the chocolate dipped caramel onto a sheet of wax paper. Use the tip of the skewer to swirl the chocolate slightly to cover up the puncture mark. Sprinkle with a few grains of sea salt and allow the chocolate to set. Once the chocolate has set, place each one in a paper candy cup.

Note: Caramel recipe adapted from Fleur de Sel Caramels, "Unforgettable Desserts: More than 140 Memorable Dessert Recipes for All Year Round" by Dede Wilson