Check out New Gatorade Zero with Protein! #GZeroProteinWorkouts

by
SheSpeaksTeam
is this the date @ED : BlogVO [categoryId=70164, blogId=145926, blogTitle=Check out New Gatorade Zero with Protein! #GZeroProteinWorkouts, publishingDate=October 21, 2021 12:00 AM, maxResponses=null, noOfComments=null, fileId=42391, blogClosingDate=null, blogCommentClosed=null, blogCategoryId=70164, queryId=0, blogCategoryIdIndex=0, sharedCategoriesList=null, blogStatusId=34, commentsClosedFlag=false, categoryIdForLog=0, blogModuleCategoryId=0, blogFileVo=null, latestCommentsList=null, verticalCatSeoURL=null, currentDate=04/01/2023, blogLink=null, authorName=SheSpeaksTeam, authorLognId=SheSpeaksTeam, authorAcctId=67580, vosTypeid=3, searchTestId=0, searchStatusId=0, searchAuthorType=0, authorBlogNumber=0, surveyData1=null, surveyData1Desc=null, surveyData2=null, surveyData2Desc=null, pullQuoteMemberId=null, filePath=null, fileName=null, vosType=0, subhead=null, offerSubhead=null, description=null, creationTime=null, authorFname=SheSpeaks, verticalCategoryId=null, sectionId=0, imageFileVO=FilesVO [fileId=42391, filePath=null, fileName=null, fileLength=0, fileWidth=0, createdBy=0, createByUser=null, creationTime=null, lastModifiedBy=0, lastModifiedByUser=null, lastModifiedTime=null, mimeType=null, fileRef=null, fileSize=0, extension=null, title=null, body=null, completeFilePath=/pages/img/redesign/blogs/gatoradegiveaway_10202021100803.jpg, height=550, width=1100, maxHeight=480, maxWidth=360, displayWidth=360, displayHeight=180, fileStatusId=0, searchKeyword=null, searchFlag=false, queryId=0, isExists=true], seoURL=Check-out-New-Gatorade-Zero-with-Protein, seoTitle=null, pullQuotesList=null, pullQuote=null, pullQuoteId=0, searchFlag=false, authorByLine=null, authorDesc=null, authorLink=null, authorFileVO=FilesVO [fileId=42371, filePath=null, fileName=null, fileLength=0, fileWidth=0, createdBy=0, createByUser=null, creationTime=null, lastModifiedBy=0, lastModifiedByUser=null, lastModifiedTime=null, mimeType=null, fileRef=null, fileSize=0, extension=null, title=null, body=null, completeFilePath=/pages/img/membersnaps/SheSpeaks_Logo_Symbol_Only_10182021080530.jpg, height=1777, width=1777, maxHeight=50, maxWidth=50, displayWidth=50, displayHeight=50, fileStatusId=0, searchKeyword=null, searchFlag=false, queryId=0, isExists=true], authorFileId=42371, authorType=0, storyImgFileVO=null, storyImgFileId=0, videoHtml=, authorImageFileId=0, authorImageFileVO=null, previousCategoryId=null, previousBlogStatusId=0, fromBlogDetails=0, blogCategoryName=Food, blogCategoryUrl=null, blogCategoryDesc=null, defaultImage=false, tags=null, optionIds=null, tagOptionId=null, tagId=null, tag=null, tagID=0, tagDetails=null, tagIds=null, testId=0, extBlogURL=null, extBlogStatus=0, bloggerSince=null, extBlogLimit=0, authorTestsList=[], blogURL=, blogName=, bloggerProfileId=0, sliderBlog=false, eventonHome=false, vosonHome=false, partyAndGiveawayDate=11/04/2021, imageCredit=null, pullQuoteMemId=null, offerSubHead=, subHead=, displayOrder=0,includeInGoogleSearch=false]
Oct 21, 2021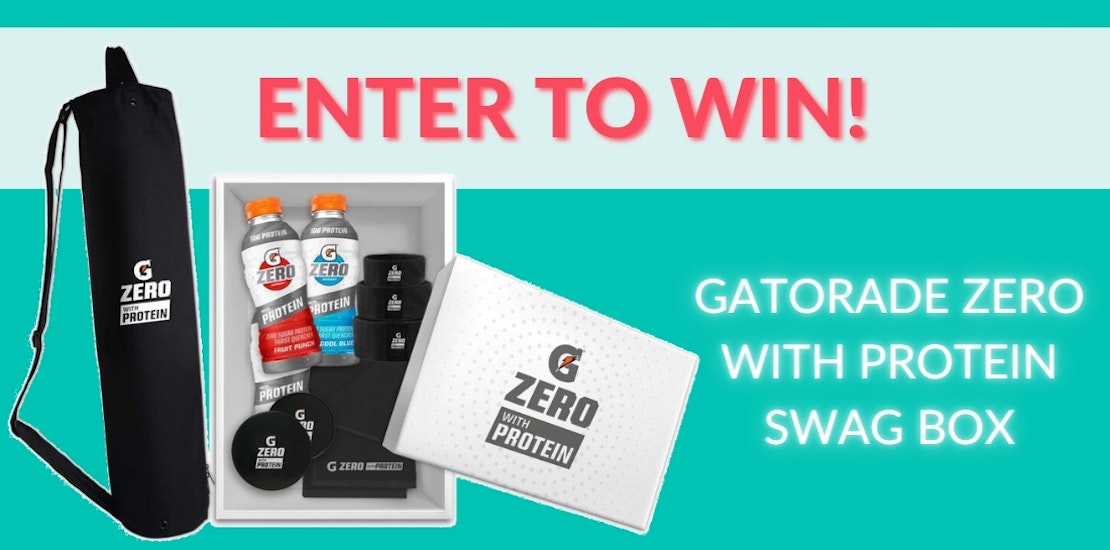 Our friends at Gatorade and Walmart have an amazing opportunity for you – register for a FREE online workout with Cassey Ho on November 5, and you can get a free full-sized bottle of Gatorade Zero with Protein from Walmart! (Supplies are limited so sign up now!)

SheSpeaks Influencer Laura Novack says she's "Loving this new line of @Gatorade Zero with Protein. Tastes amazing and is the perfect thirst quencher, and electrolyte replacement, plus it has 10g of protein."
You can also enter our giveaway below for a chance to win a super cool, exclusive Gatorade Zero with Protein swag box!
It includes a yoga mat with carrying case, exercise sliders, sweat towel, resistance bands and 2 bottles of Gatorade Zero with Protein.
Gatorade Zero with Protein at Walmart Giveaway
This is a sponsored post for Gatorade. One lucky winner will be chosen at random to receive a package of merchandise (Estimated Retail Value of $75). Giveaway is open to U.S. residents 18 years or older. Enter through November 4. Winner will be chosen randomly and notified by email.
Thanks to all who entered! Congrats to our winner, SheSpeaks member jmac272.