Check Out the Oscar Nominees & Enter to Win a $200 Gift Card for Movie-Themed Swag #SheSpeaksOscar

by
SheSpeaksTeam
is this the date @ED : BlogVO [categoryId=70162, blogId=145322, blogTitle=Check Out the Oscar Nominees & Enter to Win a $200 Gift Card for Movie-Themed Swag #SheSpeaksOscar, publishingDate=February 21, 2018 12:00 AM, maxResponses=null, noOfComments=null, fileId=30819, blogClosingDate=null, blogCommentClosed=null, blogCategoryId=70162, queryId=0, blogCategoryIdIndex=0, sharedCategoriesList=null, blogStatusId=34, commentsClosedFlag=false, categoryIdForLog=0, blogModuleCategoryId=0, blogFileVo=null, latestCommentsList=null, verticalCatSeoURL=null, currentDate=05/27/2023, blogLink=null, authorName=SheSpeaksTeam, authorLognId=SheSpeaksTeam, authorAcctId=67580, vosTypeid=3, searchTestId=0, searchStatusId=0, searchAuthorType=0, authorBlogNumber=0, surveyData1=null, surveyData1Desc=null, surveyData2=null, surveyData2Desc=null, pullQuoteMemberId=null, filePath=null, fileName=null, vosType=0, subhead=null, offerSubhead=null, description=null, creationTime=null, authorFname=SheSpeaks, verticalCategoryId=null, sectionId=0, imageFileVO=FilesVO [fileId=30819, filePath=null, fileName=null, fileLength=0, fileWidth=0, createdBy=0, createByUser=null, creationTime=null, lastModifiedBy=0, lastModifiedByUser=null, lastModifiedTime=null, mimeType=null, fileRef=null, fileSize=0, extension=null, title=null, body=null, completeFilePath=/pages/img/redesign/blogs/oscars-2018-header-round-2-predictions-750x480 - Copy_02212018111336.jpg, height=350, width=350, maxHeight=480, maxWidth=360, displayWidth=350, displayHeight=350, fileStatusId=0, searchKeyword=null, searchFlag=false, queryId=0, isExists=true], seoURL=Check-Out-the-Oscar-Nominees-You-Missed-Enter-to-Win-a-200-Gift-Card-for-Movie-Memorabilia, seoTitle=null, pullQuotesList=null, pullQuote=null, pullQuoteId=0, searchFlag=false, authorByLine=null, authorDesc=null, authorLink=null, authorFileVO=FilesVO [fileId=42371, filePath=null, fileName=null, fileLength=0, fileWidth=0, createdBy=0, createByUser=null, creationTime=null, lastModifiedBy=0, lastModifiedByUser=null, lastModifiedTime=null, mimeType=null, fileRef=null, fileSize=0, extension=null, title=null, body=null, completeFilePath=/pages/img/membersnaps/SheSpeaks_Logo_Symbol_Only_10182021080530.jpg, height=1777, width=1777, maxHeight=50, maxWidth=50, displayWidth=50, displayHeight=50, fileStatusId=0, searchKeyword=null, searchFlag=false, queryId=0, isExists=true], authorFileId=42371, authorType=0, storyImgFileVO=null, storyImgFileId=0, videoHtml=, authorImageFileId=0, authorImageFileVO=null, previousCategoryId=null, previousBlogStatusId=0, fromBlogDetails=0, blogCategoryName=Entertainment, blogCategoryUrl=null, blogCategoryDesc=null, defaultImage=false, tags=null, optionIds=null, tagOptionId=null, tagId=null, tag=null, tagID=0, tagDetails=null, tagIds=null, testId=0, extBlogURL=null, extBlogStatus=0, bloggerSince=null, extBlogLimit=0, authorTestsList=[], blogURL=, blogName=, bloggerProfileId=0, sliderBlog=false, eventonHome=false, vosonHome=false, partyAndGiveawayDate=03/11/2018, imageCredit=null, pullQuoteMemId=null, offerSubHead=null, subHead=null, displayOrder=0,includeInGoogleSearch=false]
Feb 21, 2018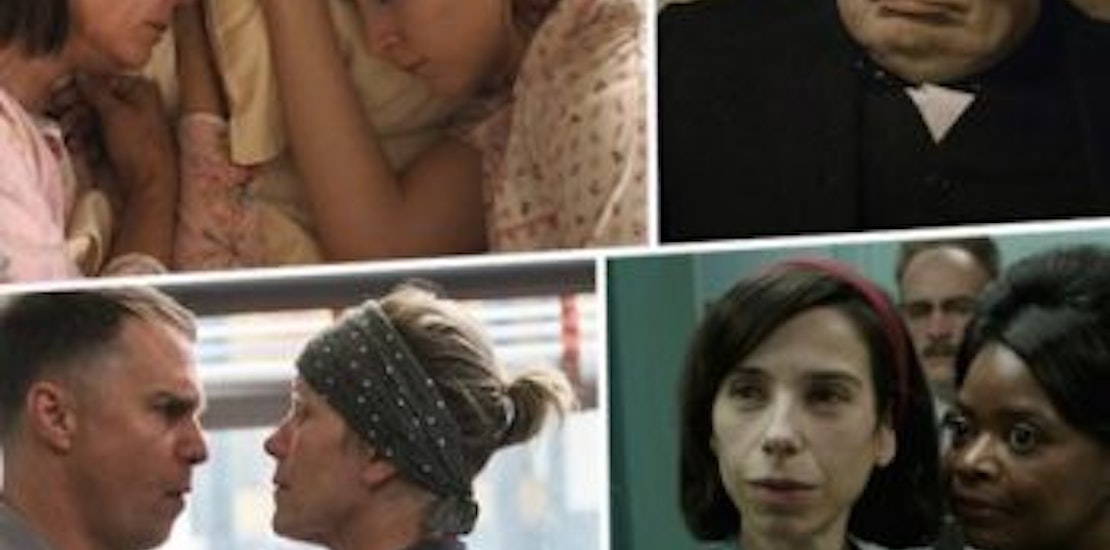 There are nine movies up for Best Picture at the Academy Awards this year. Who has time to watch them all? No worries! Check below to watch clips from each movie so you can decide which you'll want to see before the Oscars this year.
Plus, tell us your favorite Oscar nominated movie (from 2018 or in the past) and you can win a $200 gift card to buy movie-themed swag, or whatever else you like, at BoxLunch.
$PullQuote$Note: Just like the movies, some of these clips include adult themes, profanity and violence.
Call Me by Your Name
Set in Italy in 1983, Call Me By Your Name is about the transcendence of first love, shown through a summerlong romance between a teen (Timothée Chalamet) and an older man (Armie Hammer).
Darkest Hour
Academy Award nominee Gary Oldman plays newly-appointed British Prime Minister Winston Churchill as he deals with the pressure during pivotal weeks in World War II.
Dunkirk
This World War II epic focuses on the experiences of 400,000 Allied soldiers in the Battle of Dunkirk as they try to escape when the German army has them surrounded.
Get Out
On the surface, this film is about the a young African American male who visits his white girlfriend's family. But this horror film turns out to be much more as disturbing secrets are revealed.
Lady Bird
This moving coming-of-age story focuses on the relationship between a strong-willed teenager and her anxious mother.
Phantom Thread
Set in London in the 1950s, Phantom Thread is about a middle-aged couturier who falls for a young waitress. It explores what people in relationships expect of each other, what they give and what they take.
The Post
This true-life story showcases the debate between Washington Post owner Kay Graham and executive editor Ben Bradlee, about whether to publish the secret, political Pentagon Papers. It takes place in 1971 but is still highly relevant today.
The Shape of Water
Guillermo del Toro's latest film involves a mute janitor who falls in love with a most-unlikely creature from the Amazon while working in a top-secret lab during the Cold War.
Three Billboards outside Ebbing, Missouri
After the rape and murder of her teenage daughter, Mildred Hayes is so angry that the case has not been solved that she does puts up three billboards to shame the local police. While tensions escalate, this determined mother will not back down.
What Oscar nominated movies do you love? Tell us for the chance to win a $200 gift card to purchase movie-themed swag (or whatever else you like!) at BoxLunch.
There are two ways to enter:
Comment below with your favorite movie, from this year or in the past.

Tweet about the giveaway: Click HERE to Tweet: "Entering to win a $200 @BoxLunchGifts gift card to celebrate the Oscar nominees in the #SheSpeaksOscar giveaway, thx to @SheSpeaksUp bit.ly/2CmSuGO"
*One lucky commenter or Tweeter will be chosen at random to receive a $200 gift card to BoxLunch. Giveaway is open through March 11, 2018 to U.S. residents at least 18 years of age. Entrants must be a member of SheSpeaks. If you are not a member, click here to join. Winner will be notified by email.
Update: Thanks to all who entered! Congrats to our winner, SheSpeaks member brandyoliver.