Win a Valentine's Day Cocktail Kit & Fair Play Deck

by
SheSpeaksTeam
is this the date @ED : BlogVO [categoryId=70165, blogId=145827, blogTitle=Win a Valentine's Day Cocktail Kit & Fair Play Deck , publishingDate=February 05, 2021 12:00 AM, maxResponses=null, noOfComments=null, fileId=39910, blogClosingDate=null, blogCommentClosed=null, blogCategoryId=70165, queryId=0, blogCategoryIdIndex=0, sharedCategoriesList=null, blogStatusId=34, commentsClosedFlag=false, categoryIdForLog=0, blogModuleCategoryId=0, blogFileVo=null, latestCommentsList=null, verticalCatSeoURL=null, currentDate=06/10/2023, blogLink=null, authorName=SheSpeaksTeam, authorLognId=SheSpeaksTeam, authorAcctId=67580, vosTypeid=3, searchTestId=0, searchStatusId=0, searchAuthorType=0, authorBlogNumber=0, surveyData1=null, surveyData1Desc=null, surveyData2=null, surveyData2Desc=null, pullQuoteMemberId=null, filePath=null, fileName=null, vosType=0, subhead=null, offerSubhead=null, description=null, creationTime=null, authorFname=SheSpeaks, verticalCategoryId=null, sectionId=0, imageFileVO=FilesVO [fileId=39910, filePath=null, fileName=null, fileLength=0, fileWidth=0, createdBy=0, createByUser=null, creationTime=null, lastModifiedBy=0, lastModifiedByUser=null, lastModifiedTime=null, mimeType=null, fileRef=null, fileSize=0, extension=null, title=null, body=null, completeFilePath=/pages/img/redesign/blogs/Blueberry Margarita_03012021133443.jpg, height=385, width=685, maxHeight=480, maxWidth=360, displayWidth=360, displayHeight=202, fileStatusId=0, searchKeyword=null, searchFlag=false, queryId=0, isExists=true], seoURL=Blueberry-Margarita-Cocktails, seoTitle=null, pullQuotesList=null, pullQuote=null, pullQuoteId=0, searchFlag=false, authorByLine=null, authorDesc=null, authorLink=null, authorFileVO=FilesVO [fileId=42371, filePath=null, fileName=null, fileLength=0, fileWidth=0, createdBy=0, createByUser=null, creationTime=null, lastModifiedBy=0, lastModifiedByUser=null, lastModifiedTime=null, mimeType=null, fileRef=null, fileSize=0, extension=null, title=null, body=null, completeFilePath=/pages/img/membersnaps/SheSpeaks_Logo_Symbol_Only_10182021080530.jpg, height=1777, width=1777, maxHeight=50, maxWidth=50, displayWidth=50, displayHeight=50, fileStatusId=0, searchKeyword=null, searchFlag=false, queryId=0, isExists=true], authorFileId=42371, authorType=0, storyImgFileVO=null, storyImgFileId=0, videoHtml=, authorImageFileId=0, authorImageFileVO=null, previousCategoryId=null, previousBlogStatusId=0, fromBlogDetails=0, blogCategoryName=Living, blogCategoryUrl=null, blogCategoryDesc=null, defaultImage=false, tags=null, optionIds=null, tagOptionId=null, tagId=null, tag=null, tagID=0, tagDetails=null, tagIds=null, testId=0, extBlogURL=null, extBlogStatus=0, bloggerSince=null, extBlogLimit=0, authorTestsList=[], blogURL=, blogName=, bloggerProfileId=0, sliderBlog=false, eventonHome=false, vosonHome=false, partyAndGiveawayDate=02/10/2021, imageCredit=@FairPlayLife, pullQuoteMemId=null, offerSubHead=, subHead=, displayOrder=0,includeInGoogleSearch=false]
Feb 05, 2021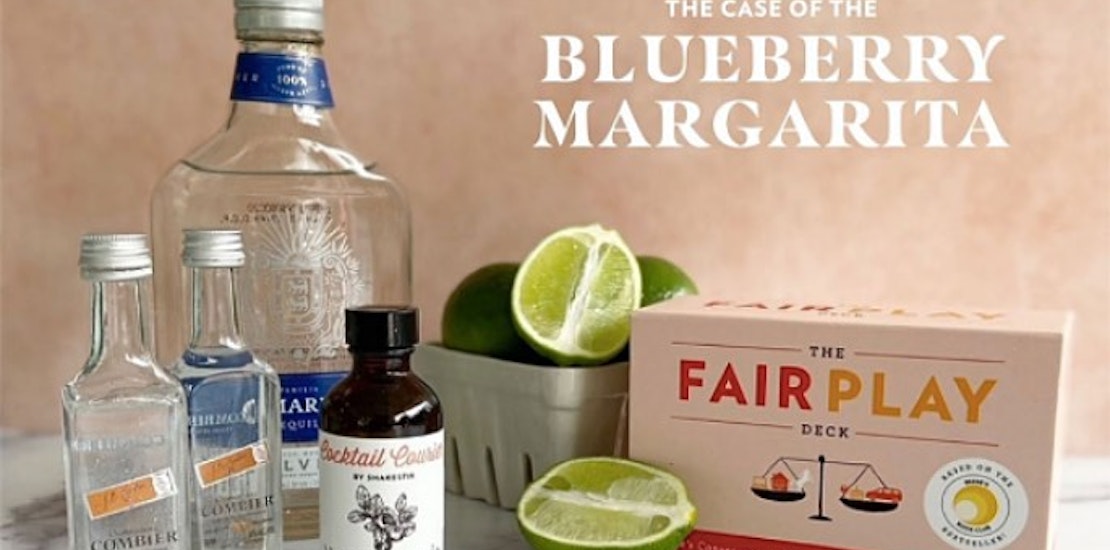 @FairPlayLife
It's a good thing #DryJanuary is over, because we're giving you a chance to win a limited edition Valentine's Day Cocktail Kit, which is curated by Cocktail Courier and includes the Fair Play Deck - "a time-and-anxiety saving card game that offers couples a completely new way to divvy up domestic responsibilities." And if that's a convo that seems a little daunting... you'll also receive all the ingredients needed to make some blueberry margaritas to take the edge off. (Yes, tequila included!)
Read on to see how you can win one of two limited edition Valentine's Day Cocktail Kits.
If you've listened to the SheSpeaks Podcast episode with Eve Rodsky, then you know all about Eve's best-selling book, Fair Play, and the blueberries that almost ended her marriage and helped to inspire this kit.
Ready to mix up that cockail? Included in the kit is everything you need to make 8 drinks; blueberry puree, hibiscus salt, edible shimmer glitter, tequila, orange liqueur and limes.
Fair Play is a game-changer (and so is the blueberry puree in this drink!). Head on over to our Instagram, @shespeaksup, where we'll be giving you a second opportunity to win!
Need these gorgeous margaritas in your future? Enter for the chance to win below & comment to tell us what your favorite cocktail is.

The Case of the Blueberry Margarita Giveaway

*One person will be chosen at random to receive a The Case of the Blueberry Margarita Kit.Giveaway is open through February 10 2021 to U.S. residents at least 21 years of age and residing in the 48 contiguous states. Entrants must be a member of SheSpeaks. If you are not a member, click here to join. Winner will be notified by email..

Alcohol availability and brand varies by location but will always be of equal value in accordance with kit price. Kits including alcohol unavailable in the following states: AK, AR, HI, MI, NC, OH, TN and UT. Non-alcoholic kits or "Just the Mix" kits (everything except alcohol) available for all states other than AK and HI.