Back to College Stock Up and Meal Ideas & $50 GC Giveaway

by
SheSpeaksTeam
is this the date @ED : BlogVO [categoryId=70164, blogId=145899, blogTitle=Back to College Stock Up and Meal Ideas & $50 GC Giveaway , publishingDate=September 07, 2021 12:00 AM, maxResponses=null, noOfComments=null, fileId=41434, blogClosingDate=null, blogCommentClosed=null, blogCategoryId=70164, queryId=0, blogCategoryIdIndex=0, sharedCategoriesList=null, blogStatusId=34, commentsClosedFlag=false, categoryIdForLog=0, blogModuleCategoryId=0, blogFileVo=null, latestCommentsList=null, verticalCatSeoURL=null, currentDate=06/10/2023, blogLink=null, authorName=SheSpeaksTeam, authorLognId=SheSpeaksTeam, authorAcctId=67580, vosTypeid=3, searchTestId=0, searchStatusId=0, searchAuthorType=0, authorBlogNumber=0, surveyData1=null, surveyData1Desc=null, surveyData2=null, surveyData2Desc=null, pullQuoteMemberId=null, filePath=null, fileName=null, vosType=0, subhead=null, offerSubhead=null, description=null, creationTime=null, authorFname=SheSpeaks, verticalCategoryId=null, sectionId=0, imageFileVO=FilesVO [fileId=41434, filePath=null, fileName=null, fileLength=0, fileWidth=0, createdBy=0, createByUser=null, creationTime=null, lastModifiedBy=0, lastModifiedByUser=null, lastModifiedTime=null, mimeType=null, fileRef=null, fileSize=0, extension=null, title=null, body=null, completeFilePath=/pages/img/redesign/blogs/Untitled design (1)_09072021122851.jpg, height=385, width=685, maxHeight=480, maxWidth=360, displayWidth=360, displayHeight=202, fileStatusId=0, searchKeyword=null, searchFlag=false, queryId=0, isExists=true], seoURL=Back-to-College-Ideas, seoTitle=null, pullQuotesList=null, pullQuote=null, pullQuoteId=0, searchFlag=false, authorByLine=null, authorDesc=null, authorLink=null, authorFileVO=FilesVO [fileId=42371, filePath=null, fileName=null, fileLength=0, fileWidth=0, createdBy=0, createByUser=null, creationTime=null, lastModifiedBy=0, lastModifiedByUser=null, lastModifiedTime=null, mimeType=null, fileRef=null, fileSize=0, extension=null, title=null, body=null, completeFilePath=/pages/img/membersnaps/SheSpeaks_Logo_Symbol_Only_10182021080530.jpg, height=1777, width=1777, maxHeight=50, maxWidth=50, displayWidth=50, displayHeight=50, fileStatusId=0, searchKeyword=null, searchFlag=false, queryId=0, isExists=true], authorFileId=42371, authorType=0, storyImgFileVO=null, storyImgFileId=0, videoHtml=, authorImageFileId=0, authorImageFileVO=null, previousCategoryId=null, previousBlogStatusId=0, fromBlogDetails=0, blogCategoryName=Food, blogCategoryUrl=null, blogCategoryDesc=null, defaultImage=false, tags=null, optionIds=null, tagOptionId=null, tagId=null, tag=null, tagID=0, tagDetails=null, tagIds=null, testId=0, extBlogURL=null, extBlogStatus=0, bloggerSince=null, extBlogLimit=0, authorTestsList=[], blogURL=, blogName=, bloggerProfileId=0, sliderBlog=false, eventonHome=false, vosonHome=false, partyAndGiveawayDate=09/28/2021, imageCredit=@mymunchkins3, pullQuoteMemId=null, offerSubHead=, subHead=, displayOrder=0,includeInGoogleSearch=false]
Sep 07, 2021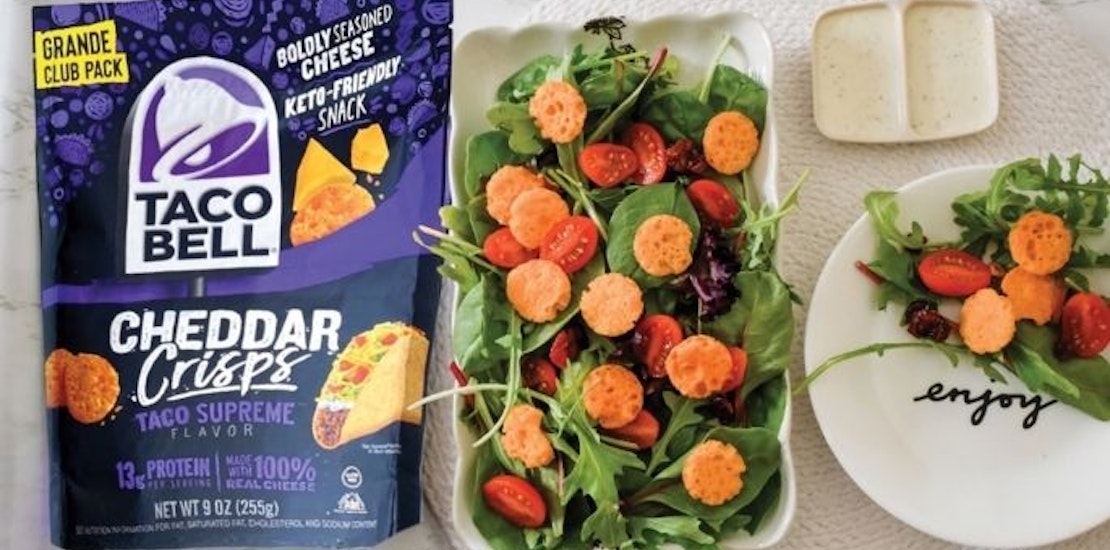 @mymunchkins3
Back-to-college has officially come and gone! Now you might be looking for the perfect items to send in a care package or to deliver on your next visit to campus. The Taco Bell Supreme Cheddar Crisps at Sam's Club are a great addition to any dorm room. They can add a bold crunch to easy-to-prepare meals or flavor to a study session.
Keep reading to see how you can enter to win two bags of Taco Bell Supreme Cheddar Crisps, plus your choice of a Sam's Club Membership or $50 Sam's Club Gift Card.
Study Session Essential:
We love this idea for make-ahead charcuterie boards that will keep college students fueled and focused while they hit the books. SheSpeaks influencer Saidah @apronsandstilettos shares this idea that will get your college student through the most grueling cram session.

Add Some Crunch
Encourage students to eat well and hit the salad bar at the dining hall. Adding the Taco Bell Cheddar Crisps instantly elevates any takeout salad (or soup!) with a bold and tasty crunch. Tip: Keep a bag or two for yourself and add to your own salads, soups and pasta!


Send a Care Package
Show your college student you are thinking of them with an ultimate college care package. Include Taco Bell Cheddar Crisps along with some ideas and supplies for quick & easy meals. Add in their favorite things, treats and memories from home for a little something extra.

Who will you send the Taco Bell Cheddar Crisps to? How would you enjoy them?
Enter below to win below! One winner will receive:
Two Packages of Taco Bell Cheddar Crisps
Choice of Sam's Club Membership (one year - $45 value) or a $50 Sam's Club Gift Card.
Back to College Stock Up & Meal Ideas
One participant will be chosen at random to win a $50 Sam's Club gift card OR a Sam's Club Membership and TWO bags of Taco Bell Cheddar Crisps. T
his giveaway is open through September 27 to U.S. residents at least 18 years of age. Entrants must be a member of SheSpeaks. If you are not a member, click here to join. Winner will be notified by email.


Thanks to all who entered! Congrats to our winner, SheSpeaks member SunnySideUp.