BIG News: Year 3 of 12 Days Of SheSpeaks Giveaways! #thankFULL for Charity Partner @FeedingAmerica

by
SheSpeaksTeam
is this the date @ED : BlogVO [categoryId=70165, blogId=145251, blogTitle=BIG News: Year 3 of 12 Days Of SheSpeaks Giveaways! #thankFULL for Charity Partner @FeedingAmerica, publishingDate=December 01, 2017 12:00 AM, maxResponses=null, noOfComments=null, fileId=30524, blogClosingDate=null, blogCommentClosed=null, blogCategoryId=70165, queryId=0, blogCategoryIdIndex=0, sharedCategoriesList=null, blogStatusId=34, commentsClosedFlag=false, categoryIdForLog=0, blogModuleCategoryId=0, blogFileVo=null, latestCommentsList=null, verticalCatSeoURL=null, currentDate=12/06/2021, blogLink=null, authorName=SheSpeaksTeam, authorLognId=SheSpeaksTeam, authorAcctId=67580, vosTypeid=3, searchTestId=0, searchStatusId=0, searchAuthorType=0, authorBlogNumber=0, surveyData1=null, surveyData1Desc=null, surveyData2=null, surveyData2Desc=null, pullQuoteMemberId=null, filePath=null, fileName=null, vosType=0, subhead=null, offerSubhead=null, description=null, creationTime=null, authorFname=SheSpeaks, verticalCategoryId=null, sectionId=0, imageFileVO=FilesVO [fileId=30524, filePath=null, fileName=null, fileLength=0, fileWidth=0, createdBy=0, createByUser=null, creationTime=null, lastModifiedBy=0, lastModifiedByUser=null, lastModifiedTime=null, mimeType=null, fileRef=null, fileSize=0, extension=null, title=null, body=null, completeFilePath=/pages/img/redesign/blogs/12days blog post_12012017193708.png, height=350, width=350, maxHeight=480, maxWidth=360, displayWidth=350, displayHeight=350, fileStatusId=0, searchKeyword=null, searchFlag=false, queryId=0, isExists=true], seoURL=BIG-News-Year-Three-of-12-Days-Of-SheSpeaks-Giveaways-thankFULL-Charity-Partner-Feeding-America, seoTitle=null, pullQuotesList=null, pullQuote=null, pullQuoteId=0, searchFlag=false, authorByLine=SheSpeaksTeam, authorDesc=Powered by women who love to share what's HOT in reviews, deals & recipes., authorLink=null, authorFileVO=FilesVO [fileId=42371, filePath=null, fileName=null, fileLength=0, fileWidth=0, createdBy=0, createByUser=null, creationTime=null, lastModifiedBy=0, lastModifiedByUser=null, lastModifiedTime=null, mimeType=null, fileRef=null, fileSize=0, extension=null, title=null, body=null, completeFilePath=/pages/img/membersnaps/SheSpeaks_Logo_Symbol_Only_10182021080530.jpg, height=1777, width=1777, maxHeight=50, maxWidth=50, displayWidth=50, displayHeight=50, fileStatusId=0, searchKeyword=null, searchFlag=false, queryId=0, isExists=true], authorFileId=42371, authorType=0, storyImgFileVO=null, storyImgFileId=0, videoHtml=, authorImageFileId=0, authorImageFileVO=null, previousCategoryId=null, previousBlogStatusId=0, fromBlogDetails=0, blogCategoryName=Living, blogCategoryUrl=null, blogCategoryDesc=null, defaultImage=false, tags=null, optionIds=null, tagOptionId=null, tagId=null, tag=null, tagID=0, tagDetails=null, tagIds=null, testId=0, extBlogURL=null, extBlogStatus=0, bloggerSince=null, extBlogLimit=0, authorTestsList=[], blogURL=, blogName=, bloggerProfileId=0, sliderBlog=false, eventonHome=false, vosonHome=false, partyAndGiveawayDate=12/18/2017, imageCredit=null, pullQuoteMemId=null, offerSubHead=null, subHead=null, displayOrder=0]
Dec 01, 2017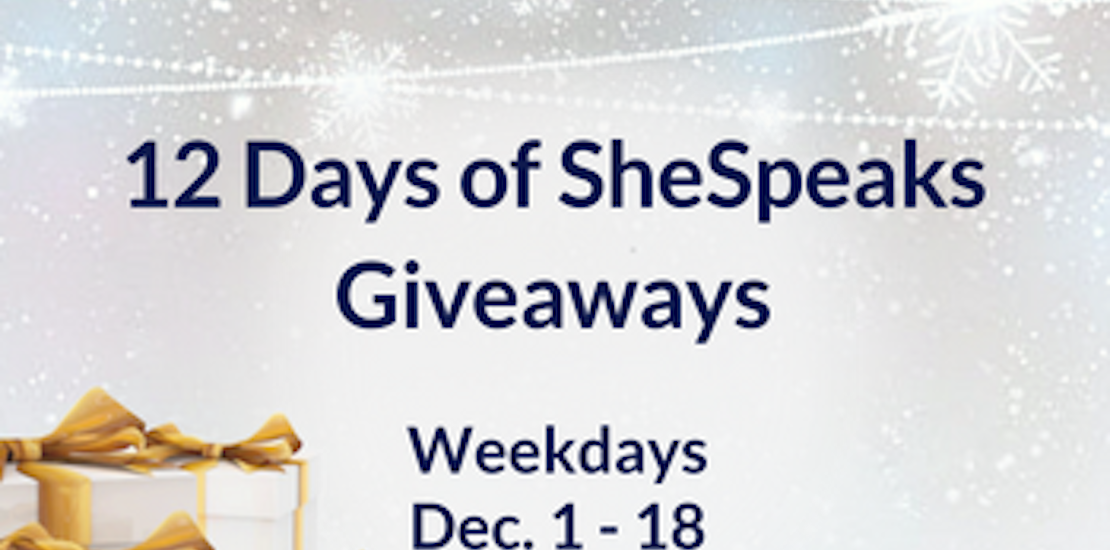 After two exciting years, we are thrilled to announce that we will once again host our annual 12 Days of SheSpeaks Giveaways, offering our members the chance to win incredible prizes and give back to others too!
Every weekday, from December 1st through 18th, we will give away an amazing gift.
It can be anything from food to toys, from entertainment to technology. It will be hard not to want them all!
But wait, there's more!
This year, we are excited to join with a charity partner, Feeding America, so we can showcase the wonderful work of this organization and their #thankFULL holiday campaign. For every entry, $1 will be donated to Feeding America to help fight hunger in this country (up to $1,000).
It's simple. Just come back to this page every day.
You will find out about our daily giveaway here, as well as info on how to enter each one. Winners will be announced at the end of the 12 Days. Couldn't be easier.
Be sure to tag @SheSpeaksUp, @FeedingAmerica & #thankFULL when sharing!
Day 1 Giveaway: Win a Star Wars X-Wing Battlefighter Drone!
Day 2 Giveaway: Win PJs for the Family ($200 Shopping Spree)!
Day 3 Giveaway: Win $200 Crate & Barrel Gift Card!
Day 4 Giveaway: Win $200 to Pamper Your Pet!
Day 5 Giveaway: Win $200 Shopping Spree for a Wonder Woman!
Day 6 Giveaway: Win a Kiehl's Beauty Package!
Day 7 Giveaway: Win Food & Home Bundles from Brandless!
Day 8 Giveaway: Win a Portable USB Turntable!
Day 9 Giveaway: Win a $200 to BoxLunch to buy the ultimate TV/movie gift package!
Day 10 Giveaway: TWO winners each get a $100 Subway Gift Card!
Day 11 Giveaway: Win a Bath Bomb Variety Box!
Day 12 Giveaway: FOUR winners each get a $50 Starbucks Gift Card!
Make sure to check out this fun video about gifting from the @FeedingAmerica #thankFULL campaign, and how you can make a difference this holiday season:
Are you as excited as we are? Be sure to come back every weekday through December 18! We can't wait to give to you, give back and celebrate 12 Days Of SheSpeaks!