BARILLA® PESTO AND PEPPER PASTA BOWL
submitted by Marilou70 {2 Recipes}
Prep Time:
20 Mins
Cook Time:
10 Mins
Total Prep + Cook Time:
30 Mins
Level:
Easy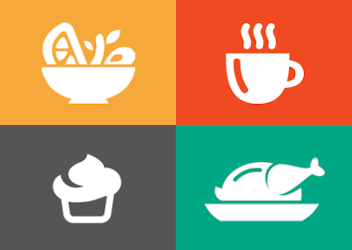 Makes: 8 servings
Description: A traditional pesto sauce with shrimp and thin pasta with a kick of pepper, peas and asiago cheese.
Ingredients:
12 oz Fresh Large Shrimp
1 Box Barilla Angel Hair Pasta
2/3 Cup Chicken Broth
2 Cups Frozen Peas
1 Medium Yellow Sweet Pepper, Chopped
1 Jar Barilla Traditional Basil Pesto Sauce
1/4 Tsp Crushed Red Pepper
1/4 Cup Asiago Cheese Shards (1 oz)

Instructions: Peel and devein shrimp. Rinse, and pat dry with paper towels.

In a large pot bring 4 to 6 quarts of water to a rolling boil; add salt to taste and the Angel Hair; stir gently.

Cook pasta according to package directions; remove from heat and drain well.

Meanwhile, in a large skillet bring chicken broth to a simmer, stir in shrimp, peas, and yellow pepper and simmer until shrimp are opaque and pepper is tender (about 3 minutes). Add Barilla Traditional Basil Pesto; heat through. Add pasta; stir gently to combine.

Serve topped with crushed red pepper, additional pesto, and Asiago cheese.

Customize it: Instead of shrimp try thinly sliced precooked chicken; try chickpeas instead of peas; or add broccoli or snap peas to the mix.
via Barilla
Other recipes in main dishes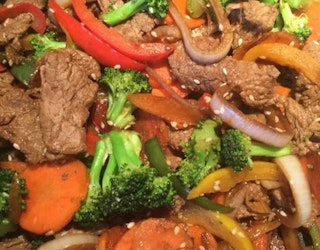 By
AmAtHome
May 04, 2018
I sometimes use a bag of prepared stir fry veggies, and if I have Yoshida's Gourmet Sauce I use it in place of the soy sauce. Instant Jasmine rice, or th…
Read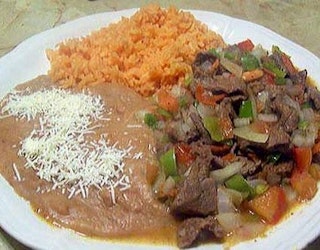 By
lnlygrl96
May 02, 2012
Steak mixed with veggies
Read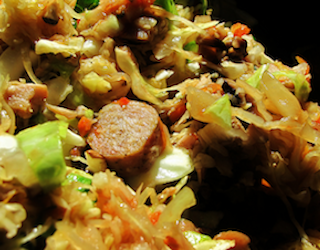 By
dunkidsmom
Oct 23, 2012
Quick, easy and good for the whole family!
Read