April Fools! Watch These Celeb Pranks & Enter to Win the @SheSpeaksUp #AprilFools Giveaway

by
SheSpeaksTeam
is this the date @ED : BlogVO [categoryId=70162, blogId=144677, blogTitle=April Fools! Watch These Celeb Pranks & Enter to Win the @SheSpeaksUp #AprilFools Giveaway, publishingDate=March 30, 2016 12:00 AM, maxResponses=null, noOfComments=null, fileId=26486, blogClosingDate=null, blogCommentClosed=null, blogCategoryId=70162, queryId=0, blogCategoryIdIndex=0, sharedCategoriesList=null, blogStatusId=34, commentsClosedFlag=false, categoryIdForLog=0, blogModuleCategoryId=0, blogFileVo=null, latestCommentsList=null, verticalCatSeoURL=null, currentDate=12/07/2023, blogLink=null, authorName=SheSpeaksTeam, authorLognId=SheSpeaksTeam, authorAcctId=67580, vosTypeid=3, searchTestId=0, searchStatusId=0, searchAuthorType=0, authorBlogNumber=0, surveyData1=null, surveyData1Desc=null, surveyData2=null, surveyData2Desc=null, pullQuoteMemberId=null, filePath=null, fileName=null, vosType=0, subhead=null, offerSubhead=null, description=null, creationTime=null, authorFname=SheSpeaks, verticalCategoryId=null, sectionId=0, imageFileVO=FilesVO [fileId=26486, filePath=null, fileName=null, fileLength=0, fileWidth=0, createdBy=0, createByUser=null, creationTime=null, lastModifiedBy=0, lastModifiedByUser=null, lastModifiedTime=null, mimeType=null, fileRef=null, fileSize=0, extension=null, title=null, body=null, completeFilePath=/pages/img/redesign/blogs/april fools_03292016134204.jpg, height=190, width=266, maxHeight=480, maxWidth=360, displayWidth=266, displayHeight=190, fileStatusId=0, searchKeyword=null, searchFlag=false, queryId=0, isExists=true], seoURL=April-Fools-Watch-These-Celeb-Pranks-and-Enter-to-Win-SheSpeaksUp-AprilFools-Giveaway, seoTitle=null, pullQuotesList=null, pullQuote=null, pullQuoteId=0, searchFlag=false, authorByLine=null, authorDesc=null, authorLink=null, authorFileVO=FilesVO [fileId=42371, filePath=null, fileName=null, fileLength=0, fileWidth=0, createdBy=0, createByUser=null, creationTime=null, lastModifiedBy=0, lastModifiedByUser=null, lastModifiedTime=null, mimeType=null, fileRef=null, fileSize=0, extension=null, title=null, body=null, completeFilePath=/pages/img/membersnaps/SheSpeaks_Logo_Symbol_Only_10182021080530.jpg, height=1777, width=1777, maxHeight=50, maxWidth=50, displayWidth=50, displayHeight=50, fileStatusId=0, searchKeyword=null, searchFlag=false, queryId=0, isExists=true], authorFileId=42371, authorType=0, storyImgFileVO=null, storyImgFileId=0, videoHtml=, authorImageFileId=0, authorImageFileVO=null, previousCategoryId=null, previousBlogStatusId=0, fromBlogDetails=0, blogCategoryName=Entertainment, blogCategoryUrl=null, blogCategoryDesc=null, defaultImage=false, tags=null, optionIds=null, tagOptionId=null, tagId=null, tag=null, tagID=0, tagDetails=null, tagIds=null, testId=0, extBlogURL=null, extBlogStatus=0, bloggerSince=null, extBlogLimit=0, authorTestsList=[], blogURL=, blogName=, bloggerProfileId=0, sliderBlog=false, eventonHome=false, vosonHome=false, partyAndGiveawayDate=04/17/2016, imageCredit=null, pullQuoteMemId=null, offerSubHead=null, subHead=null, displayOrder=0,includeInGoogleSearch=false]
Mar 30, 2016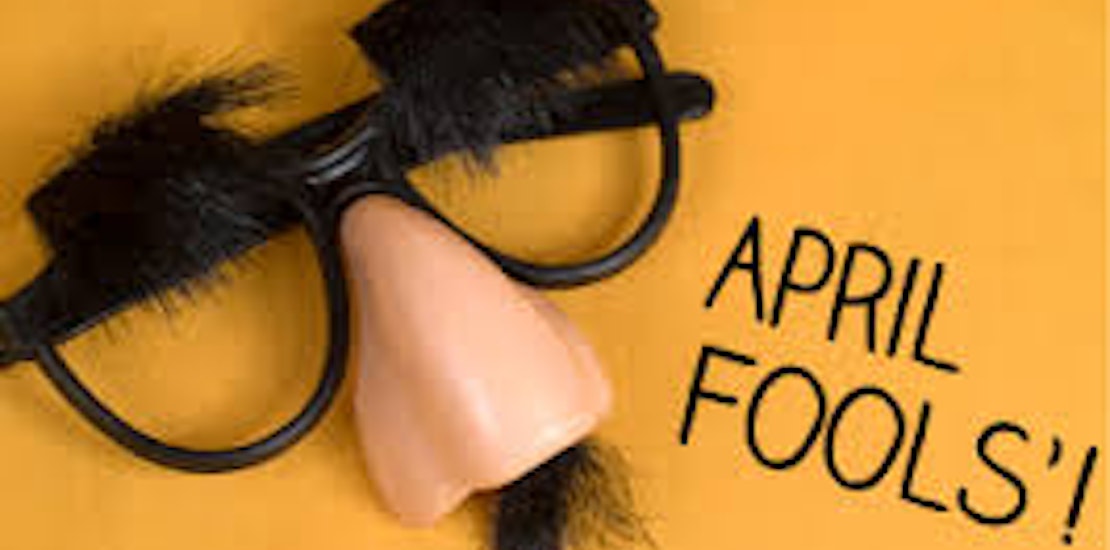 Though it's a tradition that's been going on for hundreds of years, no one is exactly sure how April Fool's Day got its start. Some believe it originated in France in 1582 when people mistakenly celebrated New Years in April instead of January. Others link April Fool's Day to the unpredictable weather that can fool you this time of year.
Whatever the origin, we can all agree that there's nothing like a good prank, as long as you're not the victim. So sit back and enjoy some of the most memorable celebrity April 1st action!
Then read on to learn how you can win a $50 Amazon gift card - and that's no joke!
Last year we saw a pretty epic prank when Rihanna surprised the notorious prankster Jimmy Kimmel by showing up to his house at 1am on April 1st and giving him a private performance while he slept (complete with strobe lights and backup dancers).
Clever News reminds us that a couple of years ago we saw Miley Cyrus and Avril Lavigne go at it as they fought over who was more famous in Canada. The pop singers posted a short video clip to their Instagram on April 1st, 2014 of them pummeling one another. Lavigne later posted a picture to her Twitter captioned "#aprilfools" that shows her about to punch Miley in the face.
Ellen DeGeneres' idea of a prank seems to be a good scare. She has a history of scaring her guests and on April Fool's Day in 2009 she made Christina Applegate scream in terror not once but twice. The actress was surprised by Ellen hiding in her dressing room before the show. Then during her interview, someone dressed as a fake plant snuck up behind her, inducing another bloodcurdling scream.
And who can forget the time Katie Couric managed one of the most memorable pranks ever on the Late Late Show with James Corden. As Corden introduced Couric, a stunt double appeared at the top of a set of stairs looking like she's having trouble with her heels. She then goes head over heels, tumbling down each step. Corden rushes over in sheer horror asking if she is okay before the real Katie Couric emerges saying, "April Fool's!".
What are your favorite April Fool's Jokes? Tell us and you will be entered to win a $50 Amazon gift card.
There are two ways to enter:
Simply comment below to tell us an April Fool's Day joke that's memorable to you.
AND/OR
Tweet about the giveaway!
Click here to Tweet: "I entered the @SheSpeaksUp #AprilFools giveaway to win an Amazon gift card! bit.ly/1UT1rOM"
*One lucky commenter or Tweeter will be chosen at random to receive a $50 Amazon gift card. Giveaway is open through April 17th, 2016 to U.S. residents at least 18 years of age. Entrants must be a member of SheSpeaks. If you are not a member, click here to join. Winner will be notified by email.
Update: The winner is SheSpeaks member Kjo102186! Thanks to all for entering and congrats to her!