Announcing our 2019 #12DaysOfSheSpeaks Charity Choice: American Foundation for Suicide Prevention

by
SheSpeaksTeam
is this the date @ED : BlogVO [categoryId=70165, blogId=145639, blogTitle=Announcing our 2019 #12DaysOfSheSpeaks Charity Choice: American Foundation for Suicide Prevention, publishingDate=December 03, 2019 12:00 AM, maxResponses=null, noOfComments=null, fileId=37098, blogClosingDate=null, blogCommentClosed=null, blogCategoryId=70165, queryId=0, blogCategoryIdIndex=0, sharedCategoriesList=null, blogStatusId=34, commentsClosedFlag=false, categoryIdForLog=0, blogModuleCategoryId=0, blogFileVo=null, latestCommentsList=null, verticalCatSeoURL=null, currentDate=09/28/2022, blogLink=null, authorName=SheSpeaksTeam, authorLognId=SheSpeaksTeam, authorAcctId=67580, vosTypeid=3, searchTestId=0, searchStatusId=0, searchAuthorType=0, authorBlogNumber=0, surveyData1=null, surveyData1Desc=null, surveyData2=null, surveyData2Desc=null, pullQuoteMemberId=null, filePath=null, fileName=null, vosType=0, subhead=null, offerSubhead=null, description=null, creationTime=null, authorFname=SheSpeaks, verticalCategoryId=null, sectionId=0, imageFileVO=FilesVO [fileId=37098, filePath=null, fileName=null, fileLength=0, fileWidth=0, createdBy=0, createByUser=null, creationTime=null, lastModifiedBy=0, lastModifiedByUser=null, lastModifiedTime=null, mimeType=null, fileRef=null, fileSize=0, extension=null, title=null, body=null, completeFilePath=/pages/img/redesign/blogs/12dayscharitywinner blog post image_11272019104553.png, height=350, width=350, maxHeight=480, maxWidth=360, displayWidth=350, displayHeight=350, fileStatusId=0, searchKeyword=null, searchFlag=false, queryId=0, isExists=true], seoURL=Announcing-our-2019-12DaysOfSheSpeaks-Charity-Choice-American-Foundation-for-Suicide-Prevention, seoTitle=null, pullQuotesList=null, pullQuote=null, pullQuoteId=0, searchFlag=false, authorByLine=null, authorDesc=null, authorLink=null, authorFileVO=FilesVO [fileId=42371, filePath=null, fileName=null, fileLength=0, fileWidth=0, createdBy=0, createByUser=null, creationTime=null, lastModifiedBy=0, lastModifiedByUser=null, lastModifiedTime=null, mimeType=null, fileRef=null, fileSize=0, extension=null, title=null, body=null, completeFilePath=/pages/img/membersnaps/SheSpeaks_Logo_Symbol_Only_10182021080530.jpg, height=1777, width=1777, maxHeight=50, maxWidth=50, displayWidth=50, displayHeight=50, fileStatusId=0, searchKeyword=null, searchFlag=false, queryId=0, isExists=true], authorFileId=42371, authorType=0, storyImgFileVO=null, storyImgFileId=0, videoHtml=, authorImageFileId=0, authorImageFileVO=null, previousCategoryId=null, previousBlogStatusId=0, fromBlogDetails=0, blogCategoryName=Living, blogCategoryUrl=null, blogCategoryDesc=null, defaultImage=false, tags=null, optionIds=null, tagOptionId=null, tagId=null, tag=null, tagID=0, tagDetails=null, tagIds=null, testId=0, extBlogURL=null, extBlogStatus=0, bloggerSince=null, extBlogLimit=0, authorTestsList=[], blogURL=, blogName=, bloggerProfileId=0, sliderBlog=false, eventonHome=false, vosonHome=false, partyAndGiveawayDate=12/20/2019, imageCredit=null, pullQuoteMemId=null, offerSubHead=null, subHead=null, displayOrder=0,includeInGoogleSearch=false]
Dec 03, 2019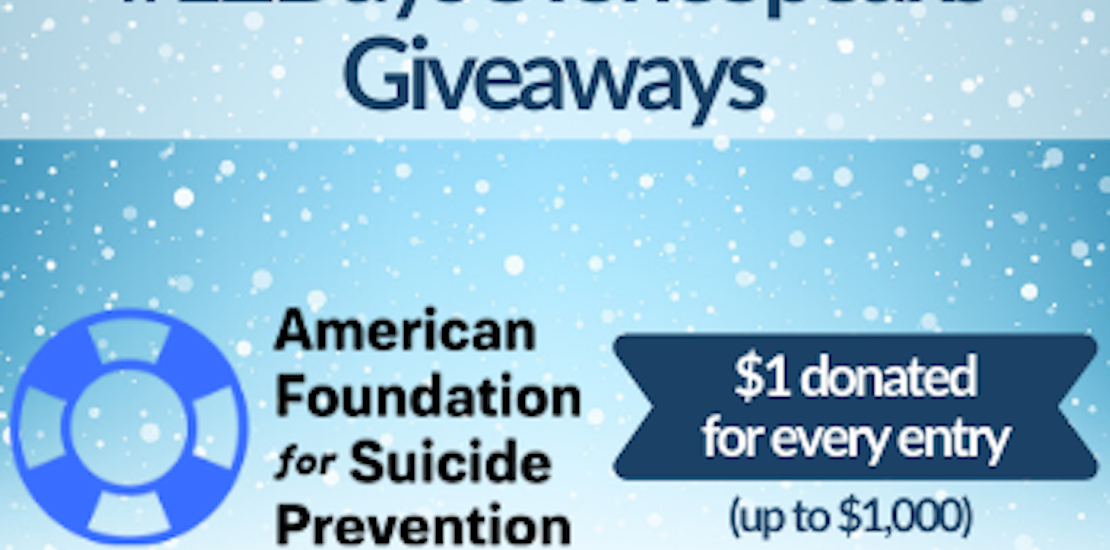 We're thrilled to announce year five of our BIG 12 Days of SheSpeaks Giveaways! Once again, we will be donating a dollar for every entry (up to $1,000) to a charity chosen by our members. Thanks to all who voted!
This year, our SheSpeaks members have selected the American Foundation for Suicide Prevention as the charity of choice for our donation!
The American Foundation for Suicide Prevention aims to save lives and bring hope to those affected by suicide. It's the largest private funder of suicide prevention research and has awarded more than $21 million in the last five years.
According to the organization's website, "Each year, suicide claims more lives than war, murder, and natural disasters combined. Yet suicide prevention doesn't receive anywhere near the funding as other leading causes of death."
The American Foundation for Suicide Prevention runs various walks, including 'Out of the Darkness' in hundreds of communities across all 50 states. It aims to change the conversation about mental health and put a stop to this tragic loss of life.
Thank you, our community, for your important recommendation to donate to the American Foundation for Suicide Prevention this holiday season.
You can find out more about this amazing organization and find a walk to join here.
If you are in crisis, or know someone who may need help, please call the National Suicide Prevention Lifeline at 1-800-273-TALK (8255) or contact the Crisis Text Line by texting TALK to 741741.
Let others know about the 12 Days of SheSpeaks charity choice. Click here to Tweet: "Let's change the conversation about suicide by supporting @afspnational with the @SheSpeaksUp #12DaysOfSheSpeaks giveaways. http://bit.ly/2DythfD"
We can't wait to give to you, give back and celebrate 12 Days of SheSpeaks!