Angelina's Wedding Dress and the Veil Everyone is Talking About

By
SheSpeaksTeam
Sep 02, 2014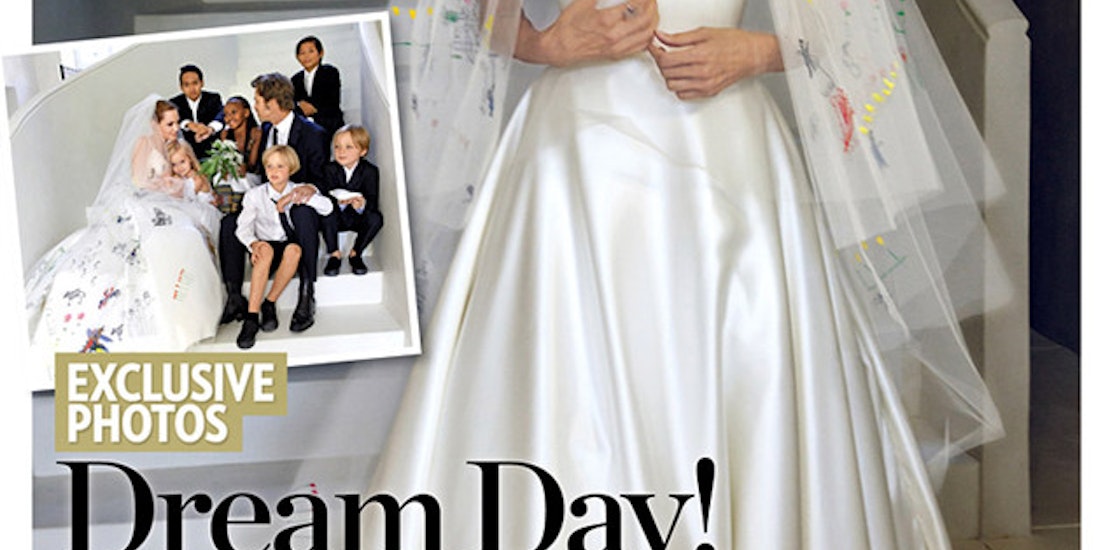 They've been America's sweethearts for years so it comes as no surprise that Brad and Angie had everyone waiting with bated breath as to when and where they would finally tie the knot. Though they have been hinting at an upcoming trip down the aisle for a while now, the couple was able to sneak away to France to have a very intimate and private ceremony recently where only 20 friends and family were on hand to congratulate them.
Details of the wedding are now being revealed with more to come in upcoming issues of People and OK magazine. But perhaps most importantly, we now have the details on the dress and very untraditional veil Jolie chose to tie the look together.
E! Online reports about the Versace dress and veil Jolie had designed for her big day. Donatella Versace also released the now famous sketches of the dress design. The dress itself was beautifully classic and made from white silk-satin which "gathered at the bust with an elongated train." But enough about the dress, let's talk about this veil.
On first glance, the floor length veil appears to be embroidered with many colors and details. And indeed, the veil and gown came with many personal touches courtesy of the Brangelina brood who were able to submit their drawings to be embroidered into the headpiece and train. There are crude drawings of flowers, stick people and lettering all over the veil. One phrase on the veil says, "Buttock Fatock" and is purported to be a family inside joke. Whatever the joke, it's not every day you see a bride walking down the aisle with the word Buttock embroidered on her get-up.
The master tailor from Atelier Versace, Luigi Massi, made the custom dress for Jolie and the actress gushes over his craftsmanship and personal relationship with the Jolie-Pitt family. She tells People, "Luigi is like family to me and I couldn't imagine anyone else making this dress. He knows and cares for the children and it was great fun putting it together."
What do you think of Angelina's wedding look?
Do you think the untraditional veil was a sweet touch?