And Now For Some Good News, John Krasinski's New Youtube Channel Will Warm Your Heart

By
SheSpeaksTeam
Mar 31, 2020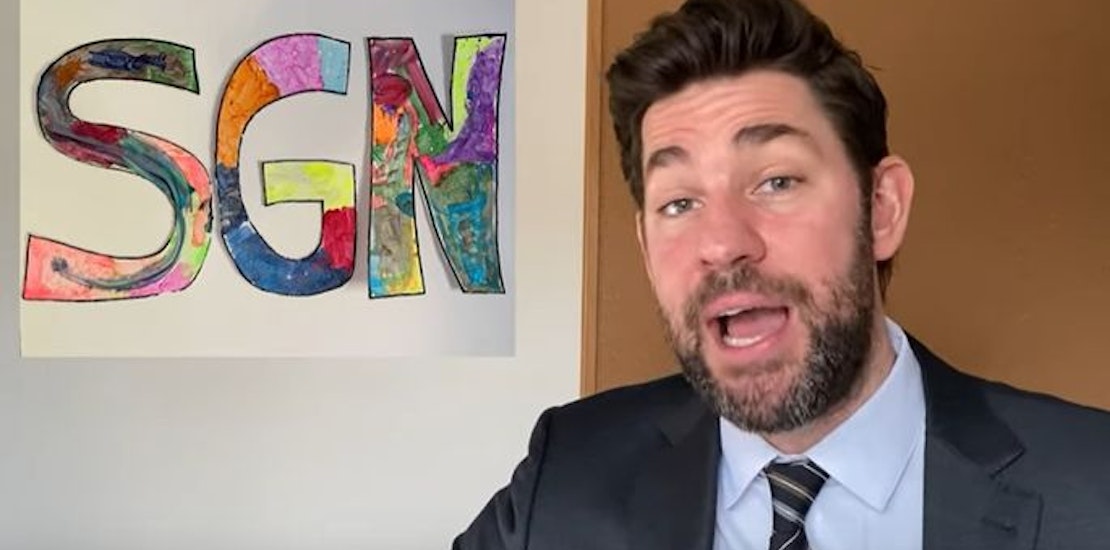 The news cycle has never been more stress-inducing for many people as it is now. But, luckily The Office alum John Krasinski has stepped in to offer something to lift our spirits. The much-loved actor recently debuted a Youtube channel he is calling Some Good News (SGN), where he sits in his home office as host and relays some of the most heart warming news one could imagine.

The first episode of SGN has already had more than 7 million views and features Steve Carrell as a surprise "entertainment correspodent" to celebrate the 15th anniversary of the hit show The Office. Carrell and Krasinski get a little misty-eyed reminiscing about working together on the show and share some of their favorite moments.

But what SGN is really about is sharing all of the good news moments happening to people around the country. Kransinski shares a video John Kline posted seranading his wife, who is in a nursing home with Alzheimer's, from outside her window. Kline sings Amazing Grace to his wife from outside a closed window as she sings along happily in her bed. Kline captions his video saying, "No visitors to John Knox Nursing Home. Not my best singing - so you probably won't want to listen. I cut it off at 45 seconds. I love my Sweet Ann and look forward to spending eternity with her. God bless you for even looking - and if you listened, well that was because you wanted to hear Ann."

Krasinski also shares tender and funny moments in social media pics between couples. One was of a couple that was supposed to spend spring break in Paris. Instead, the boyfriend created an elaborate chalk mural of the Eiffel Tower and proposed to his girlfriend in front of it.




And of course, Krasinski shares the best for last with the story of a teen named Coco who was surprised to find her entire neighborhood throwing her a social distancing parade as she drives back with her mom from her last Chemo treatment. Dozens and dozens of people decorated their cars and lined the streets (with distance between cars and people) to cheer Coco on as she drove with her mom. Coco was also featured as a guest on the SGN show and was able to thank all of her nurses and doctors for the treatment and care she received.

What do you think of the SGN Youtube channel?

Would you like to see more heart warming stories featured on news networks?