Ackee and Cod Fish with Boiled Green Bananas
submitted by sharisa {1 Recipe}
Prep Time:
30 Mins
Cook Time:
40 Mins
Total Prep + Cook Time:
1 Hr 10 Mins
Level:
Easy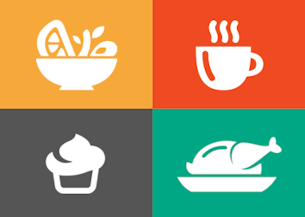 Photo Source: Google images
Makes: 3 servings
Description: Cod fish and ackee with boiled green bananas
Ingredients:
8 oz salted cod fish
2 (15 oz) cans ackee
1/4 cup diced red tomatoes
1/4 cup chopped onions
1/4 cup chopped sweet pepper
1 tsp minced garlic
2 tbsp vegetable oil
1/4 cup thawed mixed vegetables
12 fingers green bananas

Instructions: Cooking bananas: put to boil a pot with water and salt. In a separate bowl with cold water and vinegar, core and peel green bananas. Once water has come to a rapid boil, add bananas. Cook until fork pierces through.

For ackee and cod fish: Rinse the cod fish and then boil the cod fish for about 10 minutes in a pot of water. Drain water once boiled and rinse.
Cod fish can be flaked to desired sizes.
In a frying pan, saute all vegetables in vegetable oil. Saute to desired liking. Add mixed vegetables and stir until tender. Add flaked cod fish and drained ackees. Simmer for 3 minutes. Turmeric and white pepper can be added for extra taste and color.
via Personal
Other recipes in breakfast & brunch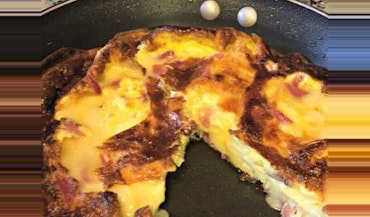 By
RobynThompson
Aug 14, 2018
I have joined the low carb world! I am not ready yet to say "keto" so I am just gonna say low carb. This morning I was trying to come up with a breakfast…
Read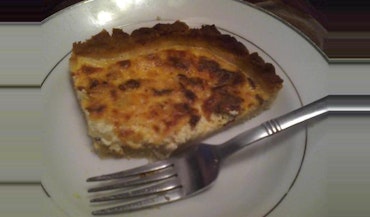 By
malakijr
Dec 29, 2011
Warm, creamy bacon onion egg filling in a flaky pastry crust. Ready in 30 minutes!
Read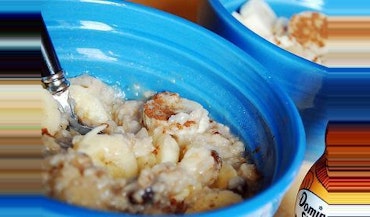 By
kmogilevski
Dec 28, 2011
Oatmeal with two added ingredients, peanut butter and mashed banana, to create a creamy and sweet version of oatmeal.
Read