ANNOUNCING OUR 2022 #SHECELEBRATES CHARITY CHOICE: St. Jude Children's Hospital

by
SheSpeaksTeam
is this the date @ED : BlogVO [categoryId=70165, blogId=146172, blogTitle=ANNOUNCING OUR 2022 #SHECELEBRATES CHARITY CHOICE: St. Jude Children's Hospital, publishingDate=December 01, 2022 12:00 AM, maxResponses=null, noOfComments=null, fileId=45831, blogClosingDate=null, blogCommentClosed=null, blogCategoryId=70165, queryId=0, blogCategoryIdIndex=0, sharedCategoriesList=null, blogStatusId=34, commentsClosedFlag=false, categoryIdForLog=0, blogModuleCategoryId=0, blogFileVo=null, latestCommentsList=null, verticalCatSeoURL=null, currentDate=03/29/2023, blogLink=null, authorName=SheSpeaksTeam, authorLognId=SheSpeaksTeam, authorAcctId=67580, vosTypeid=3, searchTestId=0, searchStatusId=0, searchAuthorType=0, authorBlogNumber=0, surveyData1=null, surveyData1Desc=null, surveyData2=null, surveyData2Desc=null, pullQuoteMemberId=null, filePath=null, fileName=null, vosType=0, subhead=null, offerSubhead=null, description=null, creationTime=null, authorFname=SheSpeaks, verticalCategoryId=null, sectionId=0, imageFileVO=FilesVO [fileId=45831, filePath=null, fileName=null, fileLength=0, fileWidth=0, createdBy=0, createByUser=null, creationTime=null, lastModifiedBy=0, lastModifiedByUser=null, lastModifiedTime=null, mimeType=null, fileRef=null, fileSize=0, extension=null, title=null, body=null, completeFilePath=/pages/img/redesign/blogs/SheCelebrates St Jude header_12012022104746.jpg, height=550, width=1110, maxHeight=480, maxWidth=360, displayWidth=360, displayHeight=178, fileStatusId=0, searchKeyword=null, searchFlag=false, queryId=0, isExists=true], seoURL=ANNOUNCING-OUR-2022-SHECELEBRATES-CHARITY-CHOICE-St-Jude-Children-s-Hospital, seoTitle=null, pullQuotesList=null, pullQuote=null, pullQuoteId=0, searchFlag=false, authorByLine=null, authorDesc=null, authorLink=null, authorFileVO=FilesVO [fileId=42371, filePath=null, fileName=null, fileLength=0, fileWidth=0, createdBy=0, createByUser=null, creationTime=null, lastModifiedBy=0, lastModifiedByUser=null, lastModifiedTime=null, mimeType=null, fileRef=null, fileSize=0, extension=null, title=null, body=null, completeFilePath=/pages/img/membersnaps/SheSpeaks_Logo_Symbol_Only_10182021080530.jpg, height=1777, width=1777, maxHeight=50, maxWidth=50, displayWidth=50, displayHeight=50, fileStatusId=0, searchKeyword=null, searchFlag=false, queryId=0, isExists=true], authorFileId=42371, authorType=0, storyImgFileVO=null, storyImgFileId=0, videoHtml=, authorImageFileId=0, authorImageFileVO=null, previousCategoryId=null, previousBlogStatusId=0, fromBlogDetails=0, blogCategoryName=Living, blogCategoryUrl=null, blogCategoryDesc=null, defaultImage=false, tags=null, optionIds=null, tagOptionId=null, tagId=null, tag=null, tagID=0, tagDetails=null, tagIds=null, testId=0, extBlogURL=null, extBlogStatus=0, bloggerSince=null, extBlogLimit=0, authorTestsList=[], blogURL=, blogName=, bloggerProfileId=0, sliderBlog=false, eventonHome=true, vosonHome=false, partyAndGiveawayDate=12/17/2022, imageCredit=St. Jude Children's Research Hospital/stjude.org, pullQuoteMemId=null, offerSubHead=, subHead=, displayOrder=0,includeInGoogleSearch=false]
Dec 01, 2022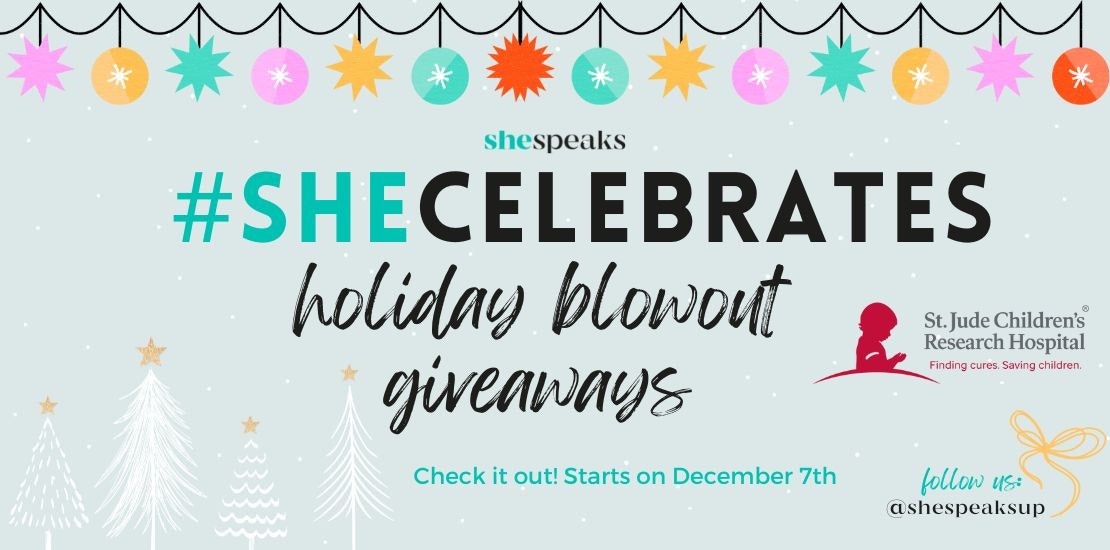 St. Jude Children's Research Hospital/stjude.org
We're thrilled to announce our BIG #SheCelebrates Holiday Blowout Giveaway! Once again, we will be donating a dollar for every entry (up to $1,000) to a charity chosen by our members. Thanks to all who voted!
This year, our SheSpeaks members have selected St. Jude Children's Research Hospital as the charity of choice for our donation!

St. Jude Children's Research Hospital's goal is to advance cures, and means of prevention, for pediatric catastrophic diseases through research and treatment. Their primary mission is that no child is denied treatment based on race, religion or a family's ability to pay.
According to the organization's website, "Treatments invented at St. Jude have helped push the overall childhood cancer survival rate from 20% to more than 80% since it opened more than 50 years ago. St. Jude has treated children from all 50 states and from around the world. Families never receive a bill from St. Jude for treatment, travel, housing or food—so they can focus on helping their child live."
Thank you, our community, for your important recommendation to donate to St. Jude Children's Research Hospital this holiday season.
You can find out more about this amazing organization here.
We can't wait to give to you, give back and celebrate #SheCelebrates Holiday Blowout!