A Skateboard and a Stroller All In One: Sounds Fun But Is It Safe?

By
SheSpeaksTeam
Jul 03, 2013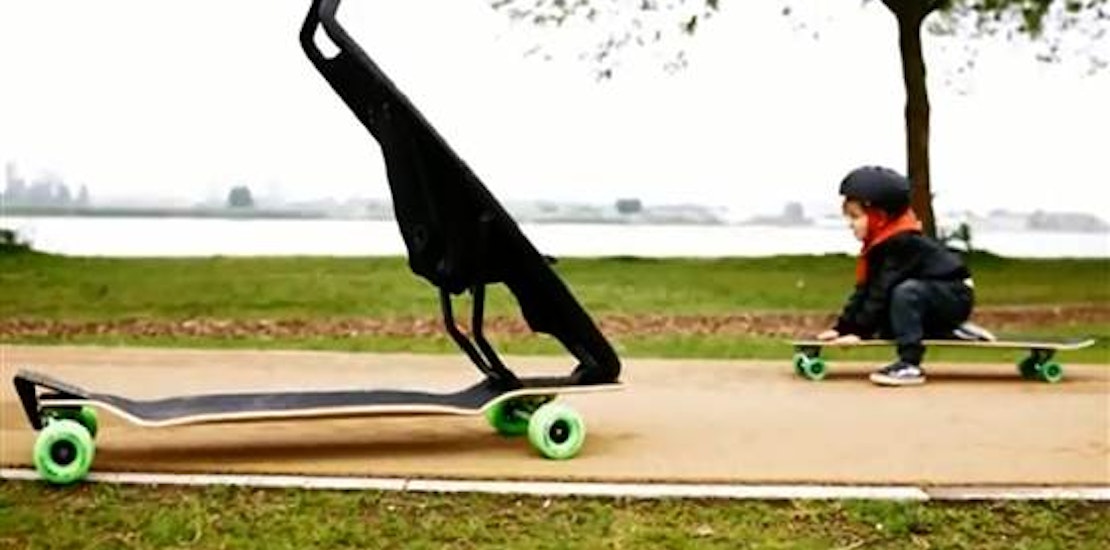 It's not unusual to see a parent zoom by on a bicycle with a baby or toddler strapped into a specially attached seat, but have you ever seen the skateboard version of this? Though not yet on the market, there is now a prototype Longboardstroller aimed at urban parents on the go that may be missing their skateboarding days of yesteryear.
Today reports about the unique transportation the stroller maker Quincy partnered with Quinny and Belgian design agency Studio Peter van Riet set out to design. When you look at jogging strollers and baby bike seats, the skateboard stroller may seem like the logical next step. The company explains their intentions releasing this statement on the site, "It's an alternative solution which makes it easy to travel longer distances in a nice, environmentally friendly way. You don't have to leave the city when you become a parent... for parents with a positive attitude and the right solutions, the city is a place full of opportunities."
The skateboard/stroller works much like a normal skateboard just with the added attachment of a lightweight stroller up front. The parent holds onto the stroller handles while propelling the board with her/his feet. A Youtube clip shows viewers how it works when the company performed a test day complete with helmet-wearing toddlers, but there is still much work to do before this hits the market. The company stresses that safety is extremely important and they don't plan on putting it on the market until they are one hundred percent confident they can provide a smooth ride.
What do you think of the stroller/skateboard combo?
Do you think this has potential to be a fun form of transportation for urban parents or is it too unsafe?