A Heartbroken Mother Changes The Rules

By
drodriguez
Jun 09, 2009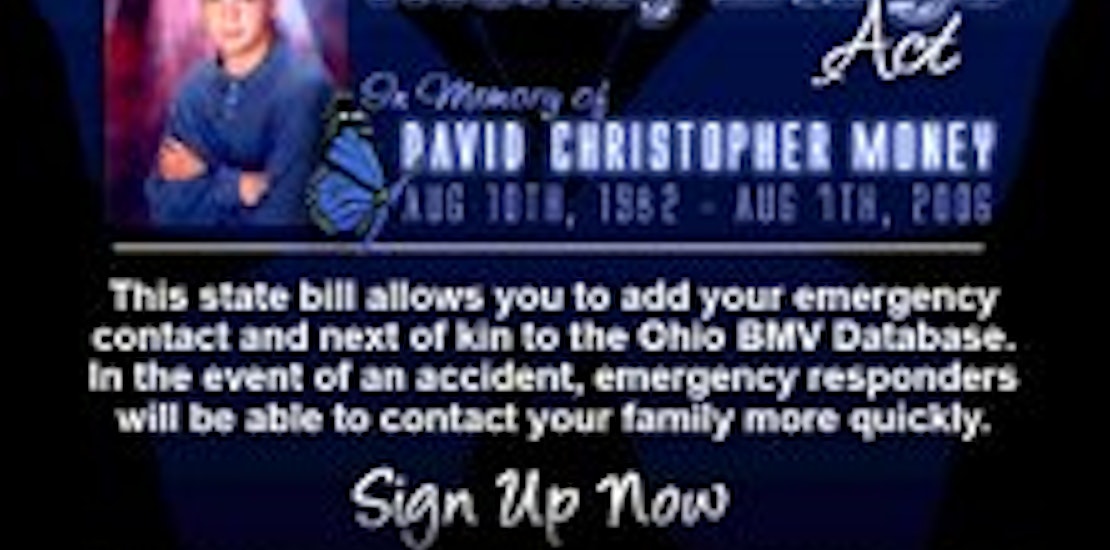 Hearing that a loved one has been injured or killed is the most devastating news a person can ever receive. One woman, Carmela Wiant, from Ohio has worked hard to make sure parents don't have to suffer through the same experience she had when she received news of her son's, David Christopher Money's, death.

According to Wiant's website, David Money passed away after getting into a car accident from hydroplaning. The Chaplain informed Wiant over the phone of her son's death. As traumatic as this information can be, Wiant thought there should be another, more humane, way of communicating this information to parents. She wanted a chance to say goodbye or be with her son before he died.

A few months after her son's death, Wiant started lobbying for a bill so that people could be informed of a loved one's death in the proper way. The Money-Burge Act (also known as "Next Of Kin" Bill), in memory of David Money and Steve Burge, allows people to add an emergency contact's information right onto their driver's license. This addition to the license allows the first responders on the scene of an accident to contact the next of kin so they can be with the accident victim a lot sooner.

Wiant describes what she went through while lobbying for the bill on her website. She wrote, "The process of doing this Bill sometimes was very emotional, very stressful and sometimes I just wanted to quit, but every time I would look at my Son's picture I would say ?What if the tables were turned and they told him this way'?"

What do you think of the Money-Burge Act put in place by Carmela Wiant?

Do you think other states should follow Ohio's lead and pass bills similar to this one?