A Date Night Challenge That Is Sure to Put a Smile on Your Face

By
SheSpeaksTeam
Jul 21, 2017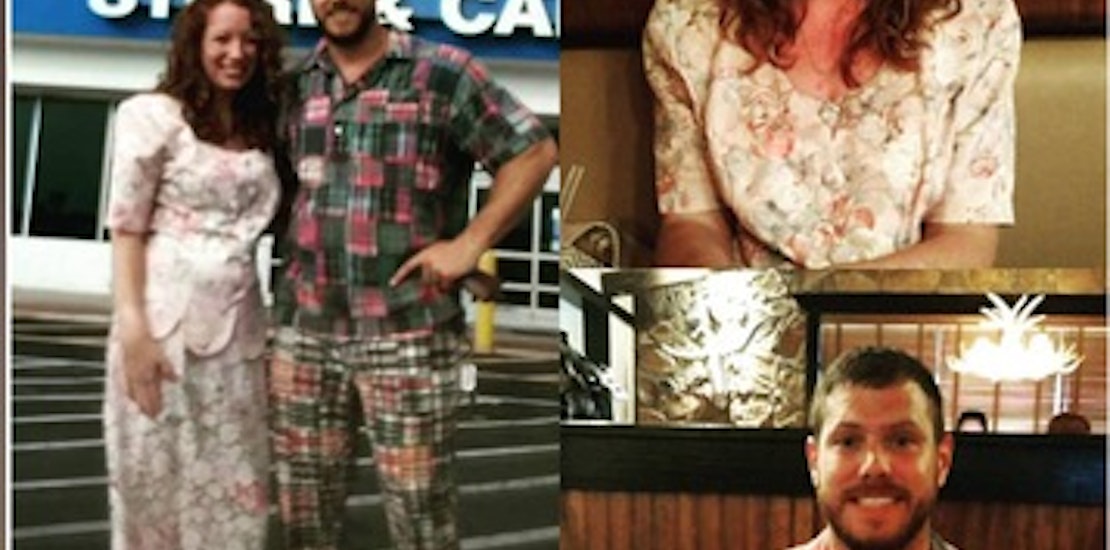 If your dinner and a movie date night is looking more drab these days, then you may want to consider lightening the mood with a simple idea that has many laughing and making plans. Noel and Shane Pauley heard about a date night challenge that was both inexpensive and sure to put a smile on their faces. With just $10, both Noel and Shane had to find an outfit at Goodwill for each other and then wear it out on their date. The results were hilarious.
When Noel snapped some pics of she and her husband in their mismatched duds and shared her date night adventure on Facebook, it quickly went viral receiving more than 300,000 likes and shared more than 400,000 times. After her post went viral, Noel decided to add her adventure to her blog and lay out the rules for all of those interested in playing the #Goodwilldatenight challenge.
Rule number one states that each person gets $10 to find an outfit at Goodwill for the other person. You must wear what is picked for you and you must not go over the $10. Once out of the store, rule number two states that you and your partner must vow not to discuss the outfits and completely own the look. This means, you walk with confidence even if you're completely losing it inside. According to Noel, when she and her husband entered the restaurant, "People were snickering as they walked by and we got a lot of side eye from the hostess. Again, to most people's surprise, NO ONE said a word to us about our outfits. Everyone just looked and laughed behind our backs I'm sure."
The 3rd and last rule is for you and your partner to pick fake names for each other and go by them all night long. Though, Noel admits this wasn't a rule when they first came up with the plan her husband referred to her as Ethel when he saw her in her outfit and it stuck. She explains, "When I walked out of the dressing room Shane said 'Ethel get your choir book and come on' and from that point on I was stuck with Ethel."
A Metro report explains how the date night challenge has already taken off among other couples who are documenting their silly looks and experiences on Facebook. And if your partner is not up for the challenge, we don't see why you couldn't make this game a part of your next girl's night out!
What do you think of the this date night challenge?
Does this sound like something you and your partner or girlfriends would like to try?