6-Ingredient Spinach Tots
submitted by talesofatiredmom {2 Recipes}
Prep Time:
45 Mins
Cook Time:
30 Mins
Total Prep + Cook Time:
1 Hr 15 Mins
Level:
Easy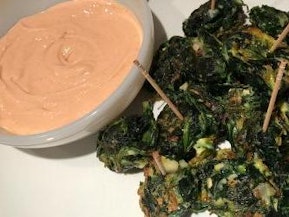 Photo Source: http://talesofatiredmom.com/2017/06/02/6-ingredient-spinach-tots/
Makes: 20 tots
Description: Try these delicious and super easy to make spinach tots that the whole family will enjoy. Perfect way to get a great veggie dish on the table in a fun way!
Ingredients:
12 ounce package spinach
3 cloves garlic
1/4 cup red onion
2 eggs
1/2 cup extra sharp provolone
1 tablespoon extra virgin olive oil

Instructions: 1. Preheat oven to 350 degrees and lightly oil a baking sheet with olive oil.
2. Into a large bowl, empty package of spinach and sprinkle with salt and pepper. Chop the garlic and onion very finely and add to spinach. Shred provolone cheese and add. Last, add eggs and olive oil.
3. Mix with hands! It?s the best way! Then let mixture chill in the refrigerator for at least 30 minutes.
4. Scoop and mold mixture into tots.
5. Bake for 15 minutes. Flip tots and then bake another 15 minutes.
Other recipes in appetizers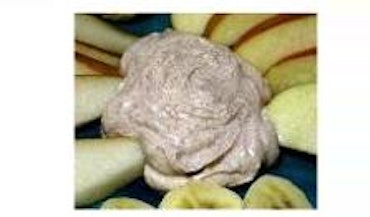 By
Meganelewin
Jul 08, 2014
Vegetarian and gluten free!
Read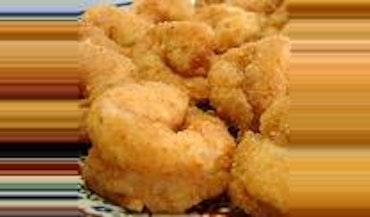 By
alexza109
May 01, 2013
these shrimp will knock off! the batter doesn't overcoat the shrimp, which helps it maintain a wonderful flavor! preparation time : 35 mins
Read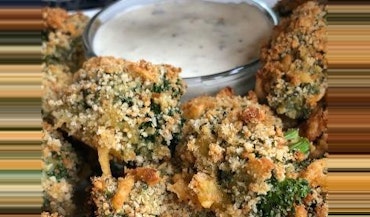 By
Lyssa776
Jul 23, 2019
This cheesy broccoli is baked in the oven, but comes out super crispy! It can be eaten as a finger food or appetizer with ranch dip, or served as a healt…
Read