4 Ways to Plan The Ultimate Valentine's Day Soiree + #ShePins Giveaway

by
SheSpeaksTeam
is this the date @ED : BlogVO [categoryId=70165, blogId=144609, blogTitle=4 Ways to Plan The Ultimate Valentine's Day Soiree + #ShePins Giveaway, publishingDate=January 28, 2016 12:00 AM, maxResponses=null, noOfComments=null, fileId=25564, blogClosingDate=null, blogCommentClosed=null, blogCategoryId=70165, queryId=0, blogCategoryIdIndex=0, sharedCategoriesList=null, blogStatusId=34, commentsClosedFlag=false, categoryIdForLog=0, blogModuleCategoryId=0, blogFileVo=null, latestCommentsList=null, verticalCatSeoURL=null, currentDate=10/28/2021, blogLink=null, authorName=SheSpeaksTeam, authorLognId=SheSpeaksTeam, authorAcctId=67580, vosTypeid=3, searchTestId=0, searchStatusId=0, searchAuthorType=0, authorBlogNumber=0, surveyData1=null, surveyData1Desc=null, surveyData2=null, surveyData2Desc=null, pullQuoteMemberId=null, filePath=null, fileName=null, vosType=0, subhead=null, offerSubhead=null, description=null, creationTime=null, authorFname=SheSpeaks, verticalCategoryId=null, sectionId=0, imageFileVO=FilesVO [fileId=25564, filePath=null, fileName=null, fileLength=0, fileWidth=0, createdBy=0, createByUser=null, creationTime=null, lastModifiedBy=0, lastModifiedByUser=null, lastModifiedTime=null, mimeType=null, fileRef=null, fileSize=0, extension=null, title=null, body=null, completeFilePath=/pages/img/redesign/blogs/350x350_vday_01282016101821.jpg, height=350, width=350, maxHeight=480, maxWidth=360, displayWidth=350, displayHeight=350, fileStatusId=0, searchKeyword=null, searchFlag=false, queryId=0, isExists=true], seoURL=4-Ways-to-Plan-The-Ultimate-Valentine-s-Day-Soiree-ShePins, seoTitle=null, pullQuotesList=null, pullQuote=null, pullQuoteId=0, searchFlag=false, authorByLine=SheSpeaksTeam, authorDesc=Powered by women who love to share what's HOT in reviews, deals & recipes., authorLink=null, authorFileVO=FilesVO [fileId=42371, filePath=null, fileName=null, fileLength=0, fileWidth=0, createdBy=0, createByUser=null, creationTime=null, lastModifiedBy=0, lastModifiedByUser=null, lastModifiedTime=null, mimeType=null, fileRef=null, fileSize=0, extension=null, title=null, body=null, completeFilePath=/pages/img/membersnaps/SheSpeaks_Logo_Symbol_Only_10182021080530.jpg, height=1777, width=1777, maxHeight=50, maxWidth=50, displayWidth=50, displayHeight=50, fileStatusId=0, searchKeyword=null, searchFlag=false, queryId=0, isExists=true], authorFileId=42371, authorType=0, storyImgFileVO=null, storyImgFileId=0, videoHtml=, authorImageFileId=0, authorImageFileVO=null, previousCategoryId=null, previousBlogStatusId=0, fromBlogDetails=0, blogCategoryName=Living, blogCategoryUrl=null, blogCategoryDesc=null, defaultImage=false, tags=null, optionIds=null, tagOptionId=null, tagId=null, tag=null, tagID=0, tagDetails=null, tagIds=null, testId=0, extBlogURL=null, extBlogStatus=0, bloggerSince=null, extBlogLimit=0, authorTestsList=[], blogURL=, blogName=, bloggerProfileId=0, sliderBlog=false, eventonHome=false, vosonHome=false, partyAndGiveawayDate=02/08/2016, imageCredit=null, pullQuoteMemId=null, offerSubHead=null, subHead=null, displayOrder=0]
Jan 28, 2016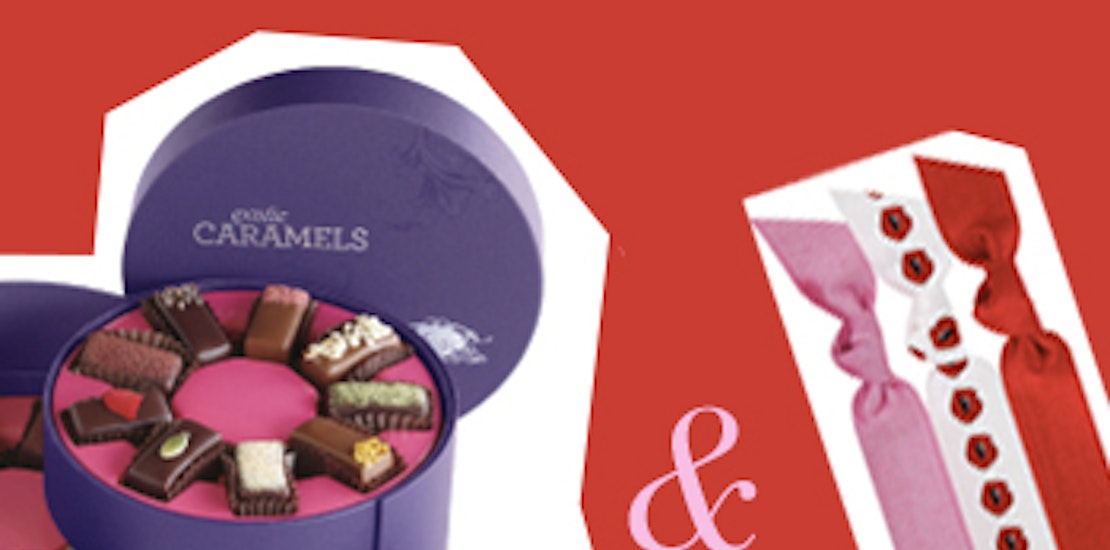 In grade school you would come home on Valentine's Day with cards, crafts and heart-shaped treats. Why should kids have all the fun? Shouldn't we get our own box of conversation hearts and revel in all things red and pink on February 14th too? The SheSpeaks team most definitely think so. Here's our four favorite pins to create the Valentine's Day soiree of our inner child's dreams.
We'd love to be friends on Pinterest, why don't you...
Plus, enter to win a box of Vosges Exotic Caramels and two packs of Emi Jay hairties just in time for Valentine's Day!
To enter, Click here to Tweet: "4 lovely ways to plan the ultimate #valentinesday soiree & Vday #giveaway! @SheSpeaksUp #ShePins bit.ly/1KzYtWxx"
or
Comment below and tell us - How do you plan to celebrate Valentines Day this year?
1. Kissable Balloons We can't get enough of these ballons decorated by pretty pouts from Studio DIY! This is a cute and cost effective way to create a uniquely Valentine's Day atmosphere. Hand us the lipstick!
2. Red-Hot Dot settings Each person at your celebration will feel special with a lovely place setting like this one created by Say Yes. Find your favorite pen and jot down your menu in cursive for a thoughtful table scape.
3. Heart-Shaped Personal Pizza Put some love into your cooking like How Sweet It Is's done with this heart shaped pepperoni pizza recipe.
4. Cupid's Bow Donut Hole Dessert We've never seen donut holes look so pretty...or appetizing, have you? This is an arrow we'd love to catch. Thanks to the tutorial on Squirrely Minds, we can!
Want even more Valentine's Day celebration ideas? Follow & repin from our board on Pinterest.
One commenter (or one Tweeter) will be chosen at random to receive one box of Vosages Exotic Caramel Collection, 18 pieces and two packs of Emi Jay KISSES 3-PACK hairties. Giveaway is open to U.S. residents only. Enter through 2/7/16. Giveaway open to U.S. residents at least 18 years of age. Winner will be chosen randomly by 2/8/16 and notified by email.