Four Fun and Refreshing 4th of July Cocktails

by
SheSpeaksTeam
is this the date @ED : BlogVO [categoryId=70164, blogId=145748, blogTitle=Four Fun and Refreshing 4th of July Cocktails, publishingDate=July 01, 2020 12:00 AM, maxResponses=null, noOfComments=null, fileId=38401, blogClosingDate=null, blogCommentClosed=null, blogCategoryId=70164, queryId=0, blogCategoryIdIndex=0, sharedCategoriesList=null, blogStatusId=34, commentsClosedFlag=false, categoryIdForLog=0, blogModuleCategoryId=0, blogFileVo=null, latestCommentsList=null, verticalCatSeoURL=null, currentDate=12/05/2022, blogLink=null, authorName=SheSpeaksTeam, authorLognId=SheSpeaksTeam, authorAcctId=67580, vosTypeid=3, searchTestId=0, searchStatusId=0, searchAuthorType=0, authorBlogNumber=0, surveyData1=null, surveyData1Desc=null, surveyData2=null, surveyData2Desc=null, pullQuoteMemberId=null, filePath=null, fileName=null, vosType=0, subhead=null, offerSubhead=null, description=null, creationTime=null, authorFname=SheSpeaks, verticalCategoryId=null, sectionId=0, imageFileVO=FilesVO [fileId=38401, filePath=null, fileName=null, fileLength=0, fileWidth=0, createdBy=0, createByUser=null, creationTime=null, lastModifiedBy=0, lastModifiedByUser=null, lastModifiedTime=null, mimeType=null, fileRef=null, fileSize=0, extension=null, title=null, body=null, completeFilePath=/pages/img/redesign/blogs/cocktail toast_06292020093841.jpeg, height=385, width=685, maxHeight=480, maxWidth=360, displayWidth=360, displayHeight=202, fileStatusId=0, searchKeyword=null, searchFlag=false, queryId=0, isExists=true], seoURL=4-Fun-and-Refreshing-4th-of-July-Cocktails, seoTitle=null, pullQuotesList=null, pullQuote=null, pullQuoteId=0, searchFlag=false, authorByLine=null, authorDesc=null, authorLink=null, authorFileVO=FilesVO [fileId=42371, filePath=null, fileName=null, fileLength=0, fileWidth=0, createdBy=0, createByUser=null, creationTime=null, lastModifiedBy=0, lastModifiedByUser=null, lastModifiedTime=null, mimeType=null, fileRef=null, fileSize=0, extension=null, title=null, body=null, completeFilePath=/pages/img/membersnaps/SheSpeaks_Logo_Symbol_Only_10182021080530.jpg, height=1777, width=1777, maxHeight=50, maxWidth=50, displayWidth=50, displayHeight=50, fileStatusId=0, searchKeyword=null, searchFlag=false, queryId=0, isExists=true], authorFileId=42371, authorType=0, storyImgFileVO=null, storyImgFileId=0, videoHtml=, authorImageFileId=0, authorImageFileVO=null, previousCategoryId=null, previousBlogStatusId=0, fromBlogDetails=0, blogCategoryName=Food, blogCategoryUrl=null, blogCategoryDesc=null, defaultImage=false, tags=null, optionIds=null, tagOptionId=null, tagId=null, tag=null, tagID=0, tagDetails=null, tagIds=null, testId=0, extBlogURL=null, extBlogStatus=0, bloggerSince=null, extBlogLimit=0, authorTestsList=[], blogURL=, blogName=, bloggerProfileId=0, sliderBlog=false, eventonHome=false, vosonHome=false, partyAndGiveawayDate=07/19/2020, imageCredit=null, pullQuoteMemId=null, offerSubHead=null, subHead=null, displayOrder=0,includeInGoogleSearch=false]
Jul 01, 2020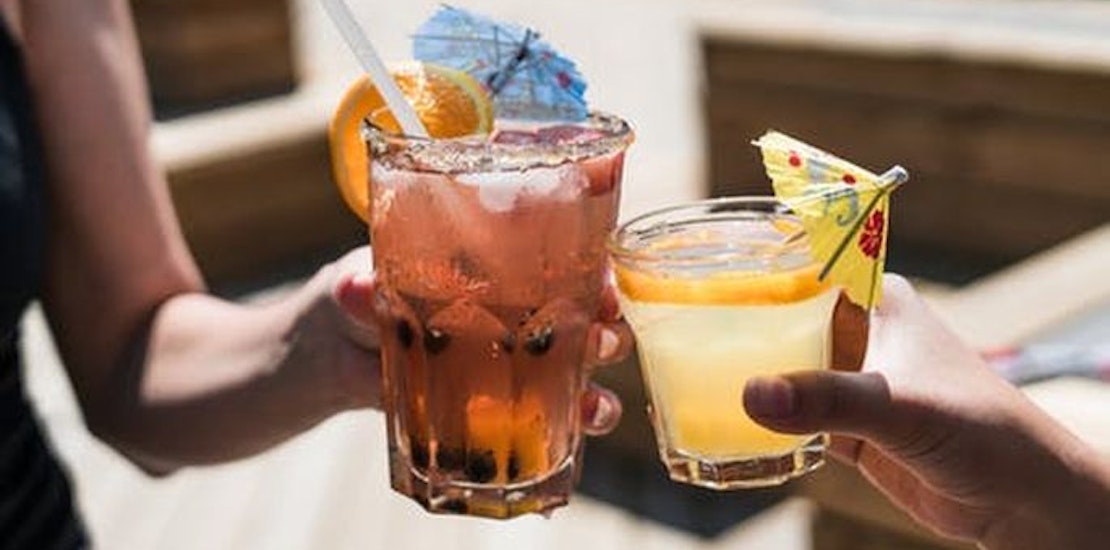 You've got your barbeque recipes all set and the outdoor furniture tastefully spread out around the patio. Don't let your drinks be an afterthought this 4th of July! On these hot, sultry days the summer cocktail & mocktail are an integral part of any celebration.


Check out these spectacular cocktails and iced drinks to make the most of your home bar. Plus, enter to win GoVino Go Anywhere Glasses - a set of four wine/cocktail glasses and a set of four beer glasses.

GoVino makes shatter-proof, reusable and recyclable glassware that looks like fine crystal. The Oprah Magazine calls GoVino "The best wine glasses for every pour" and PopSugar included them in their editor's 15 favorite must-have items. Plus, we love their signature finger imprint!

"Bomb Pop" Three-Ingredient Cocktail
One drink that is sure to bring back more than just a little nostalgia for a certain red, white and blue popsicle, is the frozen spiked "bomb pop" drink. SheSpeaks member CupcakesandCrossbones gives all the recipe details to make this multi-colored frozen drink, with both alcohol and non-alcohol options.

Her alcoholic version requires equal parts of just these three ingredients:
Bacardi Razz Rum
Lemonade
Blue Curacao



Photo Credit: Jessica Elizarraras

If you want to make it non-alcoholic, simply replace rum with cranberry juice and Blue Curacao with blue Gatorade.

CupcakesandCrossbones adds one warning to her recipe, "Note: These are delicious and go down super smooth...you have been warned!"

Watermelon Rum Punch
Good Housekeeping's Watermelon Rum Punch recipe also has us counting down the days to the 4th.

Ingredients for this include:
8 cups seedless watermelon chunks
1 cup light rum
I cup fresh orange juice
¼ cup lime juice
1 12 oz bottle ginger beer


Photo Credit: Safeway

The punch itself can be garnished with fresh watermelon and is a perfect pink melon color. Skip the rum and use ginger ale or non-alcholic ginger bear for a kid-friendly version.

Pink Lemonade Vodka Slush
What says summer time better than an iced cold glass of pink lemonade? Well, maybe one with vodka added in. Why not make it a slushy just for fun? Culinary Hill has a super easy and delicious Pink Lemonade Vodka Slush that doesn't even require a blender. The icy drink will keep your guests cool and they will be saying "yes, please!" before you even offer a refill.

Just three ingredients make up this slushy drink. Or for a non-alcoholic version, leave out the vodka:
1 can frozen pink lemonade concentrate
Vodka
Lemon lime soda like Sprite or 7-up.


Photo Credit: Yummly

All American Daiquiri
The daquiri from The Tipsy Bartender will get you in the July 4th mood. Make each layer separately and then pour one on top of the other. It takes a bit of extra time than the other drinks, but the look and taste makes it worth it. Want it non-alcoholic? Pour a blueberrry smoothie on top of a strawberry one. Top with whipped cream.


Photo Credit: The Tipsy Bartender
What are your favorite drinks for summer (alcoholic or not)? Tell us to win GoVino Go Anywhere Glasses - a set of four wine/cocktail glasses and a set of four beer glasses!
SheSpeaks July 4th Cocktail/Mocktail Giveaway
*One lucky contestant will be chosen at random to receive a four-pack of 12-ounce GoVino wine/cocktail glasses and a four-pack of GoVino 16-ounce GoVino beer glasses, $55 total value. Items may be subsititued for other items of similar value if these are out-of-stock. Giveaway is open through July 19, 2020 to U.S. residents at least 18 years of age. Entrants must be a member of SheSpeaks. If you are not a member, click here to join. Winner will be notified by email.
Update: Thanks to all who entered! Congrats to our winner, SheSpeaks member laurenpeterson2014.