12 Days of SheSpeaks Day 6: Win a Kiehl's Beauty Package! #thankFULL

by
SheSpeaksTeam
is this the date @ED : BlogVO [categoryId=70163, blogId=145270, blogTitle= 12 Days of SheSpeaks Day 6: Win a Kiehl's Beauty Package! #thankFULL, publishingDate=December 08, 2017 12:00 AM, maxResponses=null, noOfComments=null, fileId=30567, blogClosingDate=null, blogCommentClosed=null, blogCategoryId=70163, queryId=0, blogCategoryIdIndex=0, sharedCategoriesList=null, blogStatusId=34, commentsClosedFlag=false, categoryIdForLog=0, blogModuleCategoryId=0, blogFileVo=null, latestCommentsList=null, verticalCatSeoURL=null, currentDate=03/25/2023, blogLink=null, authorName=SheSpeaksTeam, authorLognId=SheSpeaksTeam, authorAcctId=67580, vosTypeid=3, searchTestId=0, searchStatusId=0, searchAuthorType=0, authorBlogNumber=0, surveyData1=null, surveyData1Desc=null, surveyData2=null, surveyData2Desc=null, pullQuoteMemberId=null, filePath=null, fileName=null, vosType=0, subhead=null, offerSubhead=null, description=null, creationTime=null, authorFname=SheSpeaks, verticalCategoryId=null, sectionId=0, imageFileVO=FilesVO [fileId=30567, filePath=null, fileName=null, fileLength=0, fileWidth=0, createdBy=0, createByUser=null, creationTime=null, lastModifiedBy=0, lastModifiedByUser=null, lastModifiedTime=null, mimeType=null, fileRef=null, fileSize=0, extension=null, title=null, body=null, completeFilePath=/pages/img/redesign/blogs/day6_blogpost_12072017115956.png, height=350, width=350, maxHeight=480, maxWidth=360, displayWidth=350, displayHeight=350, fileStatusId=0, searchKeyword=null, searchFlag=false, queryId=0, isExists=true], seoURL=12-Days-of-SheSpeaks-Day-6-Win-a-Kiehl-s-Beauty-Package-thankFULL, seoTitle=null, pullQuotesList=null, pullQuote=null, pullQuoteId=0, searchFlag=false, authorByLine=null, authorDesc=null, authorLink=null, authorFileVO=FilesVO [fileId=42371, filePath=null, fileName=null, fileLength=0, fileWidth=0, createdBy=0, createByUser=null, creationTime=null, lastModifiedBy=0, lastModifiedByUser=null, lastModifiedTime=null, mimeType=null, fileRef=null, fileSize=0, extension=null, title=null, body=null, completeFilePath=/pages/img/membersnaps/SheSpeaks_Logo_Symbol_Only_10182021080530.jpg, height=1777, width=1777, maxHeight=50, maxWidth=50, displayWidth=50, displayHeight=50, fileStatusId=0, searchKeyword=null, searchFlag=false, queryId=0, isExists=true], authorFileId=42371, authorType=0, storyImgFileVO=null, storyImgFileId=0, videoHtml=, authorImageFileId=0, authorImageFileVO=null, previousCategoryId=null, previousBlogStatusId=0, fromBlogDetails=0, blogCategoryName=Beauty & Fashion, blogCategoryUrl=null, blogCategoryDesc=null, defaultImage=false, tags=null, optionIds=null, tagOptionId=null, tagId=null, tag=null, tagID=0, tagDetails=null, tagIds=null, testId=0, extBlogURL=null, extBlogStatus=0, bloggerSince=null, extBlogLimit=0, authorTestsList=[], blogURL=, blogName=, bloggerProfileId=0, sliderBlog=false, eventonHome=false, vosonHome=false, partyAndGiveawayDate=12/18/2017, imageCredit=null, pullQuoteMemId=null, offerSubHead=null, subHead=null, displayOrder=0,includeInGoogleSearch=false]
Dec 08, 2017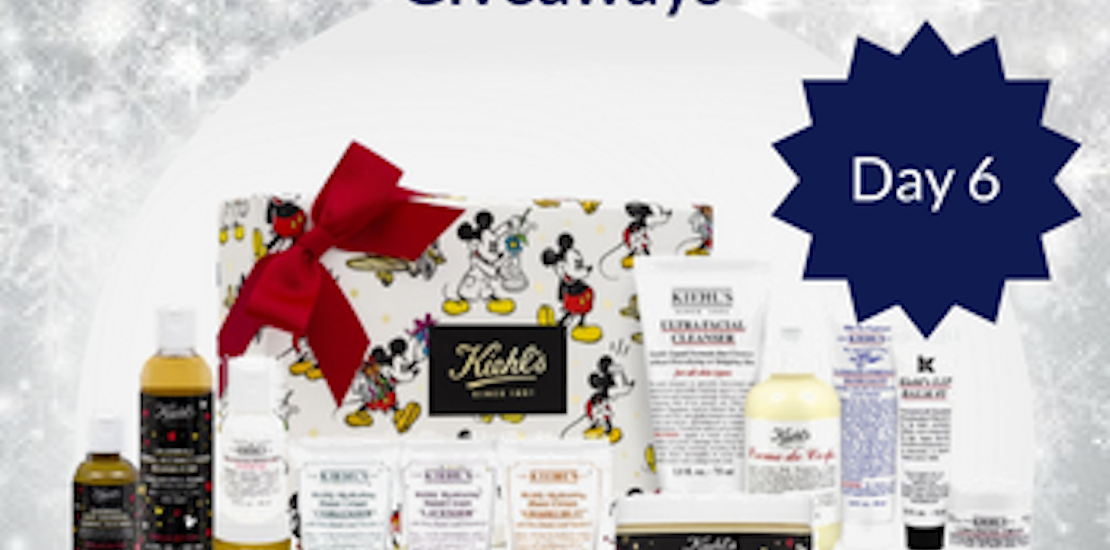 Winter is coming - and so is colder weather. Which means there is lots to be excited about. Yes, winter is the perfect season to enjoy so many wonderful things, like sitting by a fire with a hot drink, getting to wear those smart boots and sassy scarf, and feeling how luxurious moisturizers can feel after getting out of a hot shower.
It's Day 6 of our 12 Days of SheSpeaks giveaway & today's prize is perfect for the winter. It's a Kiehl's Beauty Package valued at $147!
This gift includes top-rated facial moisturizers, scented hand creams, Creme de Corps body lotion, body butter, and even a collection of limited-edition items that are currently sold out!
What makes this prize even more amazing is that they are all part of the Disney x Feeding America special collection, so they have adorable Mickey Mouse on their packaging. Plus, for every one of these items that are sold, meals will be provided for people in need - a total of 1,227 meals!
What makes you feel #thankFULL in the Winter? Enter Day 6 of our giveaway by answering the question in the box below. Then you'll unlock more ways to enter!
Remember that for every entry, $1 will be donated to our charity partner, Feeding America, to help fight hunger in this country (up to $1,000). Find out more info here.
You can still enter Days 1-5! Find out the details here and come back every weekday through December 18th for more giveaways!
Note: Comments on this blog post will not count as entries. Kiehl's, a partner of Feeding America, provided this gift for free.