12 Days of SheSpeaks Day 1: Win a Star Wars X-Wing Battlefighter Drone! #thankFULL

by
SheSpeaksTeam
is this the date @ED : BlogVO [categoryId=70162, blogId=145261, blogTitle= 12 Days of SheSpeaks Day 1: Win a Star Wars X-Wing Battlefighter Drone! #thankFULL, publishingDate=December 01, 2017 12:00 AM, maxResponses=null, noOfComments=null, fileId=30526, blogClosingDate=null, blogCommentClosed=null, blogCategoryId=70162, queryId=0, blogCategoryIdIndex=0, sharedCategoriesList=null, blogStatusId=34, commentsClosedFlag=false, categoryIdForLog=0, blogModuleCategoryId=0, blogFileVo=null, latestCommentsList=null, verticalCatSeoURL=null, currentDate=06/07/2023, blogLink=null, authorName=SheSpeaksTeam, authorLognId=SheSpeaksTeam, authorAcctId=67580, vosTypeid=3, searchTestId=0, searchStatusId=0, searchAuthorType=0, authorBlogNumber=0, surveyData1=null, surveyData1Desc=null, surveyData2=null, surveyData2Desc=null, pullQuoteMemberId=null, filePath=null, fileName=null, vosType=0, subhead=null, offerSubhead=null, description=null, creationTime=null, authorFname=SheSpeaks, verticalCategoryId=null, sectionId=0, imageFileVO=FilesVO [fileId=30526, filePath=null, fileName=null, fileLength=0, fileWidth=0, createdBy=0, createByUser=null, creationTime=null, lastModifiedBy=0, lastModifiedByUser=null, lastModifiedTime=null, mimeType=null, fileRef=null, fileSize=0, extension=null, title=null, body=null, completeFilePath=/pages/img/redesign/blogs/day1_blogpost_11302017150135.png, height=350, width=350, maxHeight=480, maxWidth=360, displayWidth=350, displayHeight=350, fileStatusId=0, searchKeyword=null, searchFlag=false, queryId=0, isExists=true], seoURL=12-Days-of-SheSpeaks-Day-1-Win-a-Star-Wars-X-Wing-Battlefighter-Drone-thankFULL, seoTitle=null, pullQuotesList=null, pullQuote=null, pullQuoteId=0, searchFlag=false, authorByLine=null, authorDesc=null, authorLink=null, authorFileVO=FilesVO [fileId=42371, filePath=null, fileName=null, fileLength=0, fileWidth=0, createdBy=0, createByUser=null, creationTime=null, lastModifiedBy=0, lastModifiedByUser=null, lastModifiedTime=null, mimeType=null, fileRef=null, fileSize=0, extension=null, title=null, body=null, completeFilePath=/pages/img/membersnaps/SheSpeaks_Logo_Symbol_Only_10182021080530.jpg, height=1777, width=1777, maxHeight=50, maxWidth=50, displayWidth=50, displayHeight=50, fileStatusId=0, searchKeyword=null, searchFlag=false, queryId=0, isExists=true], authorFileId=42371, authorType=0, storyImgFileVO=null, storyImgFileId=0, videoHtml=, authorImageFileId=0, authorImageFileVO=null, previousCategoryId=null, previousBlogStatusId=0, fromBlogDetails=0, blogCategoryName=Entertainment, blogCategoryUrl=null, blogCategoryDesc=null, defaultImage=false, tags=null, optionIds=null, tagOptionId=null, tagId=null, tag=null, tagID=0, tagDetails=null, tagIds=null, testId=0, extBlogURL=null, extBlogStatus=0, bloggerSince=null, extBlogLimit=0, authorTestsList=[], blogURL=, blogName=, bloggerProfileId=0, sliderBlog=false, eventonHome=false, vosonHome=false, partyAndGiveawayDate=12/18/2017, imageCredit=null, pullQuoteMemId=null, offerSubHead=null, subHead=null, displayOrder=0,includeInGoogleSearch=false]
Dec 01, 2017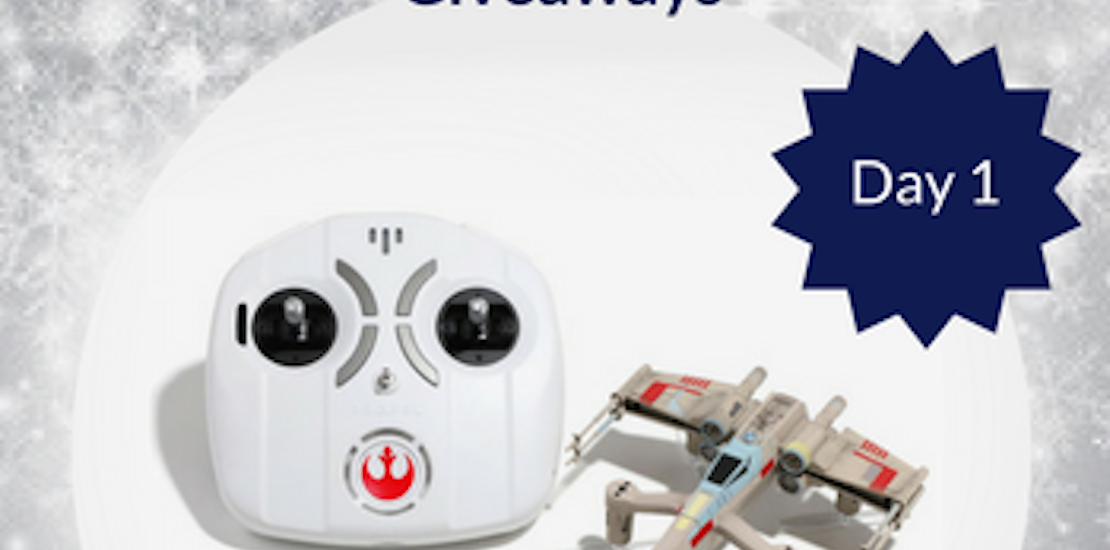 It's Day 1 of our 12 Days of SheSpeaks giveaway and we're starting with a prize that's fun for everyone... a Star Wars T-65 X-Wing Starfighter Battle Quadcopter Drone, valued at $180!
Just download the app and fly the drone over 35 miles per hour. With three speed settings ranging from beginner to advanced pilot, this toy is perfect for kids or adults, Star Wars lovers or not. You'll be the hit of the neighborhood.
What holiday fun are you #thankFULL for this year? Enter Day 1 of our giveaway by answering the question in the box below. Then you'll unlock more ways to enter!
Remember that for every entry, $1 will be donated to our charity partner, Feeding America, to help fight hunger in this country (up to $1,000). Find out more info here.
Don't forget to check back daily here between now and December 18th, on weekdays, for more giveaways!
Note: Comments on this blog post will not count as entries. BoxLunch, a partner of Feeding America, provided this gift card for free.