100 Things To Do With Your Grandchild This Summer

By
grandparents
Jun 17, 2011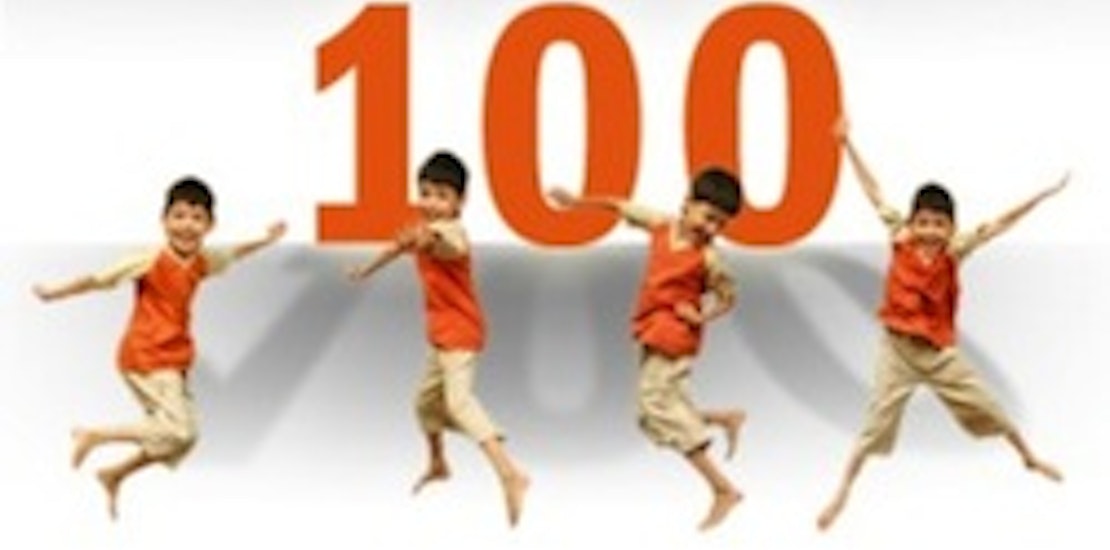 Get ready to have some fun in the sun. There's something for every grandparent and grandchild on our list of oh-so-simple summer activities
1. Set up a lemonade stand. Make unusual flavors like apple lemonade and pineapple lemonade along with the traditional favorite.

2. Stare at clouds. Make up stories about what you see.

3. Catch frogs.

4. Make one super-duper ice-cream sundae — don't forget the whipped cream, cherries, and two spoons.

5. Introduce the grandkids to lobster. Have a burger handy for when they freak out.

6. Scope out populated parking lots for state license plates. Keep a list and try to find all 50.

7. Go on a nature walk, pointing out bugs, trees, birds, and butterflies. Bring binoculars.

8. Play catch until it's too dark to see the ball.

9. Take the dogs outside and play a long game of fetch. Using the ground to scratch an itch is fun for dogs and kids!

10. Build a birdhouse.

11. Paint watercolor portraits of each other — the sillier the better.

12. Ride bicycles to someplace new or show your grandchildren around your neighborhood.

13. Spend an hour in a hammock.

14. Borrow mysteries from the library, and take turns reading chapters out loud under the stars.

15. Do karaoke together. Sing "My Generation" and "When I'm Sixty-Four."

16. Go on a picnic, even if you travel no farther than your backyard. Set out a blanket, and bring portable music and a Frisbee.

17. Play Ring Around the Rosie and London Bridge barefoot in the grass or on sand.

18. Decorate T-shirts. You'll need two plain white 50/50 polyester-cotton tees, fabric paint, brushes, and shake-on glitter, rhinestones, buttons, or other embellishments.

19. Teach your grandchild a hobby you love: crocheting, guitar, woodworking, cooking, etc.

20. Go swimming in a body of water that your grandchild has never experienced. Usually do the pool? Try a lake.

21. Take photos of each other posing at local landmarks and even just places you like.

22. Build an outdoor tepee from old sheets and a few poles.

23. Go to a museum exhibit you've never seen. The more unknown to both of you, the better.

24. Take a walk around your neighborhood, picking up interesting stones and leaves as you go. Then make a natural sculpture in the backyard. If you don't have a backyard, make the sculpture in a park's grassy area.

25. Tour your local firehouse. Call ahead to make arrangements; ask if your grandchild will be allowed to climb on a fire truck or sit inside and steer.

26. Collect seashells at the beach. Later, paint them using watercolors and give them out as favors at the next family dinner.

27. Ride a roller coaster. See who can scream the loudest.

28. Make up a story, taking turns one sentence at a time. You start the story, then your grandchild continues it, you take over again, then he does, until you have an ending.

29. Let your grandchild bury you in the sand.

30. Make puppets with socks and markers, and put on an outdoor show.

31. Spread out an old sheet on the grass and paint your hearts out.

32. Pick strawberries, peaches, and raspberries from a pick-your-own farm. Bake a pie with your purchases.

33. Fold homemade paper airplanes and see whose goes the farthest.

34. Put on your bathing suits and run through a sprinkler in the backyard.

35. Set up a scavenger hunt in your neighborhood. Give your grandchild a list of clues to items, such as a coin, a rubber band, and a cell phone.

36. Break out the sidewalk chalk to play hopscotch and draw each other's portrait.
37. Bet on bug races.

38. Make a craft with glue, cardboard, and found objects from around the neighborhood.

39. Plant flowers or vegetables in your garden or in a window box. Get kid-size tools and let the grandchildren get dirty.

40. Build sand castles and mud pies at the beach.

41. Watch fireworks and light your own sparklers.

42. Wash your car; wear swimsuits.

43. Fire up the barbecue grill and do a family cookout. Don't forget the chocolate, graham crackers, and marshmallows for s'mores.

44. Fly a kite.

45. Hit a water park. Without complaining.

46. Go to a drive-in movie.

47. Make your own ice cream with a coffee can and ice cubes. Directions

48. Ride a bus. Whether you're braving crosstown traffic or off seeing America, looking out the window is always entertaining in this classic mode of transportation.

49. Climb a tree. Bring a camera.

50. Play "volleyball" with a balloon.

51. Pick wild flowers and practice arranging them in vases around the house.

52. Make jewelry. Even boys like to make bracelets and necklaces with wooden beads; go for sparkly details for girls. Then wear the bling to your next outing.

53. Go camping — your local woods, a scenic campsite, or your backyard.

54. Water ski. We know gas prices are ridiculously high this summer but nothing beats hitting the water and slaloming the wake. Get out there.

55. Float the Nantahala, shoot the Hooch, or if you don't live near either of those rivers, grab an inner tube and head to a fast-moving body of water near you.

56. The longest days of the year are a great time to teach preschoolers how to tell time. Better yet, make a sundial.

57. Repaint a fence. If Tom Sawyer could do it…

58. Play miniature golf. Once again: Play miniature golf.

59. Blow bubbles. When you run out of liquid that comes with the wands, use dishwashing soap and water.

60. Go for a scenic drive, pointing out the highlights.

61. Make a pitcher of iced tea. Sit under a shady tree, and talk. And listen.

62. Teach your grandchild to play marbles.

63. Ride a carousel.

64. Hit a round of pitches at the batting cage.

65. Make a hanging mobile with string, old magazine pages, straws, paper clips, and ribbon. Hang it on the porch or out the window.

66. Watch horse racing in person.

67. Go to the park and feed the ducks some day-old bread. Check beforehand to make sure that feeding is allowed.

68. Visit the newest baby animals at the zoo. Buy ice cream to celebrate the births.

69. Taste a honeysuckle.

70. Go fishing.

71. Get pedicures and go sandal shopping.

72. Skim pebbles, or really perfect flat rocks, across a pond or lake.

73. Close your eyes, spin a globe, and stick your finger on a spot. When it stops, talk about the destination and what it would be like to live there.

74. Go rowboating or canoeing.
75. Pluck a thin, flat blade of grass. Stick one end between the tips of your thumbs and the other between your thumb heels. Straighten your thumbs out gradually until the grass is taut, pucker up and blow so that the air makes the grass vibrate, producing that high-pitched, piercing whistle. If that doesn't work, try two blades.

76. Have a board-game tournament on the lawn.

77. Name the constellations visible in the night sky or look up and view the next lunar eclipse or meteorite shower. For extra points, borrow a reference book from your local library to guide you along.

78. Get the schedule for local outdoor concerts and theatre and bring the grandchildren. Shakespeare in the Park not your speed? The Boss is on tour, too!

79. Go bowling. If you don't have a bowling alley near your home, set one up in your backyard, using household items — such as empty soda cans and thin paperbacks — that you can easily knock over with an inflatable ball.

80. Collect fireflies in a jar.

81. Play make-believe — a young grandchild can be the mommy or daddy and you are the baby. Let her or him take care of you.

82. Browse a garage sale, giving your grandchild a few dollars to spend.

83. Get yourselves to a county fair and do as much as you can. Enter a pie-eating contest, strong-man challenge, and go on the bumper cars. Forget the cholesterol and don't forget the funnel cake.

84. Learn chess together. Once you get good, find a pickup game at the park but keep your hand on your wallet!

85. And speaking of pickup games, find one of any sport and join in.

86. Have a sing-along. Youngsters all know and love "The Wheels on the Bus," "Mary Had a Little Lamb," and "If You're Happy and You Know It." If they're not familiar with the songs, here's your opportunity to teach them.

87. Spend a day at the beach digging for sand crabs.

88. Go to a farmer's market, making a game out of finding one item for each letter of the alphabet (apples, broccoli, carrots, etc.)

89. Got inline skates? Pull them on and go for it.

90. Play 20 Questions on your next car ride. Consider movie and book titles, famous sports and historical figures, foreign countries, or another family member!

91. Show your grandchildren how fun it is to shuck corn. Best. Appliance. Ever.

92. Find volunteer opportunities either helping people out of the heat or something outdoors. It's a great season for turning the kids on to helping others less fortunate.

93. Learn a foreign language together. Then find a community that speaks that language and go practice.

94. Have a porch-side tea party with your good china, aromatic tea like raspberry or mint, and muffins or scones.

95. Watch a sunset and a sunrise.

96. Eat all that corn you shucked. Typewriter style. Chomp chomp chomp. Ding!

97. Find a year-round ice-skating rink and take a cooling-off glide.

98. Go to a petting zoo. This is not only a great experience but an excellent photo-op.

99. Get on a boat. Whether you're paddling, rowing, skiing, swimming, fishing, or best of all, sailing, this is a summer imperative.

100. Keep a scrapbook so you'll both remember all the special things you did together.