10 Items or Less On Your Next Beach Vacation

By
makeovermomma
Jun 20, 2011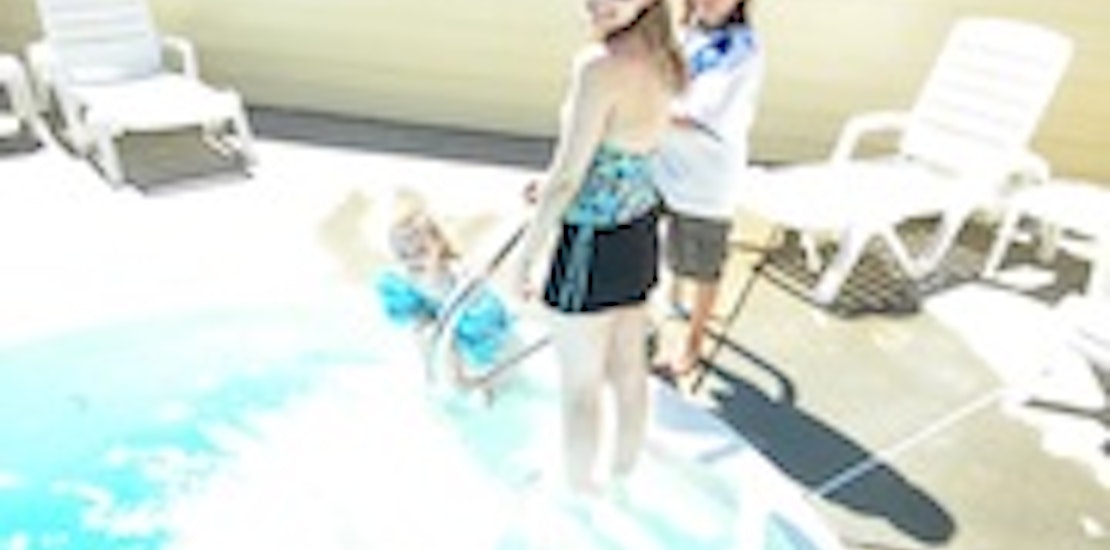 I wish that my life was filled with frequent, fabulous vacations, but unfortunately, time off is few and far between. In the rare moments that our family does get a week away, I always find myself frustrated with my disorganized, disastrous packing situation.
Admit it: how many times have you been far away from home and realized you packed the wrong things? With these simple, easy tips, you'll be able to pack 10 items or less for your next summer vaca (and look gorgeous no matter what)...
1 and 2) Double Swimsuits: Most of us can get away with one swimsuit, but if you really want to seem stylish and put together on your trip: pack two. The key is packing two suits that can mix and match together. For example, one of my favorite things to do is packing a simple tankini with a swim-skirt bottom, and another classic one-piece. I wear the swim skirt over the one-piece on days when I'm feeling puffy or gross, and either the tankini or one piece on their own another time.
3) A Versatile Dress: There is nothing better than a summer dress that can be worn tons of different ways. If you can't snag a reversible dress like this one from Walmart, try a quality item like the Flirty Convertible Dress from Victoria Secret. Wear the dress in a classic way on the first day of your trip, layer your colored tank top over it on another day (see below), or a slim fitting T-shirt underneath it the next.
4) A Light Throw or Wrap: Taking a wrap or hoodie with you on vacation is perfect for unexpectedly chilly or rainy days, especially if it's a versatile color or style. I personally love the Women's Delphine Top from Target, but try to look for a wrap that can be worn tons of fresh ways. The goal is to use it over a dress, top or swim suit, having it look different every time.
5) A Pair of Classic Shorts: If you're not a shorts kind of gal, a pair of light weight jeans or a well fitting skirt can work too. Pair this with a tank top and your light wrap, or add a classic T-shirt and open button-up shirt (mentioned below). Make sure you bring a pair of bottoms that can fold up easily without wrinkling, can be worn over your swimsuit and are comfortable no matter what.
6) A Soft, Button-Up Shirt: There is nothing more chic than an Americana ode to the button-up shirt while relaxing on the beach (it's oh-so-Jackie-O, don't you think?) Bring a comfortable, light weight button-up (like the Heritage Utility Shirt from Target), and use it as an alternate to your wrap. Wear it over your swimsuit, a tank top, a T-shirt, or even over your versatile dress. Find new ways to layer, and you'll look stylish every time!
7) A Bright Tank Top: If you want to save money, grab a three pack of colorful, flattering tank tops from Walmart, and simply throw the package in your bag. In general, most women look slimmer and trimmer if choosing a tank with thinner straps (not super thick) and good support underneath. Use this tank under your button-up, wrap and dress...or even over your swimsuit! It's also a great alternative to sloppier pajamas at night. Adorable!
8) A Slim Fit T-shirt: A simple T-shirt in a beautiful color will add "pop" to your outfit, without adding bulk to your bag. I prefer a simple, sleek V-neck for most body types (like these T-shirts from Kohls), but if you're self conscious about your middle, try a shirt with a little bit of "flow". This Elle Pleated Top gives you wiggle room around your stomach, without making you look bulky (love it!) This also doubles as a pajama top when nighttime rolls around.
9) A Sleep Set: Don't pack big bulky pajama sets or thick sleep shirts if you're heading to the beach. Try a simple, thin set of pajamas (think a shirt and shorts), that can mix-and-match with your other tops from night to night. Or if you can't stand sleeping in bottoms, find a nightgown that looks enough like a sundress to be worn around your hotel or vacation home with ease. Add your wrap or comfortable button-up over top... just make sure you don't go outside in your nightie!
10) Practical But Stylish Shoes: No one needs heels at the beach. Heck, no one needs heels anywhere on vacation! As much as you love the idea of looking glamorous and getting a date night out, this is your time to relax and just be yourself. Instead of packing tons of shoes, try packing one pair of practical flats that can double as many things. Choose an option with a bright pop of color or sparkle (so it can work with your dress on a night out), but with a supportive tread for walks on the beach. I love these Fit Flop sandals because you can run around in them or go out in them... whatever the day brings!
* How many items do YOU pack when you go on vacation?