#SheSpeaksMothersDay: 3 Chances to Win $200 J.Jill Gift Cards

by
SheSpeaksTeam
is this the date @ED : BlogVO [categoryId=70165, blogId=145718, blogTitle=#SheSpeaksMothersDay: 3 Chances to Win $200 J.Jill Gift Cards, publishingDate=April 30, 2020 12:00 AM, maxResponses=null, noOfComments=null, fileId=38050, blogClosingDate=null, blogCommentClosed=null, blogCategoryId=70165, queryId=0, blogCategoryIdIndex=0, sharedCategoriesList=null, blogStatusId=34, commentsClosedFlag=false, categoryIdForLog=0, blogModuleCategoryId=0, blogFileVo=null, latestCommentsList=null, verticalCatSeoURL=null, currentDate=04/01/2023, blogLink=null, authorName=SheSpeaksTeam, authorLognId=SheSpeaksTeam, authorAcctId=67580, vosTypeid=3, searchTestId=0, searchStatusId=0, searchAuthorType=0, authorBlogNumber=0, surveyData1=null, surveyData1Desc=null, surveyData2=null, surveyData2Desc=null, pullQuoteMemberId=null, filePath=null, fileName=null, vosType=0, subhead=null, offerSubhead=null, description=null, creationTime=null, authorFname=SheSpeaks, verticalCategoryId=null, sectionId=0, imageFileVO=FilesVO [fileId=38050, filePath=null, fileName=null, fileLength=0, fileWidth=0, createdBy=0, createByUser=null, creationTime=null, lastModifiedBy=0, lastModifiedByUser=null, lastModifiedTime=null, mimeType=null, fileRef=null, fileSize=0, extension=null, title=null, body=null, completeFilePath=/pages/img/redesign/blogs/jjill bp_04302020161448.png, height=384, width=685, maxHeight=480, maxWidth=360, displayWidth=360, displayHeight=201, fileStatusId=0, searchKeyword=null, searchFlag=false, queryId=0, isExists=true], seoURL=-SheSpeaksMothersDay-3-Chances-to-Win-200-J-Jill-Gift-Cards, seoTitle=null, pullQuotesList=null, pullQuote=null, pullQuoteId=0, searchFlag=false, authorByLine=null, authorDesc=null, authorLink=null, authorFileVO=FilesVO [fileId=42371, filePath=null, fileName=null, fileLength=0, fileWidth=0, createdBy=0, createByUser=null, creationTime=null, lastModifiedBy=0, lastModifiedByUser=null, lastModifiedTime=null, mimeType=null, fileRef=null, fileSize=0, extension=null, title=null, body=null, completeFilePath=/pages/img/membersnaps/SheSpeaks_Logo_Symbol_Only_10182021080530.jpg, height=1777, width=1777, maxHeight=50, maxWidth=50, displayWidth=50, displayHeight=50, fileStatusId=0, searchKeyword=null, searchFlag=false, queryId=0, isExists=true], authorFileId=42371, authorType=0, storyImgFileVO=null, storyImgFileId=0, videoHtml=, authorImageFileId=0, authorImageFileVO=null, previousCategoryId=null, previousBlogStatusId=0, fromBlogDetails=0, blogCategoryName=Living, blogCategoryUrl=null, blogCategoryDesc=null, defaultImage=false, tags=null, optionIds=null, tagOptionId=null, tagId=null, tag=null, tagID=0, tagDetails=null, tagIds=null, testId=0, extBlogURL=null, extBlogStatus=0, bloggerSince=null, extBlogLimit=0, authorTestsList=[], blogURL=, blogName=, bloggerProfileId=0, sliderBlog=false, eventonHome=false, vosonHome=false, partyAndGiveawayDate=05/17/2020, imageCredit=null, pullQuoteMemId=null, offerSubHead=null, subHead=null, displayOrder=0,includeInGoogleSearch=false]
Apr 30, 2020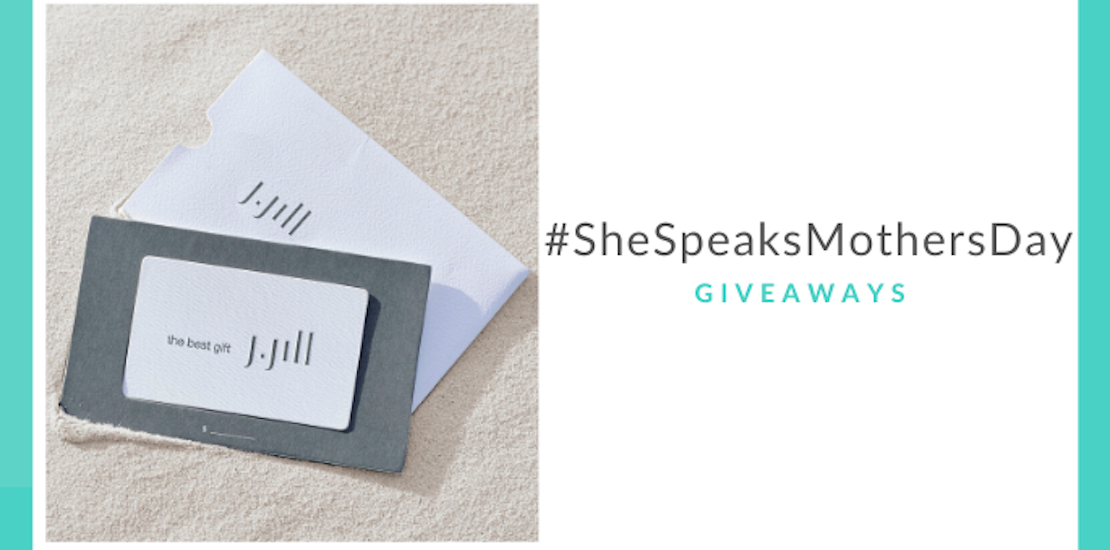 Don't forget Mother's Day is on Sunday, May 10! Get ready to celebrate moms for all of the amazing things they do. We're thrilled to announce our next #SheSpeaksMothersDay giveaway, so that we can all appreciate the moms in our lives!

We saw how much you loved the J.Jill gift cards last week, so we decided to give out more. Enter below to win one of three $200 J.Jill gift cards in the first of our #SheSpeaksMothersDay giveaways!

A gift from J.Jill is an easy way to make Mother's Day special with gifts you know they'll love. Just go to J.Jill.com to shop online and ship directly to your loved one (or yourself!). Don't forget to look on their website for amazing discounts and offers!

Check out J.Jill favorites from our SheSpeaks members...
Share your favorite J.Jill style for the moms in your life. You can be one of the 3 lucky winners to each receive a $200 J.Jill gift card!
#SheSpeaksMothersDay Giveaway: J.JIll Gift Cards
*
Three lucky contestants will be chosen at random to receive a $200 J.Jill gift card. Giveaway is open through May 17, 2020 to U.S. residents at least 18 years of age. Entrants must be a member of SheSpeaks. If you are not a member, click here to join. Winner will be notified by email.
Update: Thanks to all who entered! Congrats to our winners, SheSpeaks members ima_lil_galaxy, kathymark, and hstorm799.