#SheSpeaksAtHome: Win 2 Philips Pasta Makers, 1 for you & 1 for a friend ($300 total value!)

by
SheSpeaksTeam
is this the date @ED : BlogVO [categoryId=70164, blogId=145714, blogTitle=#SheSpeaksAtHome: Win 2 Philips Pasta Makers, 1 for you & 1 for a friend ($300 total value!), publishingDate=April 24, 2020 12:00 AM, maxResponses=null, noOfComments=null, fileId=38009, blogClosingDate=null, blogCommentClosed=null, blogCategoryId=70164, queryId=0, blogCategoryIdIndex=0, sharedCategoriesList=null, blogStatusId=34, commentsClosedFlag=false, categoryIdForLog=0, blogModuleCategoryId=0, blogFileVo=null, latestCommentsList=null, verticalCatSeoURL=null, currentDate=01/31/2023, blogLink=null, authorName=SheSpeaksTeam, authorLognId=SheSpeaksTeam, authorAcctId=67580, vosTypeid=3, searchTestId=0, searchStatusId=0, searchAuthorType=0, authorBlogNumber=0, surveyData1=null, surveyData1Desc=null, surveyData2=null, surveyData2Desc=null, pullQuoteMemberId=null, filePath=null, fileName=null, vosType=0, subhead=null, offerSubhead=null, description=null, creationTime=null, authorFname=SheSpeaks, verticalCategoryId=null, sectionId=0, imageFileVO=FilesVO [fileId=38009, filePath=null, fileName=null, fileLength=0, fileWidth=0, createdBy=0, createByUser=null, creationTime=null, lastModifiedBy=0, lastModifiedByUser=null, lastModifiedTime=null, mimeType=null, fileRef=null, fileSize=0, extension=null, title=null, body=null, completeFilePath=/pages/img/redesign/blogs/philipsbp - noodle_04232020110418.png, height=384, width=685, maxHeight=480, maxWidth=360, displayWidth=360, displayHeight=201, fileStatusId=0, searchKeyword=null, searchFlag=false, queryId=0, isExists=true], seoURL=-SheSpeaksAtHome-Win-2-Philips-Pasta-Makers-1-for-you-1-for-a-friend-300-total-value, seoTitle=null, pullQuotesList=null, pullQuote=null, pullQuoteId=0, searchFlag=false, authorByLine=null, authorDesc=null, authorLink=null, authorFileVO=FilesVO [fileId=42371, filePath=null, fileName=null, fileLength=0, fileWidth=0, createdBy=0, createByUser=null, creationTime=null, lastModifiedBy=0, lastModifiedByUser=null, lastModifiedTime=null, mimeType=null, fileRef=null, fileSize=0, extension=null, title=null, body=null, completeFilePath=/pages/img/membersnaps/SheSpeaks_Logo_Symbol_Only_10182021080530.jpg, height=1777, width=1777, maxHeight=50, maxWidth=50, displayWidth=50, displayHeight=50, fileStatusId=0, searchKeyword=null, searchFlag=false, queryId=0, isExists=true], authorFileId=42371, authorType=0, storyImgFileVO=null, storyImgFileId=0, videoHtml=, authorImageFileId=0, authorImageFileVO=null, previousCategoryId=null, previousBlogStatusId=0, fromBlogDetails=0, blogCategoryName=Food, blogCategoryUrl=null, blogCategoryDesc=null, defaultImage=false, tags=null, optionIds=null, tagOptionId=null, tagId=null, tag=null, tagID=0, tagDetails=null, tagIds=null, testId=0, extBlogURL=null, extBlogStatus=0, bloggerSince=null, extBlogLimit=0, authorTestsList=[], blogURL=, blogName=, bloggerProfileId=0, sliderBlog=false, eventonHome=false, vosonHome=false, partyAndGiveawayDate=05/10/2020, imageCredit=null, pullQuoteMemId=null, offerSubHead=null, subHead=null, displayOrder=0,includeInGoogleSearch=false]
Apr 24, 2020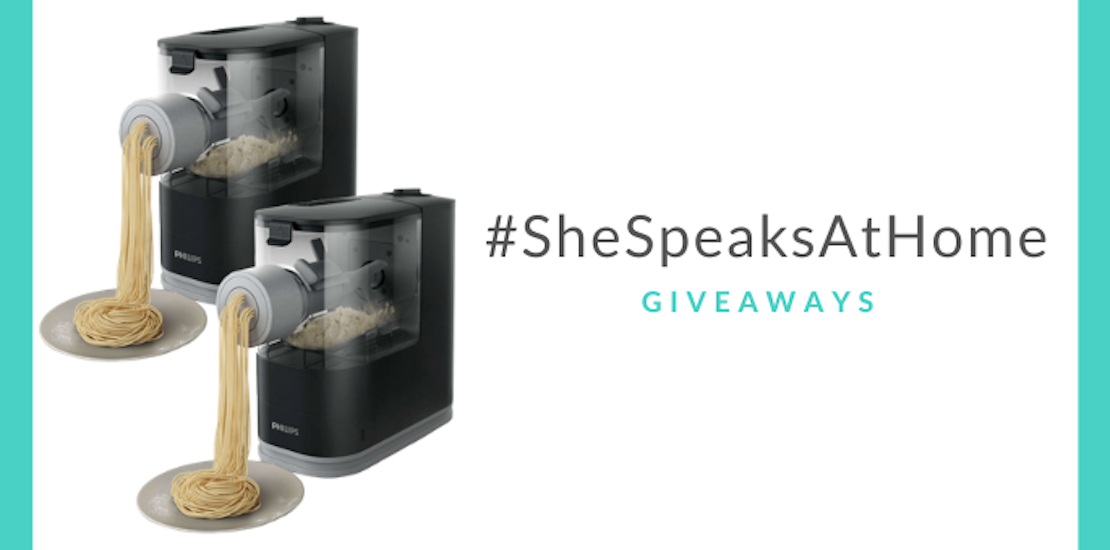 It's no surprise that so many of us are cooking and baking more than ever before. Plus, we all miss seeing friends and family right now. So we are thrilled that our next #SheSpeaksAtHome Giveaway is an amazing way to combine both food and friends!

Enter to win two Philips Pasta and Noodle Makers (valued at $150 each!). We'll send one to you and one to a friend of your choosing. Just set up FaceTime or Zoom and you'll be able to cook together!

Eating fresh pasta is the best, but making it can feel intimidating. Not anymore. With the Philips Pasta and Noodle Maker, you just put in the ingredients and the machine does all of the work for you. Homemade pasta or noodles in around 18 minutes.

We love that the Philips Pasta and Noodle Maker can make a variety of shapes to please everyone in your house, such as spaghetti, penne or fetuccine. Plus, it comes with a recipe book for customizing your meals with different ingredients. Can't find basic flour right now? No problem! There are plenty of other types of flour that work in this machine, including whole wheat, durum or spelt.

BONUS: Head to Philips.com where you can get 15% off all Airfryers, Grills and Pasta Makers through May 17. Just enter the promo code GREATCOOK15 (in all caps) at check-out. While you are there, subscribe to the newsletter for great recipes and additional discounts.

Remember, Mother's Day is May 10. Philips appliances make great gifts!
Which foods are you making right now? Tell us and you can win two Philips Pasta and Noodle Makers - one for you and one for a friend!
#SheSpeaksAtHome Giveaway: Philips Pasta Makers
*
One lucky contestant will be chosen at random to receive a Philips Pasta and Noodle Maker, valued at $149.95 each. Plus, we will send an additional Philips Pasta and Noodle Maker to someone of the winner's choosing. Note that these products will be sent directly from Philips, so both addresses will be given to them for shipping purposes. Giveaway is open through May 10, 2020 to U.S. residents at least 18 years of age. Entrants must be a member of SheSpeaks. If you are not a member, click here to join. Winner will be notified by email.
Update: Thanks to all who entered! Congrats to our winner, SheSpeaks member eview1.