#SheCelebrates Holiday Blowout, Day #3! Win a Beauty Gift Basket

by
SheSpeaksTeam
is this the date @ED : BlogVO [categoryId=70163, blogId=146178, blogTitle=#SheCelebrates Holiday Blowout, Day #3! Win a Beauty Gift Basket, publishingDate=December 09, 2022 12:00 AM, maxResponses=null, noOfComments=null, fileId=45927, blogClosingDate=null, blogCommentClosed=null, blogCategoryId=70163, queryId=0, blogCategoryIdIndex=0, sharedCategoriesList=null, blogStatusId=34, commentsClosedFlag=false, categoryIdForLog=0, blogModuleCategoryId=0, blogFileVo=null, latestCommentsList=null, verticalCatSeoURL=null, currentDate=03/29/2023, blogLink=null, authorName=SheSpeaksTeam, authorLognId=SheSpeaksTeam, authorAcctId=67580, vosTypeid=3, searchTestId=0, searchStatusId=0, searchAuthorType=0, authorBlogNumber=0, surveyData1=null, surveyData1Desc=null, surveyData2=null, surveyData2Desc=null, pullQuoteMemberId=null, filePath=null, fileName=null, vosType=0, subhead=null, offerSubhead=null, description=null, creationTime=null, authorFname=SheSpeaks, verticalCategoryId=null, sectionId=0, imageFileVO=FilesVO [fileId=45927, filePath=null, fileName=null, fileLength=0, fileWidth=0, createdBy=0, createByUser=null, creationTime=null, lastModifiedBy=0, lastModifiedByUser=null, lastModifiedTime=null, mimeType=null, fileRef=null, fileSize=0, extension=null, title=null, body=null, completeFilePath=/pages/img/redesign/blogs/SheCelebrates Day3 updated_12082022121352.png, height=550, width=1110, maxHeight=480, maxWidth=360, displayWidth=360, displayHeight=178, fileStatusId=0, searchKeyword=null, searchFlag=false, queryId=0, isExists=true], seoURL=-SheCelebrates-Holiday-Blowout-Day-3-Win-a-Beauty-Gift-Basket, seoTitle=null, pullQuotesList=null, pullQuote=null, pullQuoteId=0, searchFlag=false, authorByLine=null, authorDesc=null, authorLink=null, authorFileVO=FilesVO [fileId=42371, filePath=null, fileName=null, fileLength=0, fileWidth=0, createdBy=0, createByUser=null, creationTime=null, lastModifiedBy=0, lastModifiedByUser=null, lastModifiedTime=null, mimeType=null, fileRef=null, fileSize=0, extension=null, title=null, body=null, completeFilePath=/pages/img/membersnaps/SheSpeaks_Logo_Symbol_Only_10182021080530.jpg, height=1777, width=1777, maxHeight=50, maxWidth=50, displayWidth=50, displayHeight=50, fileStatusId=0, searchKeyword=null, searchFlag=false, queryId=0, isExists=true], authorFileId=42371, authorType=0, storyImgFileVO=null, storyImgFileId=0, videoHtml=, authorImageFileId=0, authorImageFileVO=null, previousCategoryId=null, previousBlogStatusId=0, fromBlogDetails=0, blogCategoryName=Beauty & Fashion, blogCategoryUrl=null, blogCategoryDesc=null, defaultImage=false, tags=null, optionIds=null, tagOptionId=null, tagId=null, tag=null, tagID=0, tagDetails=null, tagIds=null, testId=0, extBlogURL=null, extBlogStatus=0, bloggerSince=null, extBlogLimit=0, authorTestsList=[], blogURL=, blogName=, bloggerProfileId=0, sliderBlog=false, eventonHome=true, vosonHome=false, partyAndGiveawayDate=12/17/2022, imageCredit=https://www.charlottetilbury.com/us and https://www.rarebeauty.com/, pullQuoteMemId=null, offerSubHead=, subHead=, displayOrder=0,includeInGoogleSearch=false]
Dec 09, 2022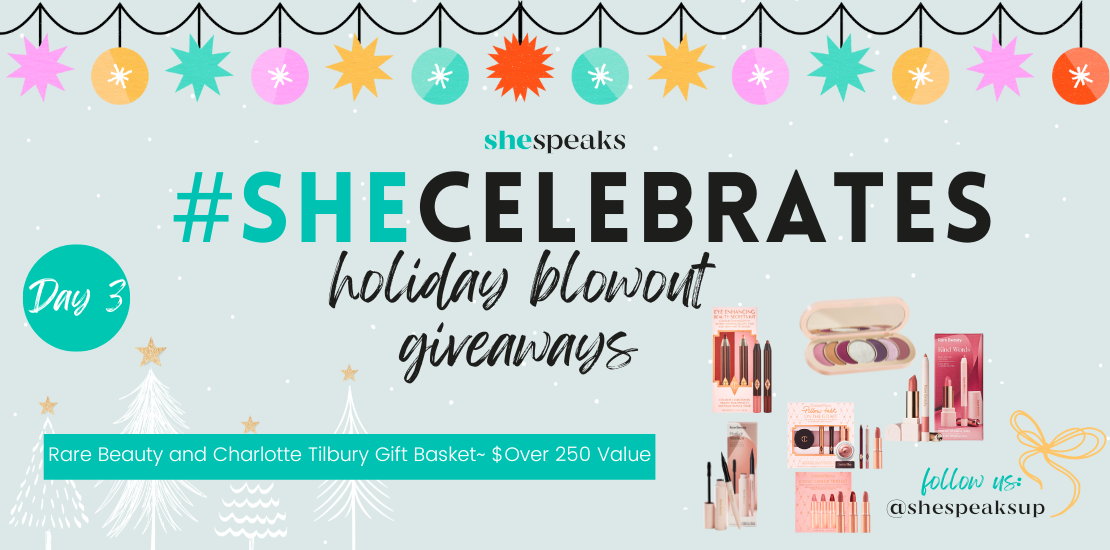 https://www.charlottetilbury.com/us and https://www.rarebeauty.com/
­Our Day #3 prize in the #SheCelebrates Holiday Blowout Giveaway is about feeling beautiful!

Enter to win a Beauty Gift Basket (Over $250 value)!

This beauty gift basket is filled with goodies from Rare Beauty and Charlotte Tilbury, two of the hottest cosmetic lines and they are both founded by women!

Rare Beauty is Selena Gomez's makeup line and it emphasizes products that make you feel good without hiding what makes you unique.

Charlotte Tilbury believes if you give someone the right makeup, they can conquer the world!

We're excited to share these great products with you for today's giveaway!




Enter Day #3 of our #SheCelebrates Holiday Blowout Giveaway by telling us all about your favorite beauty item!
­­
BONUS: For every entry, we'll donate $1 (up to $1,000) to St. Jude Children's Research Hospital. Find out more here.

Remember, the more you enter, the more chances you have to win!
Don't forget to check back daily here between now and December 14th, on weekdays, for more giveaways!

#SheCelebrates Holiday Blowout Giveaway Day #3: Beauty Gift Basket
*One lucky contestant will be chosen at random to receive a Beauty Gift Basket (over $250 value). Giveaway is open through December 16th, 2022, 12 midnight ET to U.S. residents at least 18 years of age. Entrants must be a member of SheSpeaks. If you are not a member, click here to join. Winner will be notified by email.

Thanks to all who entered! Congrats to our winner SheSpeaks member mdiva00.