'Friends' 25th Anniversary Gives Fans a Chance to Relive the Show

by
SheSpeaksTeam
is this the date @ED : BlogVO [categoryId=70162, blogId=145591, blogTitle='Friends' 25th Anniversary Gives Fans a Chance to Relive the Show, publishingDate=August 22, 2019 12:00 AM, maxResponses=null, noOfComments=null, fileId=34990, blogClosingDate=null, blogCommentClosed=null, blogCategoryId=70162, queryId=0, blogCategoryIdIndex=0, sharedCategoriesList=null, blogStatusId=34, commentsClosedFlag=false, categoryIdForLog=0, blogModuleCategoryId=0, blogFileVo=null, latestCommentsList=null, verticalCatSeoURL=null, currentDate=06/05/2023, blogLink=null, authorName=SheSpeaksTeam, authorLognId=SheSpeaksTeam, authorAcctId=67580, vosTypeid=3, searchTestId=0, searchStatusId=0, searchAuthorType=0, authorBlogNumber=0, surveyData1=null, surveyData1Desc=null, surveyData2=null, surveyData2Desc=null, pullQuoteMemberId=null, filePath=null, fileName=null, vosType=0, subhead=null, offerSubhead=null, description=null, creationTime=null, authorFname=SheSpeaks, verticalCategoryId=null, sectionId=0, imageFileVO=FilesVO [fileId=34990, filePath=null, fileName=null, fileLength=0, fileWidth=0, createdBy=0, createByUser=null, creationTime=null, lastModifiedBy=0, lastModifiedByUser=null, lastModifiedTime=null, mimeType=null, fileRef=null, fileSize=0, extension=null, title=null, body=null, completeFilePath=/pages/img/redesign/blogs/11103892_f57d05a21e_08012019152525.jpg, height=344, width=411, maxHeight=480, maxWidth=360, displayWidth=360, displayHeight=301, fileStatusId=0, searchKeyword=null, searchFlag=false, queryId=0, isExists=true], seoURL=-Friends-25th-Anniversary-Gives-Fans-a-Chance-to-Relive-the-Show, seoTitle=null, pullQuotesList=null, pullQuote=null, pullQuoteId=0, searchFlag=false, authorByLine=null, authorDesc=null, authorLink=null, authorFileVO=FilesVO [fileId=42371, filePath=null, fileName=null, fileLength=0, fileWidth=0, createdBy=0, createByUser=null, creationTime=null, lastModifiedBy=0, lastModifiedByUser=null, lastModifiedTime=null, mimeType=null, fileRef=null, fileSize=0, extension=null, title=null, body=null, completeFilePath=/pages/img/membersnaps/SheSpeaks_Logo_Symbol_Only_10182021080530.jpg, height=1777, width=1777, maxHeight=50, maxWidth=50, displayWidth=50, displayHeight=50, fileStatusId=0, searchKeyword=null, searchFlag=false, queryId=0, isExists=true], authorFileId=42371, authorType=0, storyImgFileVO=null, storyImgFileId=0, videoHtml=, authorImageFileId=0, authorImageFileVO=null, previousCategoryId=null, previousBlogStatusId=0, fromBlogDetails=0, blogCategoryName=Entertainment, blogCategoryUrl=null, blogCategoryDesc=null, defaultImage=false, tags=null, optionIds=null, tagOptionId=null, tagId=null, tag=null, tagID=0, tagDetails=null, tagIds=null, testId=0, extBlogURL=null, extBlogStatus=0, bloggerSince=null, extBlogLimit=0, authorTestsList=[], blogURL=, blogName=, bloggerProfileId=0, sliderBlog=false, eventonHome=false, vosonHome=false, partyAndGiveawayDate=09/08/2019, imageCredit=null, pullQuoteMemId=null, offerSubHead=null, subHead=null, displayOrder=0,includeInGoogleSearch=false]
Aug 22, 2019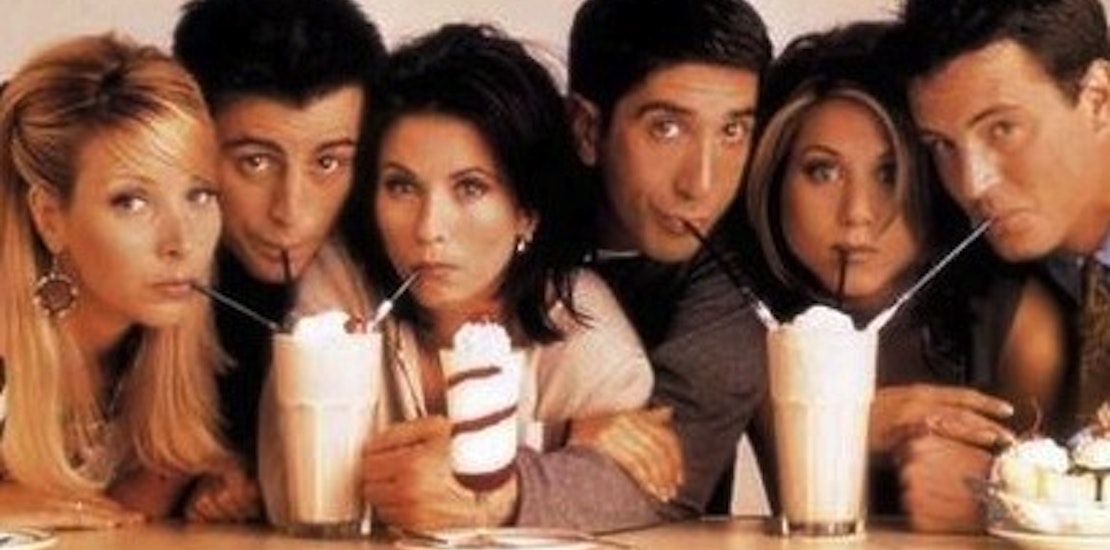 This September will be the 25th anniversary of the first episode of the hit TV series, Friends, and it will be celebrated in true-to-the-show New York style.
Are you a Friends fan? Tell us your favorite characters or episodes below to win a 25th Anniversary coffee mug and Central Perk limited edition ground coffee!
The Big Screen
Friends is coming to a movie theater near you! Called "Friends 25th: The One with the Anniversary", you can check out twelve of the show's most memorable episodes over three nights, plus never-before-seen extras. Airing on 1,000 screens, tickets are on sale now through Fathom Events. Though most of these shows are sold-out, it's worth checking to see if any tickets are left in a theater near you.
Visit Central Perk
In New York this September, there will be an immersive pop-up show, recreated to look like Central Perk and featuring all kinds of memorable items, according to the Hollywood Reporter. Chandler and Joey's recliners and foosball table are sure to bring laughs and memories as well as Monica and Rachel's purple door. The Central Perk will be recreated with a look-alike orange sofa and real props and costumes from the show will be on view. There will even be a fountain area from the show's iconic opening theme recreated inside the shop. Though the tickets disappeared quickly, you can join their mailing list here - if enough people show interest, maybe they'll extend the time.
If you're on the West Coast, you can visit The Coffee Bean & Tea Leaf in Santa Monica or The Coffee Bean in West Hollywood, where you can check out Central Perk, orange couch included. There's memorabilia from the sitcom and specialty drinks named for its cast, including The Rachel Matcha Latte, The Joey Mango Cold Brew Tea and The Phoebe Cookies & Cream Ice Blend. But be quick, both end on Aug. 23.
Bring it Home
Do you want to have a little Friends in your home forever? Visit Pottery Barn, where you can buy several Friends items, including a replica of the legendary apothocary table (from the days of yore), recreated down to the last detail. It now costs $1,099, a lot more than the "one and 50 dollars" that Rachel told Phoebe she paid in that episode.
For a more fun, make-it-your-own memory, check out the Central Perk replica that you can build out of Legos. Of course it includes the couch and chairs, but it also has the stage where Phoebe performed on her guitar and Ross played his keyboard. Bonus: the set comes with 7 minifigures, including the 6 main characters plus Gunther. Order here starting September 1.
*One lucky contestant will be chosen at random to receive a 25th Anniversary coffee mug and Central Perk limited edition ground coffee. If the items are out-of-stock, they may be replaced with similar items of similar value. Giveaway is open through September 8th, 2019 to U.S. residents at least 18 years of age. Entrants must be a member of SheSpeaks. If you are not a member, click here to join. Winner will be notified by email.