#12DaysOfSheSpeaks Day 6: Win an LM StyleBar Dress

by
SheSpeaksTeam
is this the date @ED : BlogVO [categoryId=70165, blogId=144548, blogTitle=#12DaysOfSheSpeaks Day 6: Win an LM StyleBar Dress, publishingDate=December 11, 2015 12:00 AM, maxResponses=null, noOfComments=null, fileId=25006, blogClosingDate=null, blogCommentClosed=null, blogCategoryId=70165, queryId=0, blogCategoryIdIndex=0, sharedCategoriesList=null, blogStatusId=34, commentsClosedFlag=false, categoryIdForLog=0, blogModuleCategoryId=0, blogFileVo=null, latestCommentsList=null, verticalCatSeoURL=null, currentDate=03/25/2023, blogLink=null, authorName=SheSpeaksTeam, authorLognId=SheSpeaksTeam, authorAcctId=67580, vosTypeid=3, searchTestId=0, searchStatusId=0, searchAuthorType=0, authorBlogNumber=0, surveyData1=null, surveyData1Desc=null, surveyData2=null, surveyData2Desc=null, pullQuoteMemberId=null, filePath=null, fileName=null, vosType=0, subhead=null, offerSubhead=null, description=null, creationTime=null, authorFname=SheSpeaks, verticalCategoryId=null, sectionId=0, imageFileVO=FilesVO [fileId=25006, filePath=null, fileName=null, fileLength=0, fileWidth=0, createdBy=0, createByUser=null, creationTime=null, lastModifiedBy=0, lastModifiedByUser=null, lastModifiedTime=null, mimeType=null, fileRef=null, fileSize=0, extension=null, title=null, body=null, completeFilePath=/pages/img/redesign/blogs/NEWholiday350x350_day6_12102015125129.jpg, height=350, width=350, maxHeight=480, maxWidth=360, displayWidth=350, displayHeight=350, fileStatusId=0, searchKeyword=null, searchFlag=false, queryId=0, isExists=true], seoURL=-12DaysOfSheSpeaks-Day-6-Win-an-LM-Style-Bar-Dress, seoTitle=null, pullQuotesList=null, pullQuote=null, pullQuoteId=0, searchFlag=false, authorByLine=null, authorDesc=null, authorLink=null, authorFileVO=FilesVO [fileId=42371, filePath=null, fileName=null, fileLength=0, fileWidth=0, createdBy=0, createByUser=null, creationTime=null, lastModifiedBy=0, lastModifiedByUser=null, lastModifiedTime=null, mimeType=null, fileRef=null, fileSize=0, extension=null, title=null, body=null, completeFilePath=/pages/img/membersnaps/SheSpeaks_Logo_Symbol_Only_10182021080530.jpg, height=1777, width=1777, maxHeight=50, maxWidth=50, displayWidth=50, displayHeight=50, fileStatusId=0, searchKeyword=null, searchFlag=false, queryId=0, isExists=true], authorFileId=42371, authorType=0, storyImgFileVO=null, storyImgFileId=0, videoHtml=, authorImageFileId=0, authorImageFileVO=null, previousCategoryId=null, previousBlogStatusId=0, fromBlogDetails=0, blogCategoryName=Living, blogCategoryUrl=null, blogCategoryDesc=null, defaultImage=false, tags=null, optionIds=null, tagOptionId=null, tagId=null, tag=null, tagID=0, tagDetails=null, tagIds=null, testId=0, extBlogURL=null, extBlogStatus=0, bloggerSince=null, extBlogLimit=0, authorTestsList=[], blogURL=, blogName=, bloggerProfileId=0, sliderBlog=false, eventonHome=false, vosonHome=false, partyAndGiveawayDate=12/21/2015, imageCredit=null, pullQuoteMemId=null, offerSubHead=null, subHead=null, displayOrder=0,includeInGoogleSearch=false]
Dec 11, 2015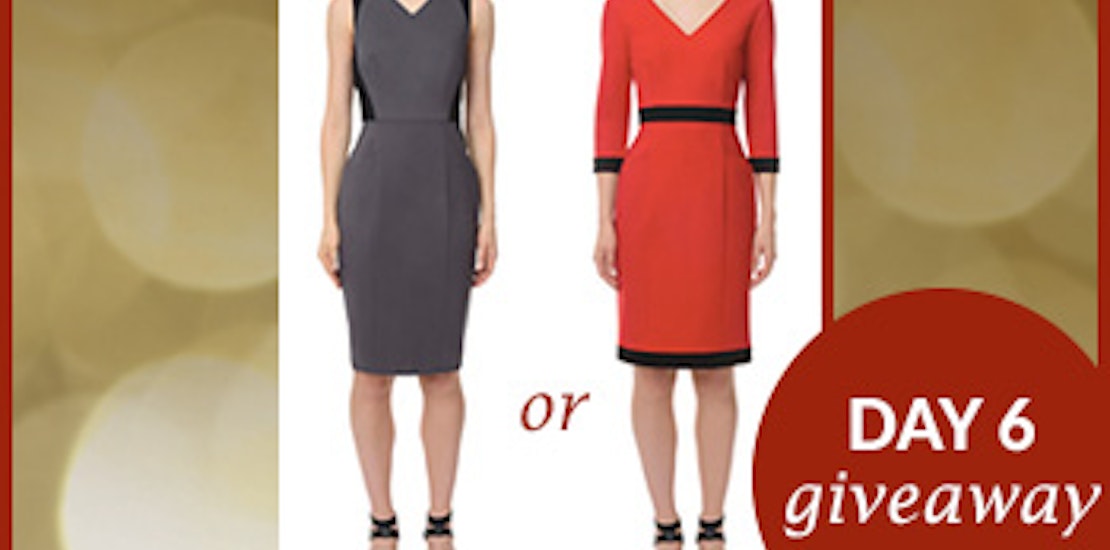 The sixth giveaway in our BIG #12DaysOfSheSpeaks giveaways is a choice of two chic dresses from the LM StyleBar dress collection!
SheSpeaks members love fashion and the LM StyleBar collection takes women from the office to cocktail hour with the switch of a purse and a swipe of lipstick.
These are more than just ordinary dresses - they were designed with professional women in mind, so each piece of the collection acts as a building-block to a polished, professional and stylish wardrobe. They can be utilized for any occasion, whether it be a job interview, typical work day or something to wear to a family function.
The winner of this giveaway will have a choice of either one of these two dresses:
- The Ponte Knit Banded Classic Dress, which has a luxurious feel and travels well. It comes in either black or red and is valued at $284.
OR
The Ponte Knit Color Block Dress, which has a classic trend that will keep you looking polished, professional and beyond. It is valued at $250.
Ready to win one?
There are two ways to enter:
Simply log in to your SheSpeaks account and then comment below to answer the question - What color is your favorite holiday dress?
AND/OR
Tweet about the giveaway!
Click here to tweet: "I'm entering to win an @LMStyleBar dress on Day 6 of #12DaysOfSheSpeaks, thx to @SheSpeaksUp bit.ly/1Qy8Fo0"
Have you entered all #12DaysofSheSpeaks giveaways? Click here to enter them all, and check back on weekdays between now and December 21st for more giveaways!
Also, don't forget that for every entry during the duration of this giveaway, we are donating $1, up to $1,000 total, to Feeding America, to make sure that more families are fed this holiday season. You can find out more about the charity and our social good campaign here.
One lucky commenter (or Tweeter) will be chosen at random to receive an LM StyleBar dress, valued at $250 or $284. Enter through December 21st. Giveaways are open to U.S. residents only and must be a member of SheSpeaks. If you are not a member, click here to join. Winner will be notified by email on December 22nd.
Thanks for entering! This Giveaway is now closed.
Update: The winner has been chosen and is SheSpeaks member candries. Thanks to all for entering!