#12DaysOfSheSpeaks Day 6: Win a 12-month @Edoughble Cookie Dough-of-the-Month Club

by
SheSpeaksTeam
is this the date @ED : BlogVO [categoryId=70164, blogId=144949, blogTitle=#12DaysOfSheSpeaks Day 6: Win a 12-month @Edoughble Cookie Dough-of-the-Month Club, publishingDate=December 08, 2016 12:00 AM, maxResponses=null, noOfComments=null, fileId=28759, blogClosingDate=null, blogCommentClosed=null, blogCategoryId=70164, queryId=0, blogCategoryIdIndex=0, sharedCategoriesList=null, blogStatusId=34, commentsClosedFlag=false, categoryIdForLog=0, blogModuleCategoryId=0, blogFileVo=null, latestCommentsList=null, verticalCatSeoURL=null, currentDate=12/02/2023, blogLink=null, authorName=SheSpeaksTeam, authorLognId=SheSpeaksTeam, authorAcctId=67580, vosTypeid=3, searchTestId=0, searchStatusId=0, searchAuthorType=0, authorBlogNumber=0, surveyData1=null, surveyData1Desc=null, surveyData2=null, surveyData2Desc=null, pullQuoteMemberId=null, filePath=null, fileName=null, vosType=0, subhead=null, offerSubhead=null, description=null, creationTime=null, authorFname=SheSpeaks, verticalCategoryId=null, sectionId=0, imageFileVO=FilesVO [fileId=28759, filePath=null, fileName=null, fileLength=0, fileWidth=0, createdBy=0, createByUser=null, creationTime=null, lastModifiedBy=0, lastModifiedByUser=null, lastModifiedTime=null, mimeType=null, fileRef=null, fileSize=0, extension=null, title=null, body=null, completeFilePath=/pages/img/redesign/blogs/blog post hero day6_12062016120512.jpg, height=350, width=350, maxHeight=480, maxWidth=360, displayWidth=350, displayHeight=350, fileStatusId=0, searchKeyword=null, searchFlag=false, queryId=0, isExists=true], seoURL=-12DaysOfSheSpeaks-Day-6-Win-a-12-month-Edoughble-Cookie-Dough-of-the-Month-Club, seoTitle=null, pullQuotesList=null, pullQuote=null, pullQuoteId=0, searchFlag=false, authorByLine=null, authorDesc=null, authorLink=null, authorFileVO=FilesVO [fileId=42371, filePath=null, fileName=null, fileLength=0, fileWidth=0, createdBy=0, createByUser=null, creationTime=null, lastModifiedBy=0, lastModifiedByUser=null, lastModifiedTime=null, mimeType=null, fileRef=null, fileSize=0, extension=null, title=null, body=null, completeFilePath=/pages/img/membersnaps/SheSpeaks_Logo_Symbol_Only_10182021080530.jpg, height=1777, width=1777, maxHeight=50, maxWidth=50, displayWidth=50, displayHeight=50, fileStatusId=0, searchKeyword=null, searchFlag=false, queryId=0, isExists=true], authorFileId=42371, authorType=0, storyImgFileVO=null, storyImgFileId=0, videoHtml=, authorImageFileId=0, authorImageFileVO=null, previousCategoryId=null, previousBlogStatusId=0, fromBlogDetails=0, blogCategoryName=Food, blogCategoryUrl=null, blogCategoryDesc=null, defaultImage=false, tags=null, optionIds=null, tagOptionId=null, tagId=null, tag=null, tagID=0, tagDetails=null, tagIds=null, testId=0, extBlogURL=null, extBlogStatus=0, bloggerSince=null, extBlogLimit=0, authorTestsList=[], blogURL=, blogName=, bloggerProfileId=0, sliderBlog=false, eventonHome=false, vosonHome=false, partyAndGiveawayDate=12/18/2016, imageCredit=null, pullQuoteMemId=null, offerSubHead=null, subHead=null, displayOrder=0,includeInGoogleSearch=false]
Dec 08, 2016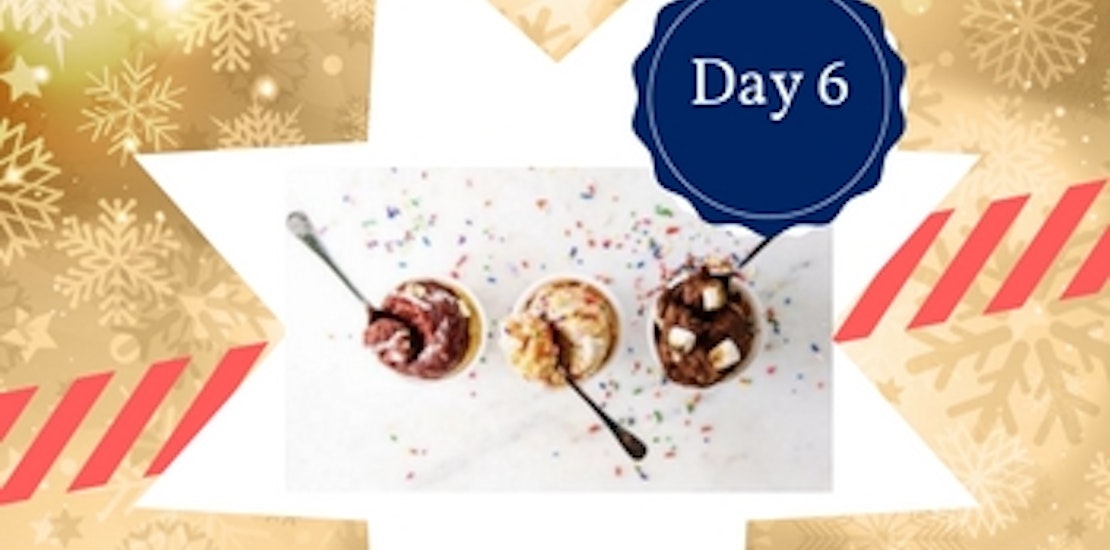 The sixth prize in our 2016 #12DaysofSheSpeaks giveaways is an insanely indulgent treat that lasts the whole year long.
It's a cookie-dough-of-the-month club subscription from Edoughble! Valued at $250, the winner will receive two 8oz. containers every month, for the next twelve months. This no bake, ready-to-eat cookie dough in flavors such as S'More Please, Cookies N' Dream and Birthday Bash is sure to bring never-ending spoonfuls of joy.
Cookie dough confections will always be fun to eat and Edoughble delivered straight to your door makes being creative a snap. There are numerous ways to enjoy raw cookie dough and Edoughble gives new meaning to "just a spoonful of sugar…"
What kind of cookie-dough connoisseur are you?
The Purist: You dig right into the dough with spoon, finger, chopsticks, or whatever else gets dough to mouth ASAP.
The Topper: You perfect the perfect bite of ice cream and cookie dough for the ultimate experience in indulgence.
The Mixer: You add cookie dough to any and every thing... spread between 2 cookies, sprinkled in brownie batter, whipped into a doughy dessert dip, and blended in milkshakes.
"... what can't you do with cookie dough?"—Oprah.com
At SheSpeaks, we love this no bake trend and highly recommend rolling Edoughble dough into truffles and dipping in dark chocolate for a decadent treat. This holiday season, be kind to yourself and enjoy!
Are you ready to win a 12-month Edoughble cookie dough-of-the-month club subscription? Enter below.
#12DaysofSheSpeaks, Day 6 Giveaway
For an additional way to enter, tell us in the comments below what your favorite holiday treat is.
Also, Don't forget that for every entry during the duration of this giveway, we are donating $1, up to $1,000 total, to V-Day, a global activist movement to end violence against women and girls. You can find out more about the charity and our social good campaign here.
Don't forget to check back daily between now and December 16th, on weekdays, for more giveaways!
And now... here is your hint for Day #7: We've got dinner in the bag!
* RULES: One lucky participant will be chosen at random to receive a 12-month subscription to Edoughble, valued at $250. Enter through December 18th. Giveaway is open to U.S. residents only and must be a member of SheSpeaks. If you are not a member, click here to join.
Update: Thanks to all who entered! Congratulations to our winner, SheSpeaks member Michi9271.