#12DaysOfSheSpeaks Day 5: Win an Oral-B Professional Deep Sweep 4000 Electric Toothbrush

by
SheSpeaksTeam
is this the date @ED : BlogVO [categoryId=70165, blogId=144556, blogTitle=#12DaysOfSheSpeaks Day 5: Win an Oral-B Professional Deep Sweep 4000 Electric Toothbrush, publishingDate=December 10, 2015 12:00 AM, maxResponses=null, noOfComments=null, fileId=25088, blogClosingDate=null, blogCommentClosed=null, blogCategoryId=70165, queryId=0, blogCategoryIdIndex=0, sharedCategoriesList=null, blogStatusId=34, commentsClosedFlag=false, categoryIdForLog=0, blogModuleCategoryId=0, blogFileVo=null, latestCommentsList=null, verticalCatSeoURL=null, currentDate=05/28/2023, blogLink=null, authorName=SheSpeaksTeam, authorLognId=SheSpeaksTeam, authorAcctId=67580, vosTypeid=3, searchTestId=0, searchStatusId=0, searchAuthorType=0, authorBlogNumber=0, surveyData1=null, surveyData1Desc=null, surveyData2=null, surveyData2Desc=null, pullQuoteMemberId=null, filePath=null, fileName=null, vosType=0, subhead=null, offerSubhead=null, description=null, creationTime=null, authorFname=SheSpeaks, verticalCategoryId=null, sectionId=0, imageFileVO=FilesVO [fileId=25088, filePath=null, fileName=null, fileLength=0, fileWidth=0, createdBy=0, createByUser=null, creationTime=null, lastModifiedBy=0, lastModifiedByUser=null, lastModifiedTime=null, mimeType=null, fileRef=null, fileSize=0, extension=null, title=null, body=null, completeFilePath=/pages/img/redesign/blogs/oralbgiveaway_12102015080652.jpg, height=350, width=350, maxHeight=480, maxWidth=360, displayWidth=350, displayHeight=350, fileStatusId=0, searchKeyword=null, searchFlag=false, queryId=0, isExists=true], seoURL=-12DaysOfSheSpeaks-Day-5-Win-an-Oral-B-Professional-Deep-Sweep-4000-Electric-Toothbrush, seoTitle=null, pullQuotesList=null, pullQuote=null, pullQuoteId=0, searchFlag=false, authorByLine=null, authorDesc=null, authorLink=null, authorFileVO=FilesVO [fileId=42371, filePath=null, fileName=null, fileLength=0, fileWidth=0, createdBy=0, createByUser=null, creationTime=null, lastModifiedBy=0, lastModifiedByUser=null, lastModifiedTime=null, mimeType=null, fileRef=null, fileSize=0, extension=null, title=null, body=null, completeFilePath=/pages/img/membersnaps/SheSpeaks_Logo_Symbol_Only_10182021080530.jpg, height=1777, width=1777, maxHeight=50, maxWidth=50, displayWidth=50, displayHeight=50, fileStatusId=0, searchKeyword=null, searchFlag=false, queryId=0, isExists=true], authorFileId=42371, authorType=0, storyImgFileVO=null, storyImgFileId=0, videoHtml=, authorImageFileId=0, authorImageFileVO=null, previousCategoryId=null, previousBlogStatusId=0, fromBlogDetails=0, blogCategoryName=Living, blogCategoryUrl=null, blogCategoryDesc=null, defaultImage=false, tags=null, optionIds=null, tagOptionId=null, tagId=null, tag=null, tagID=0, tagDetails=null, tagIds=null, testId=0, extBlogURL=null, extBlogStatus=0, bloggerSince=null, extBlogLimit=0, authorTestsList=[], blogURL=, blogName=, bloggerProfileId=0, sliderBlog=false, eventonHome=false, vosonHome=false, partyAndGiveawayDate=12/21/2015, imageCredit=null, pullQuoteMemId=null, offerSubHead=null, subHead=null, displayOrder=0,includeInGoogleSearch=false]
Dec 10, 2015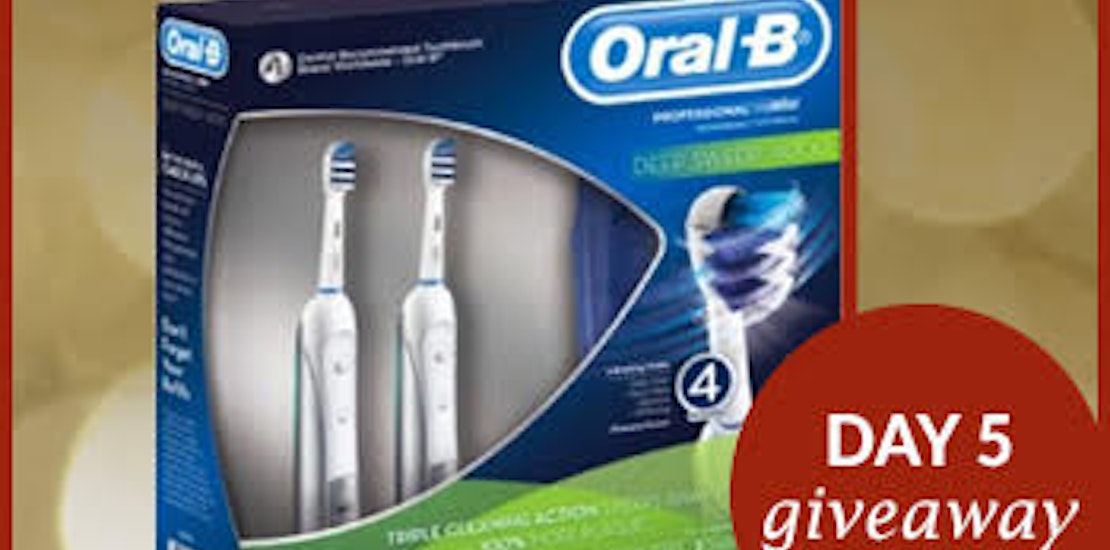 The fifth giveaway in our BIG #12DaysofSheSpeaks giveaways is an Oral-B Professional Deep Sweep 4000 Electric Toothbrush, found at Walmart and valued at $199.95!
'Tis the season to take lots of photos with friends and family. Having clearn white teeth is surely a priority so a well-made toothbrush is vital. With the Oral-B Professional Deep Sweep 4000 Electric Toothbrush, you can brush like usual and easily get up to 100% more plaque removal than with a regular manual toothbrush, providing a thorough surface cleaning that will leave your teeth shining!
Our members have always loved Oral-B, so we're thrilled to be offering this great product in our giveaway.
Want to win one?
There are two ways to enter:
Simply comment below to answer the question - What do you do to make sure you have shiny, clean teeth during the holiday season?
AND/OR
Tweet about the giveaway!
Click here to Tweet: "I'm entering to win an @OralB electric toothbrush on Day 5 of #12DaysOfSheSpeaks, thx to @SheSpeaksUp! bit.ly/1PZpytg"
Also, don't forget that for every entry up to $1,000 during the duration of the #12DaysofSheSpeaks giveaway, we are donating $1 to Feeding America to make sure that more families are fed this holiday season. You can find out more about the charity and our social good campaign here.
Have you entered all #12DaysofSheSpeaks giveaways? Click here to enter them all, and check back on weekdays between now and December 21st for more giveaways!
One lucky commenter (or Tweeter) will be chosen at random to receive the toothbrush, valued at approximately $199.95. Enter through December 21st. Giveaways are open to U.S. residents only and must be a member of SheSpeaks. If you are not a member, click here to join. Winner will be notified by email on December 22nd.
Thanks for entering! This Giveaway is now closed.
Update: The winner has been chosen and is SheSpeaks member mimitastic. Thanks to all for entering!