#12DaysOfSheSpeaks Day 3: Win a Levitating Bluetooth Speaker

by
SheSpeaksTeam
is this the date @ED : BlogVO [categoryId=70162, blogId=144940, blogTitle=#12DaysOfSheSpeaks Day 3: Win a Levitating Bluetooth Speaker, publishingDate=December 05, 2016 12:00 AM, maxResponses=null, noOfComments=null, fileId=28718, blogClosingDate=null, blogCommentClosed=null, blogCategoryId=70162, queryId=0, blogCategoryIdIndex=0, sharedCategoriesList=null, blogStatusId=34, commentsClosedFlag=false, categoryIdForLog=0, blogModuleCategoryId=0, blogFileVo=null, latestCommentsList=null, verticalCatSeoURL=null, currentDate=09/28/2023, blogLink=null, authorName=SheSpeaksTeam, authorLognId=SheSpeaksTeam, authorAcctId=67580, vosTypeid=3, searchTestId=0, searchStatusId=0, searchAuthorType=0, authorBlogNumber=0, surveyData1=null, surveyData1Desc=null, surveyData2=null, surveyData2Desc=null, pullQuoteMemberId=null, filePath=null, fileName=null, vosType=0, subhead=null, offerSubhead=null, description=null, creationTime=null, authorFname=SheSpeaks, verticalCategoryId=null, sectionId=0, imageFileVO=FilesVO [fileId=28718, filePath=null, fileName=null, fileLength=0, fileWidth=0, createdBy=0, createByUser=null, creationTime=null, lastModifiedBy=0, lastModifiedByUser=null, lastModifiedTime=null, mimeType=null, fileRef=null, fileSize=0, extension=null, title=null, body=null, completeFilePath=/pages/img/redesign/blogs/blog post hero day3(1)_12022016114321.jpg, height=350, width=350, maxHeight=480, maxWidth=360, displayWidth=350, displayHeight=350, fileStatusId=0, searchKeyword=null, searchFlag=false, queryId=0, isExists=true], seoURL=-12DaysOfSheSpeaks-Day-3-Win-a-Levitating-Bluetooth-Speaker, seoTitle=null, pullQuotesList=null, pullQuote=null, pullQuoteId=0, searchFlag=false, authorByLine=null, authorDesc=null, authorLink=null, authorFileVO=FilesVO [fileId=42371, filePath=null, fileName=null, fileLength=0, fileWidth=0, createdBy=0, createByUser=null, creationTime=null, lastModifiedBy=0, lastModifiedByUser=null, lastModifiedTime=null, mimeType=null, fileRef=null, fileSize=0, extension=null, title=null, body=null, completeFilePath=/pages/img/membersnaps/SheSpeaks_Logo_Symbol_Only_10182021080530.jpg, height=1777, width=1777, maxHeight=50, maxWidth=50, displayWidth=50, displayHeight=50, fileStatusId=0, searchKeyword=null, searchFlag=false, queryId=0, isExists=true], authorFileId=42371, authorType=0, storyImgFileVO=null, storyImgFileId=0, videoHtml=, authorImageFileId=0, authorImageFileVO=null, previousCategoryId=null, previousBlogStatusId=0, fromBlogDetails=0, blogCategoryName=Entertainment, blogCategoryUrl=null, blogCategoryDesc=null, defaultImage=false, tags=null, optionIds=null, tagOptionId=null, tagId=null, tag=null, tagID=0, tagDetails=null, tagIds=null, testId=0, extBlogURL=null, extBlogStatus=0, bloggerSince=null, extBlogLimit=0, authorTestsList=[], blogURL=, blogName=, bloggerProfileId=0, sliderBlog=false, eventonHome=false, vosonHome=false, partyAndGiveawayDate=12/18/2016, imageCredit=null, pullQuoteMemId=null, offerSubHead=null, subHead=null, displayOrder=0,includeInGoogleSearch=false]
Dec 05, 2016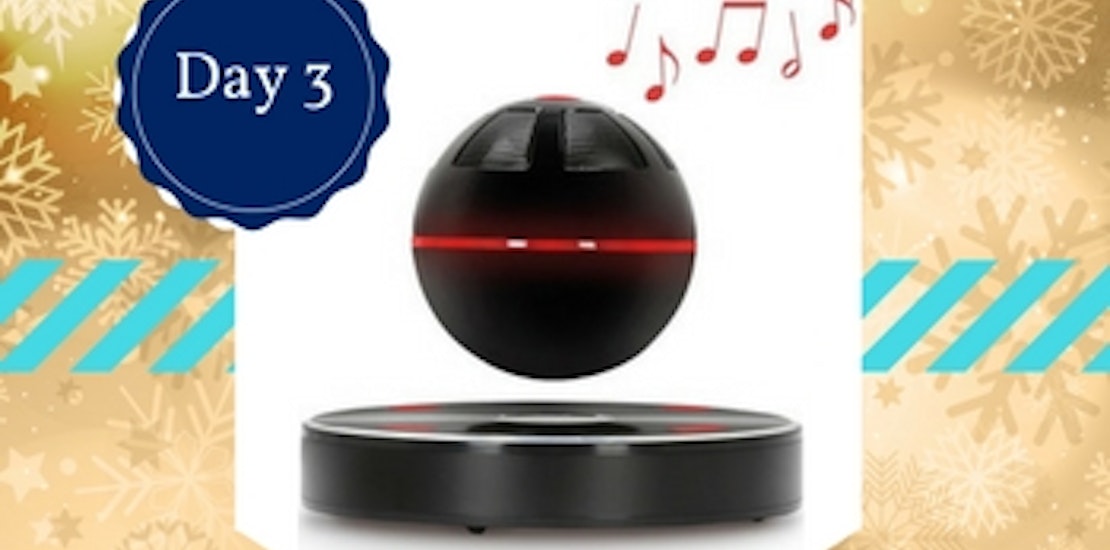 The third prize in our 2016 #12DaysofSheSpeaks giveaways defies gravity. It's a Levitating Bluetooth Speaker from Hammacher Schlemmer.
It will be the talk of any party: not only does it have impressive audio, but it is amazing to watch as it floats in mid-air above the base.
This speaker shows us that technology can be both innovative and fun. Looking for other gift ideas that both techies and non-technies will love? Here our our favorites:
Virtual Reality Headset
Just snap your phone into the lightweight headset, strap it around your head, and the games, video and images you see will transport you to new worlds.
Cozmo
This cute robot has personality. Cozmo is powered by artificial intelligence so it can recognize its owner, play games, and even show emotions.
Google Home & Amazon Echo
Google Home joins Amazon Echo, providing multiple options for an interactive home speaker system which can answer questions, play music, set timers, and control connected appliances.
Portable Photo Printer
Make sure your photos don't stay trapped in a cloud forever with a new portable printer that makes it easy to get the pictures you want right in your hands, no matter where you are.
Are you ready to win a new Levitating Bluetooth Speaker? Enter below.
#12DaysofSheSpeaks, Day 3 Giveaway
For an additional way to enter, tell us in the comments below what your favorite techie gadget is right now.
Also, Don't forget that for every entry during the duration of this giveway, we are donating $1, up to $1,000 total, to V-Day, a global activist movement to end violence against women and girls. You can find out more about the charity and our social good campaign here.
Don't forget to check back daily between now and December 16th, on weekdays, for more giveaways!
And now... here is your hint for Day #4: Something luxurious is bubbling up for you - and a friend, too!
* RULES: One lucky participant will be chosen at random to receive a Levitating Bluetooth Speaker, valued at $149.95. Enter through December 18th. Giveaway is open to U.S. residents only and must be a member of SheSpeaks. If you are not a member, click here to join.
Update: Thanks to all who entered! Congratulations to our winner, SheSpeaks member Goodgirl69.