#12DaysOfSheSpeaks Day 3: Win a COVERGIRL Star Wars Prize Pack

by
SheSpeaksTeam
is this the date @ED : BlogVO [categoryId=70165, blogId=144546, blogTitle=#12DaysOfSheSpeaks Day 3: Win a COVERGIRL Star Wars Prize Pack, publishingDate=December 08, 2015 12:00 AM, maxResponses=null, noOfComments=null, fileId=25005, blogClosingDate=null, blogCommentClosed=null, blogCategoryId=70165, queryId=0, blogCategoryIdIndex=0, sharedCategoriesList=null, blogStatusId=34, commentsClosedFlag=false, categoryIdForLog=0, blogModuleCategoryId=0, blogFileVo=null, latestCommentsList=null, verticalCatSeoURL=null, currentDate=06/05/2023, blogLink=null, authorName=SheSpeaksTeam, authorLognId=SheSpeaksTeam, authorAcctId=67580, vosTypeid=3, searchTestId=0, searchStatusId=0, searchAuthorType=0, authorBlogNumber=0, surveyData1=null, surveyData1Desc=null, surveyData2=null, surveyData2Desc=null, pullQuoteMemberId=null, filePath=null, fileName=null, vosType=0, subhead=null, offerSubhead=null, description=null, creationTime=null, authorFname=SheSpeaks, verticalCategoryId=null, sectionId=0, imageFileVO=FilesVO [fileId=25005, filePath=null, fileName=null, fileLength=0, fileWidth=0, createdBy=0, createByUser=null, creationTime=null, lastModifiedBy=0, lastModifiedByUser=null, lastModifiedTime=null, mimeType=null, fileRef=null, fileSize=0, extension=null, title=null, body=null, completeFilePath=/pages/img/redesign/blogs/covergirl_12072015200636.jpg, height=350, width=350, maxHeight=480, maxWidth=360, displayWidth=350, displayHeight=350, fileStatusId=0, searchKeyword=null, searchFlag=false, queryId=0, isExists=true], seoURL=-12DaysOfSheSpeaks-Day-3-Win-a-COVERGIRL-Star-Wars-prize-pack, seoTitle=null, pullQuotesList=null, pullQuote=null, pullQuoteId=0, searchFlag=false, authorByLine=null, authorDesc=null, authorLink=null, authorFileVO=FilesVO [fileId=42371, filePath=null, fileName=null, fileLength=0, fileWidth=0, createdBy=0, createByUser=null, creationTime=null, lastModifiedBy=0, lastModifiedByUser=null, lastModifiedTime=null, mimeType=null, fileRef=null, fileSize=0, extension=null, title=null, body=null, completeFilePath=/pages/img/membersnaps/SheSpeaks_Logo_Symbol_Only_10182021080530.jpg, height=1777, width=1777, maxHeight=50, maxWidth=50, displayWidth=50, displayHeight=50, fileStatusId=0, searchKeyword=null, searchFlag=false, queryId=0, isExists=true], authorFileId=42371, authorType=0, storyImgFileVO=null, storyImgFileId=0, videoHtml=, authorImageFileId=0, authorImageFileVO=null, previousCategoryId=null, previousBlogStatusId=0, fromBlogDetails=0, blogCategoryName=Living, blogCategoryUrl=null, blogCategoryDesc=null, defaultImage=false, tags=null, optionIds=null, tagOptionId=null, tagId=null, tag=null, tagID=0, tagDetails=null, tagIds=null, testId=0, extBlogURL=null, extBlogStatus=0, bloggerSince=null, extBlogLimit=0, authorTestsList=[], blogURL=, blogName=, bloggerProfileId=0, sliderBlog=false, eventonHome=false, vosonHome=false, partyAndGiveawayDate=12/21/2015, imageCredit=null, pullQuoteMemId=null, offerSubHead=null, subHead=null, displayOrder=0,includeInGoogleSearch=false]
Dec 08, 2015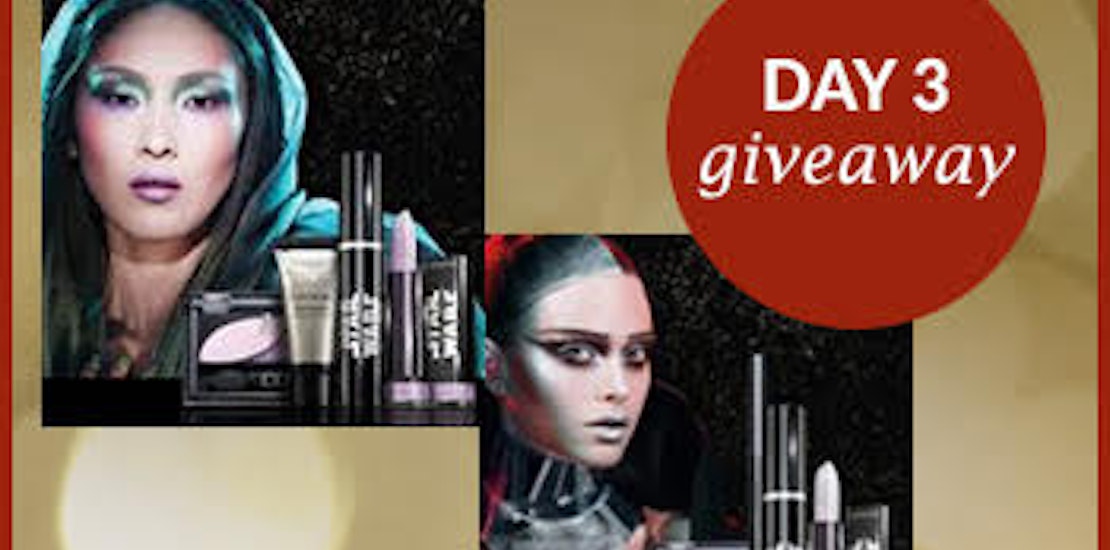 The third giveaway in our BIG #12DaysofSheSpeaks Day giveaways is a COVERGIRL Star Wars prize pack!
COVERGIRL at Walmart partnered with Star Wars: The Force Awakens to release a line of exciting, limited-edition cosmetics inspired by its new leading female characters. With the imminent release of the film, the make-up is in high demand, so we're thrilled to present it as one of our #12DaysOfSheSpeaks giveaways!
One lucky winner will get the following two complete COVERGIRL Star Wars looks, each includes two COVERGIRL cosmetics and NEW limited-edition COVERGIRL Star Wars lipstick and mascara. All seven looks, four "Light" and three "Dark", are available for purchase at Walmart!
Winner will recieve:
1. "Mystic Look" features four products - mascara, lipstick, eyeshadow quad and shine shadow.
2. Chrome Captain Look" features four products - mascara, eyeshadow, lipstick and eyeliner.
There are two ways to enter:
Simply comment below to answer the question - Which Star Wars look do you want to get for holidays? Or who do you know that would would like to get a Star Wars look for the holidays?
OR
Tweet about the giveaway!
Click here to Tweet: "I'm entering to win a @Walmart #StarWarsLook Giveaway on Day 3 of #12DaysOfSheSpeaks, thx to @SheSpeaksUp! bit.ly/1Qrtykt"
Be sure to check out our Star Wars COVERGIRL Pinterest Board too!
For every entry up to $1,000 during the duration of the #12DaysofSheSpeaks giveaway, we are donating $1 to Feeding America to make sure that more families are fed this holiday season. You can find out more about the charity and our social good campaign here.
Don't forget to check back daily between now and December 21st, on weekdays, for more giveaways!
One lucky commenter (or Tweeter) will be chosen at random to receive the prize pack, valued at approximately $50. Enter through December 21st. Giveaways are open to U.S. residents only and must be a member of SheSpeaks. If you are not a member, click here to join. Winner will be notified by email on December 22nd.
Thanks for entering! This Giveaway is now closed.
Update: The winner has been chosen and is SheSpeaks member jerah20. Thanks to all for entering!