Win a MZ WALLACE Handbag: Day 2 of #12DaysOfSheSpeaks

by
SheSpeaksTeam
is this the date @ED : BlogVO [categoryId=70165, blogId=144544, blogTitle=Win a MZ WALLACE Handbag: Day 2 of #12DaysOfSheSpeaks , publishingDate=December 07, 2015 12:00 AM, maxResponses=null, noOfComments=null, fileId=25002, blogClosingDate=null, blogCommentClosed=null, blogCategoryId=70165, queryId=0, blogCategoryIdIndex=0, sharedCategoriesList=null, blogStatusId=34, commentsClosedFlag=false, categoryIdForLog=0, blogModuleCategoryId=0, blogFileVo=null, latestCommentsList=null, verticalCatSeoURL=null, currentDate=06/10/2023, blogLink=null, authorName=SheSpeaksTeam, authorLognId=SheSpeaksTeam, authorAcctId=67580, vosTypeid=3, searchTestId=0, searchStatusId=0, searchAuthorType=0, authorBlogNumber=0, surveyData1=null, surveyData1Desc=null, surveyData2=null, surveyData2Desc=null, pullQuoteMemberId=null, filePath=null, fileName=null, vosType=0, subhead=null, offerSubhead=null, description=null, creationTime=null, authorFname=SheSpeaks, verticalCategoryId=null, sectionId=0, imageFileVO=FilesVO [fileId=25002, filePath=null, fileName=null, fileLength=0, fileWidth=0, createdBy=0, createByUser=null, creationTime=null, lastModifiedBy=0, lastModifiedByUser=null, lastModifiedTime=null, mimeType=null, fileRef=null, fileSize=0, extension=null, title=null, body=null, completeFilePath=/pages/img/redesign/blogs/NEWholiday350x350_2 (2) copy_12072015101847.jpg, height=350, width=350, maxHeight=480, maxWidth=360, displayWidth=350, displayHeight=350, fileStatusId=0, searchKeyword=null, searchFlag=false, queryId=0, isExists=true], seoURL=-12DaysOfSheSpeaks-Day-2-Win-a-MZ-WALLACE-Handbag, seoTitle=null, pullQuotesList=null, pullQuote=null, pullQuoteId=0, searchFlag=false, authorByLine=null, authorDesc=null, authorLink=null, authorFileVO=FilesVO [fileId=42371, filePath=null, fileName=null, fileLength=0, fileWidth=0, createdBy=0, createByUser=null, creationTime=null, lastModifiedBy=0, lastModifiedByUser=null, lastModifiedTime=null, mimeType=null, fileRef=null, fileSize=0, extension=null, title=null, body=null, completeFilePath=/pages/img/membersnaps/SheSpeaks_Logo_Symbol_Only_10182021080530.jpg, height=1777, width=1777, maxHeight=50, maxWidth=50, displayWidth=50, displayHeight=50, fileStatusId=0, searchKeyword=null, searchFlag=false, queryId=0, isExists=true], authorFileId=42371, authorType=0, storyImgFileVO=null, storyImgFileId=0, videoHtml=, authorImageFileId=0, authorImageFileVO=null, previousCategoryId=null, previousBlogStatusId=0, fromBlogDetails=0, blogCategoryName=Living, blogCategoryUrl=null, blogCategoryDesc=null, defaultImage=false, tags=null, optionIds=null, tagOptionId=null, tagId=null, tag=null, tagID=0, tagDetails=null, tagIds=null, testId=0, extBlogURL=null, extBlogStatus=0, bloggerSince=null, extBlogLimit=0, authorTestsList=[], blogURL=, blogName=, bloggerProfileId=0, sliderBlog=false, eventonHome=false, vosonHome=false, partyAndGiveawayDate=12/21/2015, imageCredit=null, pullQuoteMemId=null, offerSubHead=null, subHead=null, displayOrder=0,includeInGoogleSearch=false]
Dec 07, 2015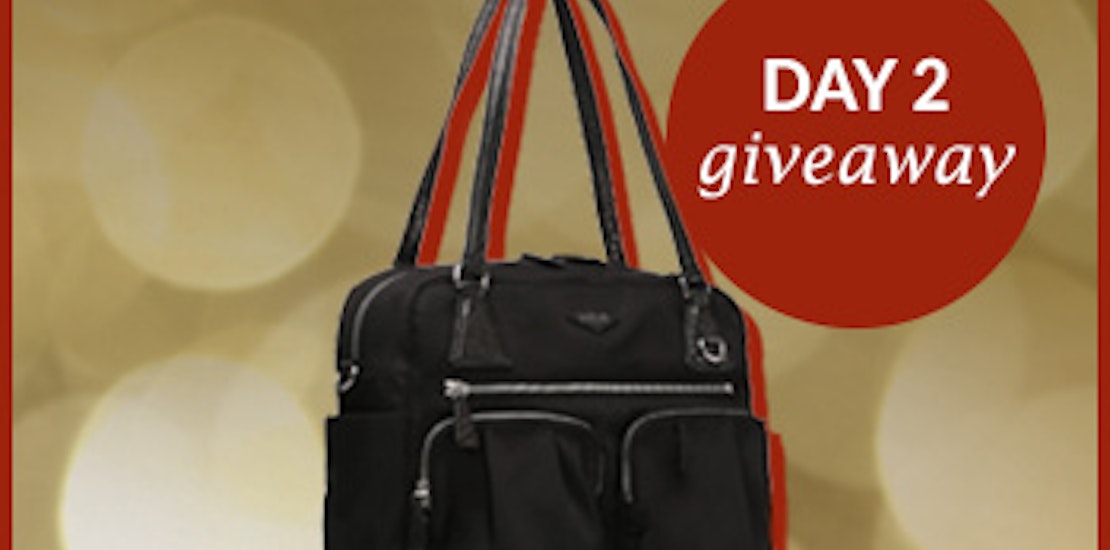 It's DAY 2 of our BIG #12DaysOfSheSpeaks giveaway! Today we are SO excited to giveaway a beautiful, super awesome MZ Wallace handbag! The winner will be able to choose one of two incredible bags!
We love MZ Wallace because the bags are amazing but also because it was launched by two incredibly talented women. In 2009, Monica Zwirner and Lucy Wallace Eustice, both native New Yorkers, inspired by city life, created an accessory brand that combines functional luxury with distinctive design for women who lead an active, dynamic lifestyle.
We are so excited to continue #12DaysOfSheSpeaks with MZ Wallace!
Both handbags feature six exterior pockets, Italian leather flat handles long enough to fit over your shoulder comfortably, and a detachable crossbody strap.
Option one is the Large Roxy Black Bedford Mineral handbag, a black bag that is the ultimate for your everyday routine, day or night. This bag is valued at $385.
Option two is the Roxy Jade Bedford handbag a smaller size in a blue shade, the ultimate for an active lifestyle. This bag is valued at $375.
There are two ways to enter:
Simply log in and then comment to answer the question - What do you look for in a new handbag?
AND/OR
Click here to tweet about the giveaway: "I'm entering to win a @mzwallacenyc handbag in the #12DaysOfSheSpeaks day 2 giveaway bit.ly/1R5ap9C"
For every entry up to $1,000 during the duration of this 12 day giveaway, we are donating $1 to Feeding America to make sure that more families are fed this holiday season. You can find out more about the charity and our social good campaign here.
Don't forget to check back daily here between now and December 21st, on weekdays, for more giveaways!
One lucky commenter (or Tweeter) will be chosen at random to receive a NEW MZ Wallace handbag, valued from $375-385 each. Enter daily through December 21st. Giveaways are open to U.S. residents only and must be a member of SheSpeaks. If you're not a member, click here to join. Winner will be notified by email on December 22nd.
Thanks for entering! This Giveaway is now closed.
Update: The winner has been chosen and is SheSpeaks member shellbonelover143. Thanks to all for entering!