#12DaysOfSheSpeaks Day 12: Awaken Your Senses with the Saeco Espresso Machine Giveaway

by
SheSpeaksTeam
is this the date @ED : BlogVO [categoryId=70164, blogId=144952, blogTitle=#12DaysOfSheSpeaks Day 12: Awaken Your Senses with the Saeco Espresso Machine Giveaway, publishingDate=December 16, 2016 12:00 AM, maxResponses=null, noOfComments=null, fileId=28770, blogClosingDate=null, blogCommentClosed=null, blogCategoryId=70164, queryId=0, blogCategoryIdIndex=0, sharedCategoriesList=null, blogStatusId=34, commentsClosedFlag=false, categoryIdForLog=0, blogModuleCategoryId=0, blogFileVo=null, latestCommentsList=null, verticalCatSeoURL=null, currentDate=01/31/2023, blogLink=null, authorName=SheSpeaksTeam, authorLognId=SheSpeaksTeam, authorAcctId=67580, vosTypeid=3, searchTestId=0, searchStatusId=0, searchAuthorType=0, authorBlogNumber=0, surveyData1=null, surveyData1Desc=null, surveyData2=null, surveyData2Desc=null, pullQuoteMemberId=null, filePath=null, fileName=null, vosType=0, subhead=null, offerSubhead=null, description=null, creationTime=null, authorFname=SheSpeaks, verticalCategoryId=null, sectionId=0, imageFileVO=FilesVO [fileId=28770, filePath=null, fileName=null, fileLength=0, fileWidth=0, createdBy=0, createByUser=null, creationTime=null, lastModifiedBy=0, lastModifiedByUser=null, lastModifiedTime=null, mimeType=null, fileRef=null, fileSize=0, extension=null, title=null, body=null, completeFilePath=/pages/img/redesign/blogs/blog post hero day12_12122016124512.jpg, height=350, width=350, maxHeight=480, maxWidth=360, displayWidth=350, displayHeight=350, fileStatusId=0, searchKeyword=null, searchFlag=false, queryId=0, isExists=true], seoURL=-12DaysOfSheSpeaks-Day-12-Awaken-Your-Senses-with-the-Saeco-Espresso-Machine-Giveaway, seoTitle=null, pullQuotesList=null, pullQuote=null, pullQuoteId=0, searchFlag=false, authorByLine=null, authorDesc=null, authorLink=null, authorFileVO=FilesVO [fileId=42371, filePath=null, fileName=null, fileLength=0, fileWidth=0, createdBy=0, createByUser=null, creationTime=null, lastModifiedBy=0, lastModifiedByUser=null, lastModifiedTime=null, mimeType=null, fileRef=null, fileSize=0, extension=null, title=null, body=null, completeFilePath=/pages/img/membersnaps/SheSpeaks_Logo_Symbol_Only_10182021080530.jpg, height=1777, width=1777, maxHeight=50, maxWidth=50, displayWidth=50, displayHeight=50, fileStatusId=0, searchKeyword=null, searchFlag=false, queryId=0, isExists=true], authorFileId=42371, authorType=0, storyImgFileVO=null, storyImgFileId=0, videoHtml=, authorImageFileId=0, authorImageFileVO=null, previousCategoryId=null, previousBlogStatusId=0, fromBlogDetails=0, blogCategoryName=Food, blogCategoryUrl=null, blogCategoryDesc=null, defaultImage=false, tags=null, optionIds=null, tagOptionId=null, tagId=null, tag=null, tagID=0, tagDetails=null, tagIds=null, testId=0, extBlogURL=null, extBlogStatus=0, bloggerSince=null, extBlogLimit=0, authorTestsList=[], blogURL=, blogName=, bloggerProfileId=0, sliderBlog=false, eventonHome=false, vosonHome=false, partyAndGiveawayDate=12/18/2016, imageCredit=null, pullQuoteMemId=null, offerSubHead=null, subHead=null, displayOrder=0,includeInGoogleSearch=false]
Dec 16, 2016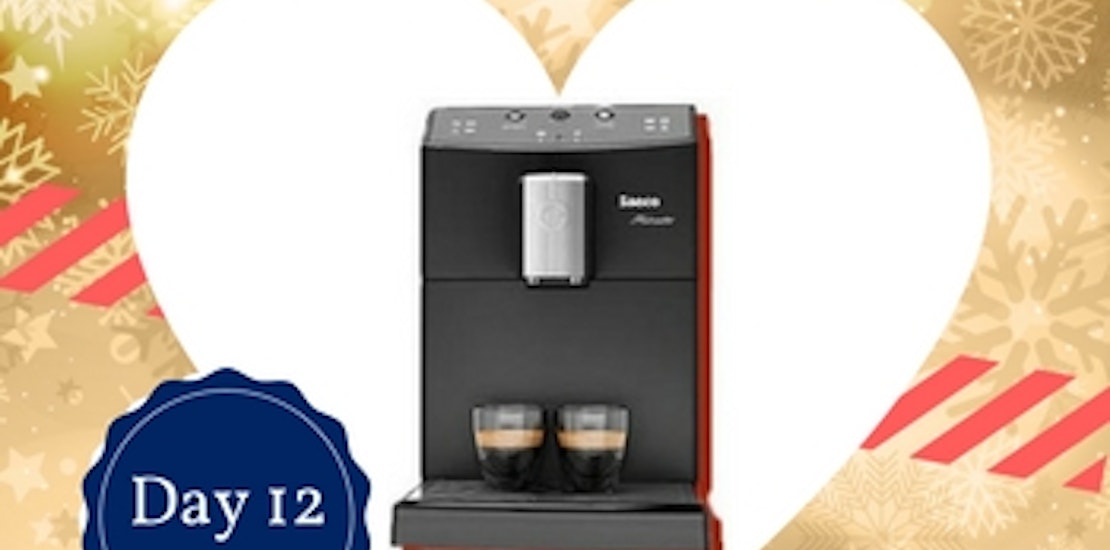 The final prize in our #12DaysofSheSpeaks Holidays Giveaways was so popular last year, we decided to give it away again. It's the Saeco Espresso Machine, valued at $599!
If you're an espresso drinker or you have someone in your life who is, you'll love Saeco. This machine will allow you to enjoy café quality espresso or lattes at home. The Saeco Minuto Super-automatic espresso machine has a classic milk frother, brews three varieties and has an adjustable grinder.
Not much of an espreso drinker? There are plenty of fun drinks you can make with a brewed cup of espresso! Check out the recipes from our favorite Food Network stars: Ina Garten's Espresso Martini, Giada De Laurentiis' Espresso Granita with Whipped Cream and Patrick and Gina Neely's Coffee Frappe.
Are you ready to win a Saeco Espresso Machine? There are two ways to enter:
Tell us in the comments below what your favorite hot drink is.

Tweet about the giveaway!
Click here to Tweet: "I'm entering to win 12 prizes, incl. Saeco espresso machine! #12DaysofSheSpeaks Day 12 @SheSpeaksUp bit.ly/2hm5ypr"
Have you entered all 12 of our amazing giveaways, including the diamond necklace, the cookie-dough-of-the-month-club subscription and the free meal kits? Click here to enter them all! But hurry, they all close this Sunday, December 18th, midnight, ET.
Also, Don't forget that for every entry during the duration of this giveaway, we are donating $1, up to $1,000 total, to V-Day, a global activist movement to end violence against women and girls. You can find out more about the charity and our social good campaign here.
* One lucky participant will be chosen at random to receive a Saeco Espresso Machine, valued at $599. Enter through December 18th. Giveaway is open to U.S. residents only and must be a member of SheSpeaks. If you are not a member, click here to join.
Update: Thanks to all who entered! Congratulations to our winner, SheSpeaks member mgeaux.