#12DaysOfSheSpeaks Day 11: Win a UNT Beauty Basket

by
SheSpeaksTeam
is this the date @ED : BlogVO [categoryId=70165, blogId=144562, blogTitle=#12DaysOfSheSpeaks Day 11: Win a UNT Beauty Basket, publishingDate=December 18, 2015 12:00 AM, maxResponses=null, noOfComments=null, fileId=25120, blogClosingDate=null, blogCommentClosed=null, blogCategoryId=70165, queryId=0, blogCategoryIdIndex=0, sharedCategoriesList=null, blogStatusId=34, commentsClosedFlag=false, categoryIdForLog=0, blogModuleCategoryId=0, blogFileVo=null, latestCommentsList=null, verticalCatSeoURL=null, currentDate=12/07/2023, blogLink=null, authorName=SheSpeaksTeam, authorLognId=SheSpeaksTeam, authorAcctId=67580, vosTypeid=3, searchTestId=0, searchStatusId=0, searchAuthorType=0, authorBlogNumber=0, surveyData1=null, surveyData1Desc=null, surveyData2=null, surveyData2Desc=null, pullQuoteMemberId=null, filePath=null, fileName=null, vosType=0, subhead=null, offerSubhead=null, description=null, creationTime=null, authorFname=SheSpeaks, verticalCategoryId=null, sectionId=0, imageFileVO=FilesVO [fileId=25120, filePath=null, fileName=null, fileLength=0, fileWidth=0, createdBy=0, createByUser=null, creationTime=null, lastModifiedBy=0, lastModifiedByUser=null, lastModifiedTime=null, mimeType=null, fileRef=null, fileSize=0, extension=null, title=null, body=null, completeFilePath=/pages/img/redesign/blogs/8a23fd01-41ec-48a8-a555-f89299788524_12142015130828.jpeg, height=350, width=350, maxHeight=480, maxWidth=360, displayWidth=350, displayHeight=350, fileStatusId=0, searchKeyword=null, searchFlag=false, queryId=0, isExists=true], seoURL=-12DaysOfSheSpeaks-Day-11-Win-a-UNT-Beauty-Basket, seoTitle=null, pullQuotesList=null, pullQuote=null, pullQuoteId=0, searchFlag=false, authorByLine=null, authorDesc=null, authorLink=null, authorFileVO=FilesVO [fileId=42371, filePath=null, fileName=null, fileLength=0, fileWidth=0, createdBy=0, createByUser=null, creationTime=null, lastModifiedBy=0, lastModifiedByUser=null, lastModifiedTime=null, mimeType=null, fileRef=null, fileSize=0, extension=null, title=null, body=null, completeFilePath=/pages/img/membersnaps/SheSpeaks_Logo_Symbol_Only_10182021080530.jpg, height=1777, width=1777, maxHeight=50, maxWidth=50, displayWidth=50, displayHeight=50, fileStatusId=0, searchKeyword=null, searchFlag=false, queryId=0, isExists=true], authorFileId=42371, authorType=0, storyImgFileVO=null, storyImgFileId=0, videoHtml=, authorImageFileId=0, authorImageFileVO=null, previousCategoryId=null, previousBlogStatusId=0, fromBlogDetails=0, blogCategoryName=Living, blogCategoryUrl=null, blogCategoryDesc=null, defaultImage=false, tags=null, optionIds=null, tagOptionId=null, tagId=null, tag=null, tagID=0, tagDetails=null, tagIds=null, testId=0, extBlogURL=null, extBlogStatus=0, bloggerSince=null, extBlogLimit=0, authorTestsList=[], blogURL=, blogName=, bloggerProfileId=0, sliderBlog=false, eventonHome=false, vosonHome=false, partyAndGiveawayDate=12/21/2015, imageCredit=null, pullQuoteMemId=null, offerSubHead=null, subHead=null, displayOrder=0,includeInGoogleSearch=false]
Dec 18, 2015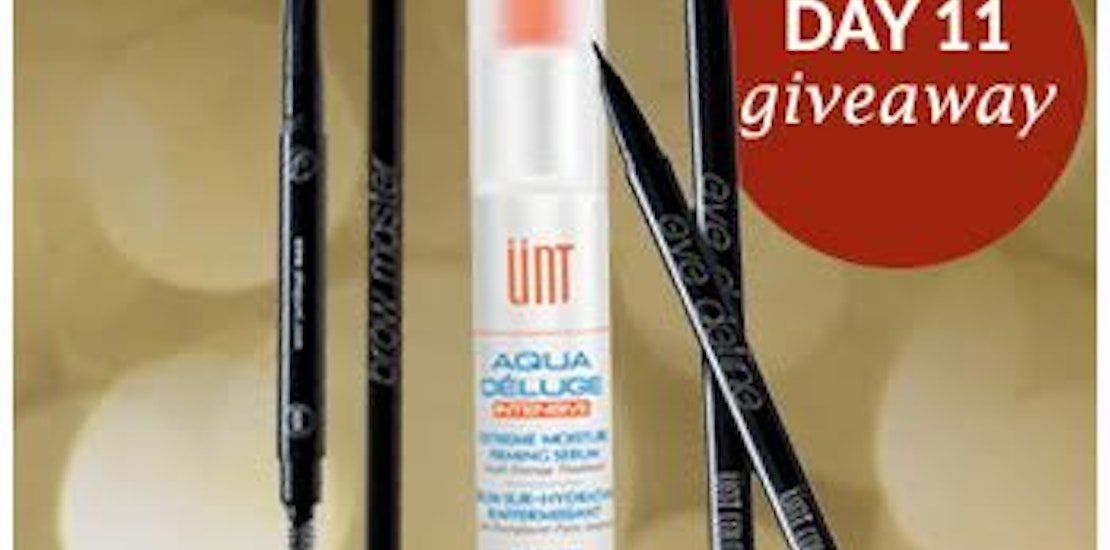 The eleventh giveaway in our BIG #12DaysofSheSpeaks giveaways is a UNT Beauty Basket!
Shopping. Cooking. Eating. Cleaning. Wrapping and buying gifts. Celebrating. It's the holidays! And with that comes food, drinks and way too much to do on too little sleep, all taking place during sometimes harsh, wintry weather. The end result: Just when you want your skin to shine, it gets the holiday blues!
That's why we're excited about this giveaway. UNT is an international skincare and cosmetics company that makes products at affordable prices. They are great choices for cleansing, moisturizing, depigmenting, firming and anti-aging. In addition, all UNT products share the following distinct attributes: small molecular weight, easily absorbed, light, low-oil based content, high concentrations of active ingredients, and in sync with international development for new materials.
Check out Simply Stine and Jenny Sue Makeup to see how much our community loves UNT products. We know you will, too! We're giving away the Aqua Deluge Intensive, Eye Define and Brow Master.
Have you entered all #12DaysofSheSpeaks giveaways? Click here to enter them all, and check back this Monday, December 21st for the last day to enter.
But now are you ready to win a UNT Beauty Gift Basket?
There are two ways to enter:
Simply comment below to answer the question - What is your wintertime beauty secret?
AND/OR
Tweet about the giveaway!
Click

here

to Tweet: "
I'm entering to win a @untskincare Beauty Basket on day 11 of #12DaysOfSheSpeaks, thx to @SheSpeaksUp bit.ly/1QvsayY
"
Also, don't forget that for every entry up to $1,000 during the duration of the #12DaysofSheSpeaks giveway, we are donating $1 to Feeding America, to make sure that more families are fed this holiday season. You can find out more about the charity and our social good campaign here.
One lucky commenter (or Tweeter) will be chosen at random to receive a UNT Cosmetics Gift Basket, with a retail value of $58. Enter through midnight on December 21st. Giveaways are open to U.S. residents only and must be a member of SheSpeaks. If you are not a member, click here to join. Winner will be notified by email on December 22nd.
Thanks for entering! This Giveaway is now closed.
Update: The winner has been chosen and is SheSpeaks member Byrdy1999. Thanks to all for entering!